Responding to need in country Australia
For over 90 years .
Latest news stories
Jemena joins RFDS Queensland Section as corporate supporter
17 Sep 2019
Further strengthening its connection to rural and regional Queensland, leading Australian energy company Jemena has become an official corporate supporter of the Royal Flying Doctor Service (Queensland Section) with a generous donation of $30,000.
Read full story
How to ask R U OK?
13 Sep 2019
Every year on R U OK? Day, we're reminded to check in with those around us to find out how they're feeling. Asking the question seems like a simple act, but it can be one of the hardest to ask. Mental health clinical team leader for Far North Queensland, Jos Middleton has a few pointers to share
Read full story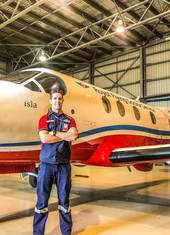 Off duty Flight Nurse saves life on commercial flight
Are you due for a Flying Doctor 'Check-Up'?
Sign up to our Newsletter to keep up with the Flying Doc!