Responding to need in country Australia
The RFDS is deeply saddened by the continued devastation of bushfires across Australia. Our heartfelt thoughts go to everyone that has been directly or indirectly affected. We know the crisis continues and it will be a long road to recovery. We offer our sincere gratitude to all firefighters, emergency services, defence personnel and volunteers who have worked tirelessly to protect and support communities.
During this heightened time of need, the RFDS has been called upon to evacuate aged care facilities under threat and is providing mental health workers to support impacted communities in Victoria. We stand proudly among emergency service responders, as a critical part of the health and emergency response infrastructure for our regions across Australia, and we have been, and will continue to be, ready to respond with patient transport services, aircraft, skilled medical workforce, and of course, ongoing primary health care and telehealth services. We are aware that the effects of the bushfires will remain long after the crisis is over, and as one of the principle health care providers to rural and remote Australia we are committed to supporting the affected communities throughout the rebuild.
Thank you again to all of those who continue to support communities in need. It is important that we look out for each other during these difficult times.
See where our planes are flying throughout Australia
See map
Latest news stories
RFDS Victoria seeking consumer representatives
20 Feb 2020
RFDS Victoria is seeking interested members of the public to come on board as consumer representatives.
Read full story
Rio Tinto invests in a third aeromedical jet for RFDS Western Operations fleet
19 Feb 2020
A third Rio Tinto LifeFlight PC-24 jet is set to join the RFDS Western Operations fleet in 2022.
Read full story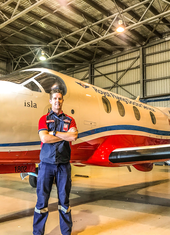 Off duty Flight Nurse saves life on commercial flight
Are you due for a Flying Doctor 'Check-Up'?
Sign up to our Newsletter to keep up with the Flying Doc!
What's happening in your state
The RFDS works throughout Australia. Check out what is happening in your home state
Upcoming Campaign
Oct 2019
The Royal Flying Doctor Service Dubbo Visitor Experience is open!
More details
Our next event
30 May - 6 Jun 2020
Outback Car Trek 2020
More details