Responding to need in country Australia
For over 90 years .
Latest news stories
Jamestown volunteers raise $10,000 for Flying Doctor
13 Nov 2019
A dedicated group of local volunteers has raised $10,000 for the Royal Flying Doctor Service (RFDS), representing their fundraising efforts with the support of the Jamestown community over the past year.
Read full story
RFDS satisfaction surveys
07 Nov 2019
RFDS Victoria has recently conducted its yearly Client Experience Survey and Stakeholder Satisfaction Survey.
Read full story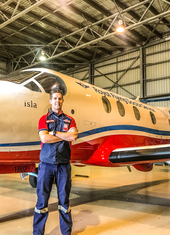 Off duty Flight Nurse saves life on commercial flight
Are you due for a Flying Doctor 'Check-Up'?
Sign up to our Newsletter to keep up with the Flying Doc!
What's happening in your state
The RFDS works throughout Australia. Check out what is happening in your home state
Upcoming Campaign
Nov 2019 - Feb 2020
Meet Maddison
More details
Our next event
25 Nov 2019 12:00-14:00
Brisbane Mining Club Lunch
More details