Responding to need in country Australia
For over 90 years .
Latest news stories
New $20 note launched in Broken Hill
11 Oct 2019
New $20 note is launched in Broken Hill by the Reserve Bank of Australia and the Barlow family (featured on the new design of the note, from a 1948 photo of The Veldt Station in remote NSW)
Read full story
The doors of our Visitor Experience are open!
11 Oct 2019
Read full story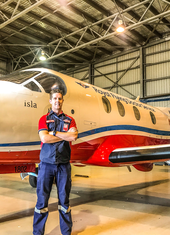 Off duty Flight Nurse saves life on commercial flight
Are you due for a Flying Doctor 'Check-Up'?
Sign up to our Newsletter to keep up with the Flying Doc!
What's happening in your state
The RFDS works throughout Australia. Check out what is happening in your home state
Upcoming Campaign
Aug 2017 - Aug 2018
To heal a broken heart >
More details
Our next event
26 Oct 2019
Burra Picnic Races
More details