Responding to need - COVID-19
The Royal Flying Doctor Service (RFDS) is part of Australia's larger health system and considered an essential service. We will not be closing during this national health crisis, and we will continue to provide vital emergency medical and primary health care services to rural and remote Australia -- even in areas with Federal and State protective restriction orders, the RFDS is categorised as an essential service and can still bring emergency medical services to those in need.

The RFDS deals with infectious diseases as a routine. COVID-19 presents challenges in terms of potential volumes of patients needing care, however we are actively working closely with Federal and State Health Departments in preparation for coming weeks/months.

The RFDS has been transporting patients with confirmed COVID-19 and suspected COVID-19. As pathology services are not available in most areas the RFDS serves, if a patient has the symptoms of COVID-19 and meets the criteria for testing (though testing results may not yet have been received), the patient is treated and transported as a suspected COVID-19 case.

To keep our country townships and communities safe Australians should follow the advice of Chief Medical Officer, Brendan Murphy, who has advised people to avoid all non-essential domestic travel. The coronavirus pandemic will be tough on rural communities that have already been hit by bushfires and drought.

If you have questions about what the Corona Virus COVID-19 is, what the symptoms are, or how it spreads, you can learn more at the Department of Health website and Health Direct website. The RFDS has factsheets on prevention, symptoms and what to do if you feel you may have COVID-19. These can be downloaded below.

If you have severe difficulty breathing, call 000 immediately, and advise if you think you may have come in contact with COVID-19.
See where our planes are flying throughout Australia
See map
Latest news stories
COVID-19 Emergency Fund
03 Apr 2020
Demand for our service is growing. Right now, our aeromedical teams are in desperate need of emergency supplies to support their vital work as we tackle the COVID-19 pandemic.
Read full story
Lifelong supporter of the RFDS (Queensland Section) dies aged 90.
03 Apr 2020
Former Banana Shire cattle Farmer Ray Grace and generous supporter of the Royal Flying Doctor Service (Queensland Section) has died peacefully aged 90.
Read full story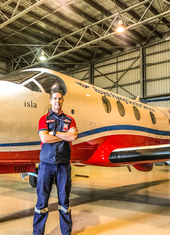 Off duty Flight Nurse saves life on commercial flight
Are you due for a Flying Doctor 'Check-Up'?
Sign up to our Newsletter to keep up with the Flying Doc!