Responding to need in country Australia
For over 90 years .
Latest news stories
Expanding Hearing Screening And Treatment In Remote Australia
12 Dec 2019
A new collaboration between Hearing Australia and the Royal Flying Doctor Service will see innovative hearing screening tools adopted and rolled out across the country as part of RFDS primary health care clinics to remote areas.
Read full story
New Board Chair & Deputy Chair for RFDS
11 Dec 2019
The Royal Flying Doctor Service is pleased to announce the appointment of Mr Nev Power as the new Chair of the RFDS Federation Board and Dr John O'Donnell AM as Deputy Chair.
Read full story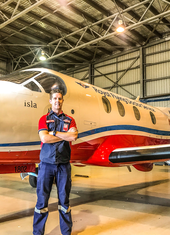 Off duty Flight Nurse saves life on commercial flight
Are you due for a Flying Doctor 'Check-Up'?
Sign up to our Newsletter to keep up with the Flying Doc!