Responding to need in country Australia
For over 90 years .
The RFDS is helping over 1000 people every day, providing primary healthcare and emergency services to those that live, work and travel across the 7.69 million square kilometres of Australia.
Latest news stories
The Hon. Amanda Vanstone Awarded AO
26 Jan 2020
The Royal Flying Doctor Service congratulate the Honourable Amanda Vanstone who was conferred an Officer in the General Division of the Order of Australia in the 2020 Australia Day Honours List for distinguished service to "the Parliament of Australia, to the people of South Australia, and to the co
Read full story
Flying Doctor's world-first aeromedical jet on show for Australia Day
24 Jan 2020
RFDS Western Operations chief pilot Albin Unger will be operating the Rio Tinto LifeFlight PC-24 jet aircraft as it does two laps around the iconic Swan River at the City of Perth sky show event on Sunday at approximately 4.45pm.
Read full story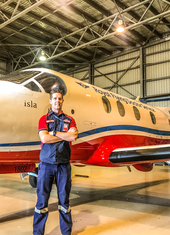 Off duty Flight Nurse saves life on commercial flight
Are you due for a Flying Doctor 'Check-Up'?
Sign up to our Newsletter to keep up with the Flying Doc!
What's happening in your state
The RFDS works throughout Australia. Check out what is happening in your home state
Upcoming Campaign
Oct 2019
The Royal Flying Doctor Service Dubbo Visitor Experience is open!
More details
Our next event
30 May - 6 Jun 2020
Outback Car Trek 2020
More details