Responding to need - Corona Virus COVID-19
The Royal Flying Doctor Service is part of the larger national health service here in Australia. In addition to our standard emergency, aeromedical response, we also provide routine GP Clinics, Nursing Clinics and Telehealth Services to those that live, work and travel in rural and remote Australia. The RFDS deals with infectious diseases on a routine basis and as such, has a role in the response to corona virus COVID-19.

If you have questions about what the Corona Virus COVID-19 is, what the symptoms are, or how it spreads, you can learn more at the Department of Health website and Health Direct website. The RFDS has factsheets on prevention, symptoms and what to do if you feel you may have COVID-19. These can be downloaded below.
Face masks are currently not recommended as a preventative measure for people who have not had any potential exposure to the COVID-19 coronavirus.

If you have severe difficulty breathing, call 000 immediately, and advise if you think you may have come in contact with COVID-19.
See where our planes are flying throughout Australia
See map
Latest news stories
Flying Doctor commits to rural Queensland
26 Mar 2020
The Royal Flying Doctor Service (Queensland Section) (RFDS) is taking proactive measures to ensure Queenslanders living in regional, rural and remote parts of the state continue to receive vital healthcare services amid the COVID-19 pandemic.
Read full story
Response Ready for WA
26 Mar 2020
Read full story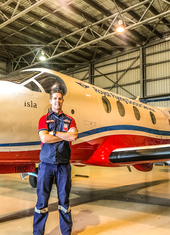 Off duty Flight Nurse saves life on commercial flight
Are you due for a Flying Doctor 'Check-Up'?
Sign up to our Newsletter to keep up with the Flying Doc!
What's happening in your state
The RFDS works throughout Australia. Check out what is happening in your home state
Upcoming Campaign
Aug 2017 - Aug 2018
To heal a broken heart >
More details
Our next event
9 May 2020 18:30-23:59
CANCELLED - 2020 'Wings for Life' Gala Ball
More details