What we do in Tasmania
RFDS Tasmania (South Eastern Section) works in partnership with Ambulance Tasmania to fill the vital role of providing emergency trauma evacuations and inter-hospital transfers by supplying the state's fixed wing air ambulance.
We deliver a broad range of primary health care services and community projects to benefit all Tasmanians, including an award-winning dental outreach program and mental and physical health programmes that are all provided free of charge.

The RFDS operates 24 hours a day, 7 days a week and Tasmania's plane makes more than 1200 flights per year between airstrips on King, Flinders and Cape Barren Islands and at Queenstown, Wynyard, Burnie, Devonport, Smithton, St Helens, Launceston, Hobart and Melbourne.
Graphic: jack's wrecked car
---


AEROMEDICAL SUPPORT
PATIENT TRANSPORT (ROAD)
MOBILE DENTISTRY
PHYSICAL & MENTAL HEALTH PROGRAMS
EDUCATION
Saving baby Scarlett
"In less than 24 hours we went from 'your little girl has pneumonia' to 'she needs open-heart surgery - now.'"
Read Saving baby Scarlett
Support Us
Help keep the Flying Doctor Service in the air and on the ground.
Every amount donated, whether large or small helps keep RFDS Tasmania working towards a healthier future for all, but especially, rural and remote Tasmanians. Donate here or call us today on (03) 6391 0509
Support Us
Latest news stories
30 years' flying for RFDS
11 Jan 2019
SE section CEO Greg Sam presented Cpt Stan Griffiths with his 30 years of service award and fellow pilots, paramedics who have worked with Stan and RFDS staff from every section were there to witness the achievement and offer congratulations.
Read full story
Award-winning dental program
11 Jan 2019
The RFDS Tasmania dental program won the Building Communities Award at the Launceston Chamber of Commerce Business Excellence Awards held in Launceston on Saturday, October 27.
Read full story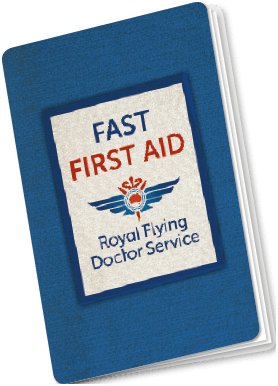 Every day lives are lost when people are injured and no one with them knows first aid.
Do you know what to do in an emergency?
Get my FREE Flying Doctor first aid booklet