Oral Health Care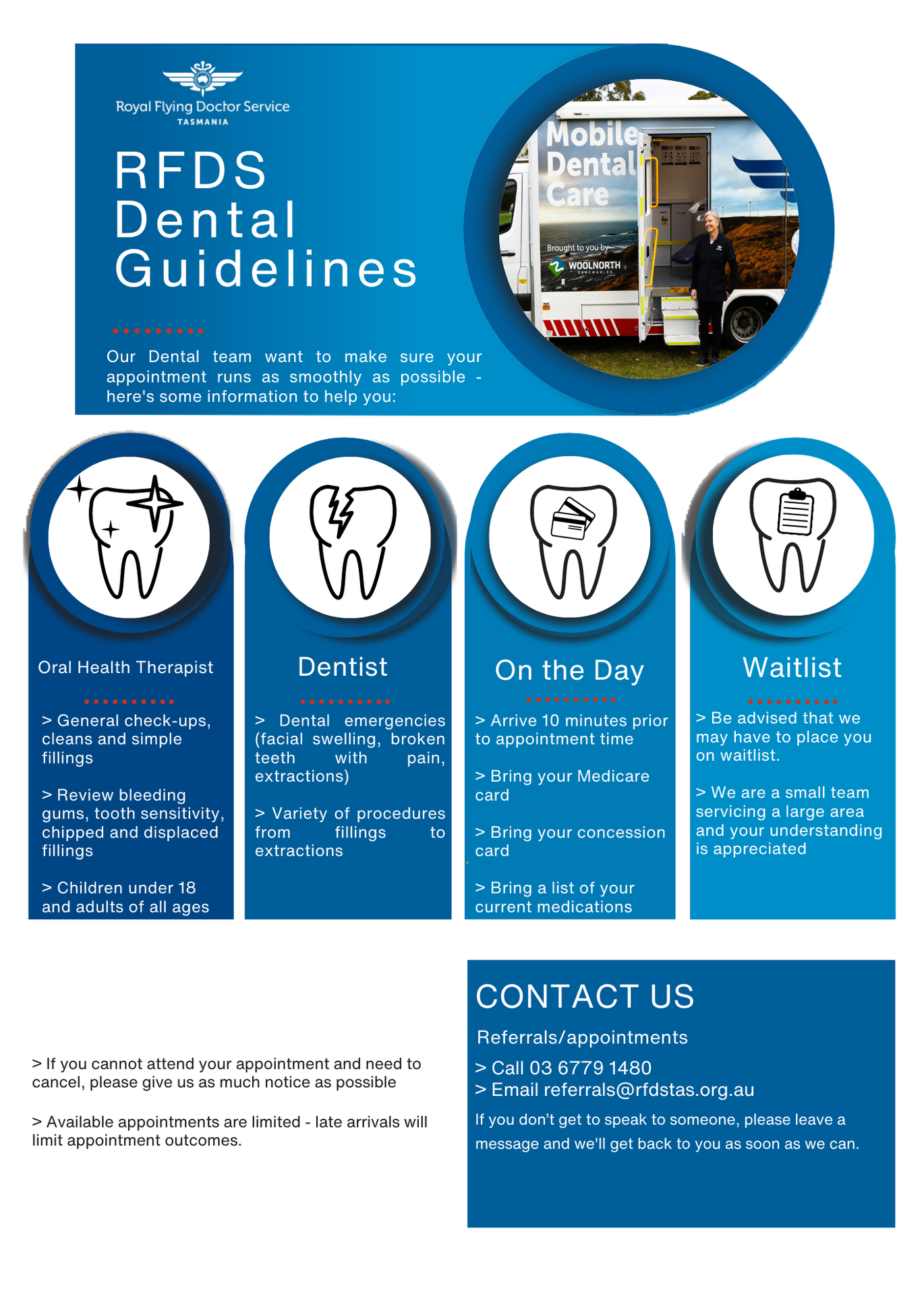 When contacting us, please note that we may not be able to answer immediately. Please leave a message with your name and contact number and we will get back to you at the earliest convenience.
Through funding support by the Commonwealth Government, Royal Flying Doctor Service Tasmania delivers a dental outreach program that assists by providing education, preventative measures and dental treatments for children and eligible adults in rural and remote areas of Tasmania. Often these groups are disproportionately affected by problems associated with poor oral health and lack of access to services.

In Tasmania, poor dental health and conditions are the leading cause of potentially preventable hospitalisations. Since 2017, RFDS Tas has run a Mobile Dental Service to bridge the gap between access to services and the unmet dental needs of children and adults living remotely, and address this issue.

The dental program is a free, community-based program. Our highly skilled dental staff travel to rural and remote locations weekly and tailor dental care to accommodate a community's and individual's needs. In many cases our patients no longer need to travel long distances to receive dental treatments for themselves or family members, which has led to a decrease in social isolation and financial burdens.

The RFDS Tasmania Oral Health Care program has grown significantly since it's inception, and covers the North, North-East and East Coast of the state. It also travels to both King and Flinders islands regularly.
Our dental program is run in collaboration with local service providers to complement current programs delivered by Oral Health Services Tasmania, the Education Department and the Australian Dental Association (ADA).

Graphic: Countryside Landscape
Partnering with Indigenous Groups
RFDS Tasmania works with the Circular Head Aboriginal Corp (CHAC) in Smithton to treat local Tasmanian Aboriginals and community members in a culturally aware environment by addressing their unmet dental needs.
Graphic: RFDS Dental Service
Bringing a smile to rural and remote Queensland
Senior Dental Assistant Kaylah Sinclair says she understands that for many, going to the dentist is a dreaded experience. That's why she takes great pride in ensuring RFDS patients feel comfortable throughout their treatment and leave with a smile.
More details
Do you have a question, or want to speak to someone about RFDS Tasmania's Oral Health services and programs?
For patient referrals please email: referrals@rfdstas.org.au
For general Oral Health enquiries email: ph@rfdstas.org.au