Our Reconciliation Journey
We acknowledge and pay respect to the traditional owners of the lands on which we work and recognise their continuing connection to land, waters and the community.
Graphic: RAP Year in Review Report
RAP Year in Review
We are very proud to present our first Reconciliation Action Plan 'Year in Review' report.
More details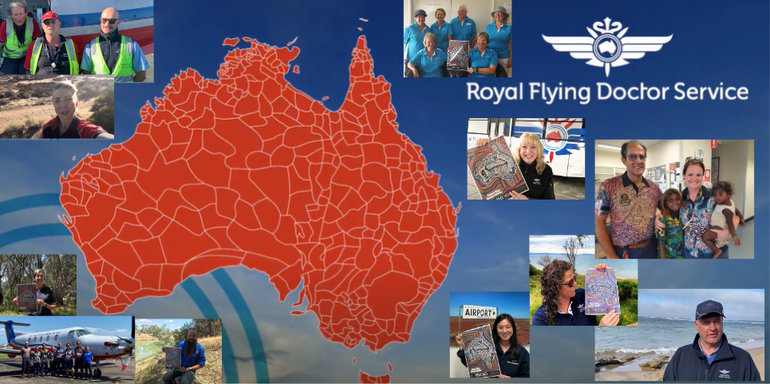 The RFDS service area is diverse with a national service footprint of 7.69 million square km. This means we work across hundreds of different Aborginial and Torres Strait Islander clan groups or 'nations', many with distinctive cultures, beliefs and languages.

We feel privileged to engage with such diverse and rich cultures and we hope to deepen our understandings and our relationships with First Nations people around the country as part of our ongoing reconciliation journey.
Watch this great video of our staff sharing their acknowledgement of country.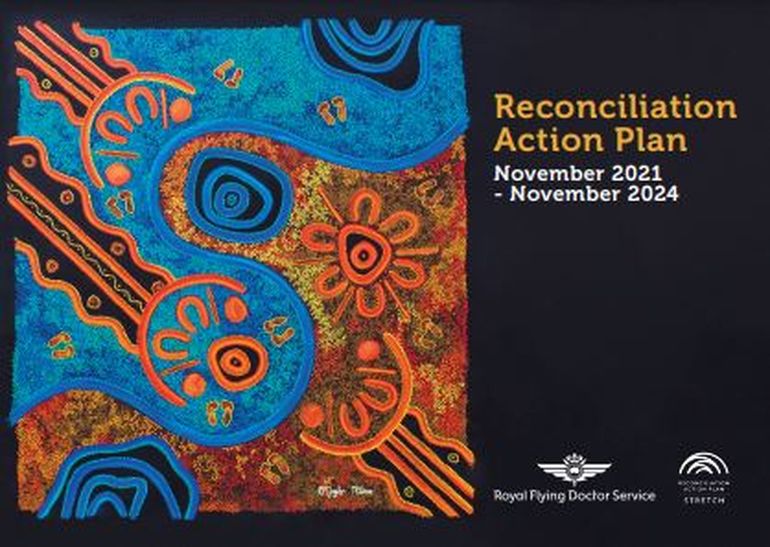 Our Reconciliation Action Plan
We are very proud to be working on our third RFDS Reconciliation Action Plan (RAP) for the years 2021-2024.

Our vision for reconciliation is for unity, equity and respect between Aboriginal and Torres Strait Islander peoples and all other Australians. In particular, we strive for our First Peoples to have access to culturally safe health services that will contribute to longer, healthier lives.
Through our reconciliation journey, we committed to working in close partnership with Aboriginal and Torres Strait Islander peoples and communities, and ensuring our staff are on an ongoing path of cultural learning to deepen our understanding of Aboriginal and Torres Strait Islander cultures and histories.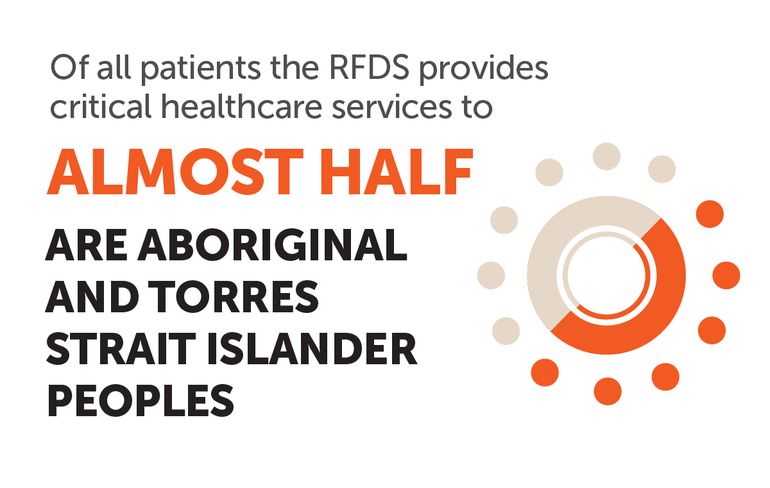 Significantly, almost half of all patients the RFDS provides critical health care services to are Aboriginal and Torres Strait Islander peoples.

It is particularly for this reason, and the fact that over 60% of Aboriginal and Torres Strait Islander peoples live in our primary service footprint of rural & remote Australia, that the RFDS takes seriously the importance of a RAP and our contribution to working towards genuine, meaningful reconciliation in order to achieve better outcomes for First Nations Peoples.

First Nations Art
The Royal Flying Doctor Service acknowledge that Aboriginal and Torres Strait Islander art is the first art of this nation, an ancient visual gift of culture and learning. It communicates history, story, and language. We feel privelaged to be able to engage with First Nations artists and enjoy and share the artwork they create. See some of the wonderful First Nations Art that the RFDS has commissioned around the country.

First Nations Art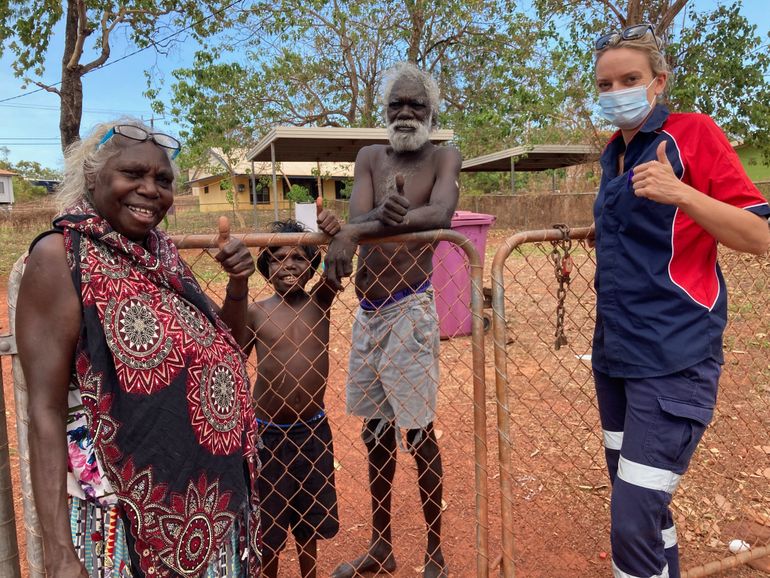 Supporting Communities during COVID19
A focus area of our RAP is working to develop genuine relationships with Aboriginal and Torres Strait Islander peoples, particularly peak bodies and community-controlled organisations that foster health and wellbeing in areas where our services are provided.

The RFDS COVID19 response, particularly the Vaccination Rollout has been a huge success and we are so proud of the work our teams have done in partnership and collaboration with Aboriginal and Torres Strait Islander communities, organisations, stakeholders and patients right across Australia. The vaccination response has been a community-led approach, we have worked closely with Aboriginal Health Services, Elders and community members: sharing data, attending vaccination clinics together, educating the community and answering questions together and often going door to door and offering vaccinations to people where they are most comfortable.
Graphic: Isaiah J Kamid on his placement
Supporting First Nations Students through Scholarships
The RFDS has supported over 30 Aboriginal & Torres Strait Islander health students with scholarships to undertake clinical placements in remote and rural Australia. This has been an ongoing commitment under the RFDS RAP in partnership with AIDA, IAHA and CATSINAM and an effort to contribute to the growth of an appropriate and skilled rural health workforce.

Aboriginal and Torres Strait Islander Health Scholarships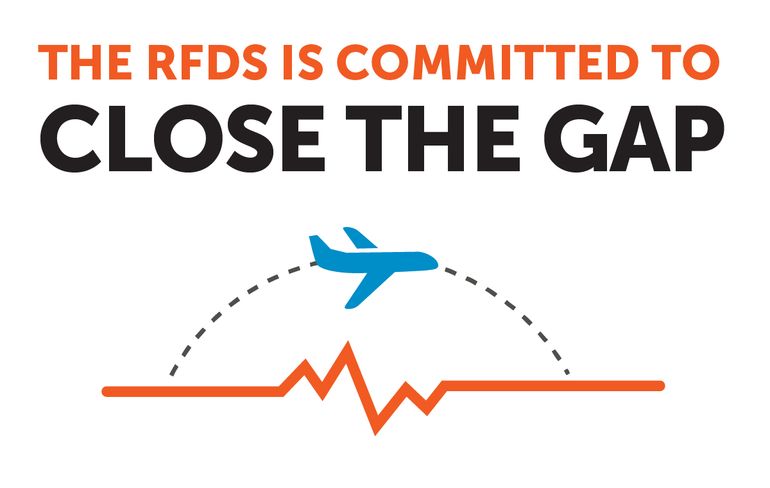 Committed to Closing the Gap
As a leading health service in Australia, we are committed to ensuring our services actively and purposefully contribute to Closing the Gap by improving both health outcomes and access to culturally appropriate health services for Aboriginal and Torres Strait Islander people.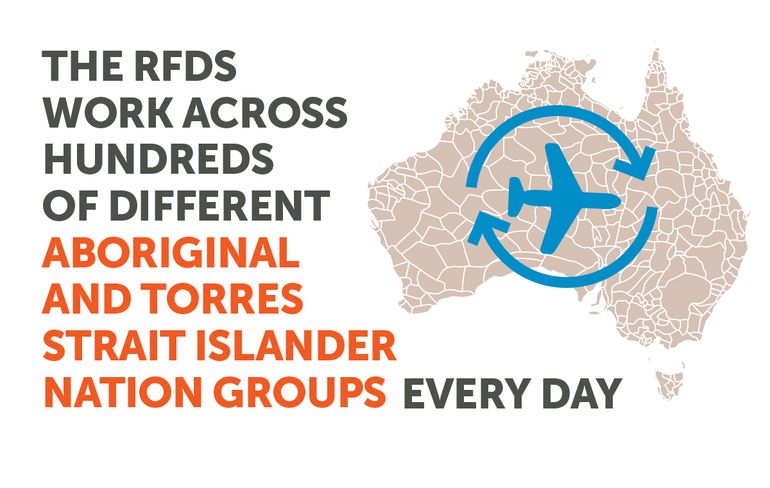 Working with Communities
Working with Aboriginal and Torres Strait Islander people and communities is a core part of our service delivery. We understand that our broad service footprint means there are different languages, cultural considerations, and ways of working in each of these areas. Through listening, learning, collaboration and partnership, the RFDS will build on many of the good relationships we already have in the communities we service.