Media Centre
Welcome to our media page. We have a number of media ready resources for you to access. If you can't find what you are after, please contact RFDS National Media Contact: Lana Mitchell; Mobile: 0401946282 or email

Latest news stories
COVID-19 Emergency Fund
03 Apr 2020
Demand for our service is growing. Right now, our aeromedical teams are in desperate need of emergency supplies to support their vital work as we tackle the COVID-19 pandemic.
Read full story
Lifelong supporter of the RFDS (Queensland Section) dies aged 90.
03 Apr 2020
Former Banana Shire cattle Farmer Ray Grace and generous supporter of the Royal Flying Doctor Service (Queensland Section) has died peacefully aged 90.
Read full story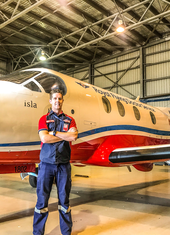 Off duty Flight Nurse saves life on commercial flight