Media
Welcome to our media page. Are you a journalist trying to contact us?
National Media contact: Kate Fessey, 0404435706 or email
Queensland Media contact: 0407 595 014, or email

NSW Media contact: Kell McGregor, 0407 583 854 or email

Victoria Media contact: Jonathon Green, (03) 8412 0476, 0447 546 764 or email

Tasmania Media contact: Lana Best, (03) 6391 0509, 0455 110 050 or email
South Australia/NT Media contact: Melanie Reid, (08) 8238 3324, 0438 276 181 or email

Western Australia Media contact: Ivy James, 0438 941 058 or email
What's new with the Flying Doctor?
Latest news stories
THE GIFT OF TIME: The profound effect a community had on their local GP
19 Jan 2021
For RFDS (Queensland Section) GP Trainee Katrina Starmer, a recent gift from the Chillagoe community, was not just beautiful – but incredibly symbolic.
Read full story
Saving baby Kaleb
18 Jan 2021
Baby Kaleb was only 10 days old when he became seriously ill in the midst of rising floodwaters in Biloela. His mum, Lori, took him to the local hospital. But Kaleb was so unwell that he needed intensive care – nearly 150km away.
Read full story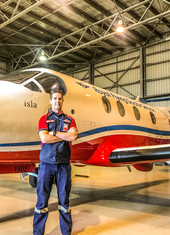 Off duty Flight Nurse saves life on commercial flight