Media
Welcome to our media page. Are you a journalist trying to contact us?
National Media contact: Lana Mitchell, 0401 946 282 or email
Queensland Media contact: 0407 595 014, or email

NSW Media contact: Kell McGregor, 0407 583 854 or email

Victoria Media contact: Jonathon Green, (03) 8412 0476, 0447 546 764 or email

Tasmania Media contact: Lana Best, (03) 6391 0509, 0455 110 050 or email
South Australia/NT Media contact: Melanie Reid, (08) 8238 3324, 0438 276 181 or email

Western Australia Media contact: Ivy James, 0438 941 058 or email
What's new with the Flying Doctor?
Latest news stories
Bay to Birdwood and the RFDS historic cars
24 Sep 2020
Iconic 1920s images showing the Royal Flying Doctor Service's founder traversing the outback in a battered Dodge Buckboard are inspiring the restoration of two vintage cars in South Australia.
Read full story
Transforming health care for communities across the country
18 Sep 2020
The October edition of 'Going the Distance' will be hitting letterboxes very soon. In it, you'll find more inspiring stories from our Flying Doctor community.
Read full story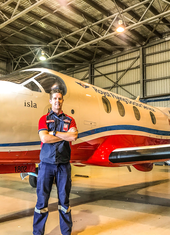 Off duty Flight Nurse saves life on commercial flight