Media
Welcome to our media page. Are you a journalist trying to contact us?
National Media Contact: email.
Queensland Media contact: 0407 595 014, or email

NSW Media contact: Therese Raft, 0407 583 854 or email

Victoria Media contact: Jonathon Green, (03) 8412 0476, 0447 546 764 or email

Tasmania Media contact: Anna Carling-Roddick, (03) 6391 0509, 0455 110 050 or email
South Australia/NT Media contact: Melanie Reid, (08) 8238 3324, 0438 276 181 or email

Western Australia Media contact: Alexa Coetsee, 0438 941 058 or email
What's new with the Flying Doctor?
Latest news stories
2023 Client Survey Results
28 Sep 2023
Our annual client survey tells us how people feel about the service we have provided, what their experiences have been when engaging with us, plus how they would rate their own physical and mental health after receiving care from the Flying Doctor.
Read full story
Steve's Story: Stroke strikes behind the wheel
18 Sep 2023
Steve Mogridge was driving on a lonely stretch of the Goldfields Highway when he had a stroke.
Read full story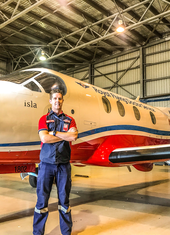 Off duty Flight Nurse saves life on commercial flight