Media
Welcome to our media page. Are you a journalist trying to contact us?
National Media contact: Lana Mitchell, 0401 946 282, or email
Queensland Media contact: 0407 595 014, or email

NSW Media contact: Mark Rayner, 0436 622 801 or email

Victoria Media contact: Jonathon Green, (03) 8412 0476, 0447 546 764 or email

Tasmania Media contact: Anna Carling-Roddick, (03) 6391 0509, 0455 110 050 or email
South Australia/NT Media contact: Melanie Reid, (08) 8238 3324, 0438 276 181 or email

Western Australia Media contact: Alexa Coetsee, 0438 941 058 or email
What's new with the Flying Doctor?
Latest news stories
Viva Energy keeping the Flying Doctor in the air and on the ground
24 Mar 2023
Royal Flying Doctor Service and Viva Energy announced an exciting new fuel supply partnership, bringing together two iconic Australian organisations with a long history of helping people get safely to their destinations.
Read full story
Melbourne Chamber of Commerce tours the Flying Doctor's hangar
24 Mar 2023
The latest Melbourne Chamber of Commerce Best Practice tour saw members go behind the scenes of the Flying Doctor's aeromedical operations at Essendon Fields.
Read full story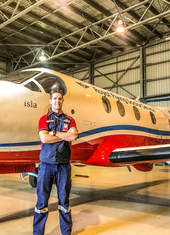 Off duty Flight Nurse saves life on commercial flight