Media
Welcome to our media page. Are you a journalist trying to contact us?
National Media contact: Lana Mitchell, 0401 946 282, or email
Queensland Media contact: 0407 595 014, or email

NSW Media contact: Kell McGregor, 0407 583 854 or email

Victoria Media contact: Jonathon Green, (03) 8412 0476, 0447 546 764 or email

Tasmania Media contact: Lana Best, (03) 6391 0509, 0455 110 050 or email
South Australia/NT Media contact: Melanie Reid, (08) 8238 3324, 0438 276 181 or email

Western Australia Media contact: Ivy James, 0438 941 058 or email
What's new with the Flying Doctor?
Latest news stories
RFDS helps deliver first baby born in Richmond in 15 years
26 May 2022
Jess Harvey was 35 weeks pregnant when she awoke in the middle of the night with contractions at home, two hours from her nearest town. The RFDS was soon called to assist, and not long after baby Darby arrived.
Read full story
A ute rolls in remote South Australia
26 May 2022
The Flying Doctor Podcast: A ute rolls on a remote dirt road in South Australia and as Karina and her husband approach they realise it is their son's vehicle...
Read full story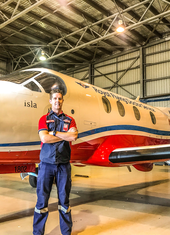 Off duty Flight Nurse saves life on commercial flight