What we do in Victoria
In Victoria, the Royal Flying Doctor Service works in partnership with a number of community health organisations across the state to improve the health and wellbeing of our rural communities. We believe in creating opportunities so all Victorians have the choice to access essential health care services.

Each year we come into contact with more than 90,000 patients across Victoria through primary health care services and transports by air or road.
We also provide non-emergency patient transport services on behalf of Ambulance Victoria, with this service also supported by our aircraft capability at Essendon Fields Airport.

Every day, lives are lost when people are injured and no one with them knows first aid. Knowing what to do in an emergency could save a loved one's life.

Register here to receive your FREE First Aid Guide, Infant First Aid Pocket Guide and personal Medical Emergency Card.
Latest news stories
Beachwheels Australia helps Memory Lane go further.
15 Oct 2021
More special journeys have been made possible thanks to the donation of a Sandcruiser and a Sandpiper wheelchair.
Read full story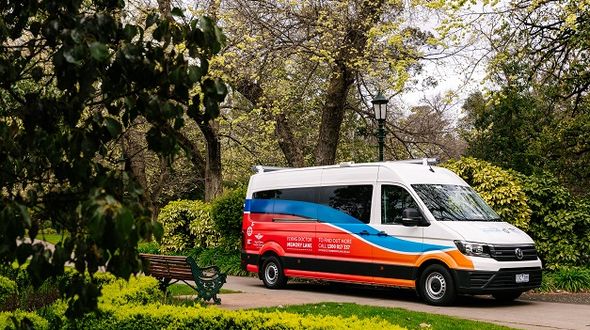 Bendigo chosen as second base for Flying Doctor Memory Lane
04 Oct 2021
Bendigo was chosen as the base of our second Memory Lane vehicle because of its central location for regional Victoria, as well as for the Flying Doctor's strong historical connection to the area in regards to patient transport and primary health services.
Read full story
Ground Crew
Join our Ground Crew and challenge yourself today. With every step you take and every drop of sweat you shed, you'll be helping us save lives.
Fundraise