What We Do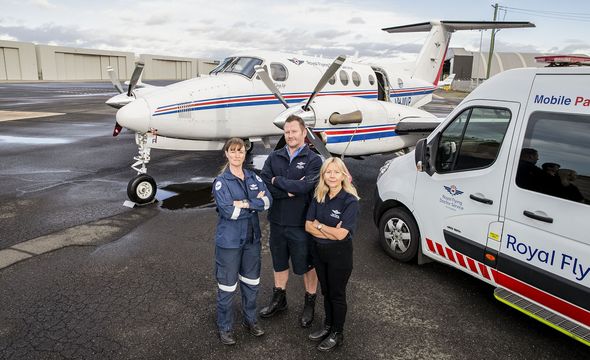 Mobile Patient Care
RFDS Victoria provides non-emergency patient transport service, known as Mobile Patient Care. This service is a quality, efficient and caring patient transport services for people who need to travel to hospital or to specialist care. We provide these services from our 13 bases located throughout Victoria and is supported by our aircraft at Essendon Airport.
Read more
Mobile Event Care
RFDS Victoria provides a Mobile Event Care service that is medical support service for event organisers and patrons attending events through Victoria. We employ a range of dedicated and highly qualified first aid responders, paramedics, nurses and doctors specifically for our event medical support teams, as well as drawing on our extensive pool of Patient Transport Officers and Ambulance Transport Attendants from our Mobile Patient Care service.
Read more
Mobile Dental Care in VIC
Poor oral health can lead to serious health complications and in some parts of Victoria, it is the second leading cause of preventable hospital admissions. Working with a team of dentists, oral health therapists and dental assistants the Flying Doctor Dental Clinic provides oral health education, screening and treatment for people living in rural Victorian communities using mobile and fixed clinics.
Read more
Flying Doctor Telehealth
The Flying Doctor Telehealth service connects patients in rural Victorian communities with specialist appointments online via a video call. Specialists are located in Melbourne and some surrounding major towns and cities.
Read more
Speech Therapy
The Royal Flying Doctor Service is working with local health services to provide children aged 0-12 years access to local speech pathology.
Read more
Community Transport
RFDS Victoria has partnered with local health services to provide a community transport service for the Heathcote and Rochester regions.
Read more
Mobile Eye Care
For people in some rural communities, a visit to an eye specialist can be a lengthy journey. Our Mobile Eye Care program provides an eye clinic that travels to the regions of the Mallee, West Wimmera and East Gippsland and provides monthly visits in communities in these districts. This program is free and is delivered in partnership with the Australian College of Optometry, OneSight and local health services. It also provides outreach education about eye care for community groups in the region.
Read more
Rural Women's GP Service
Often women prefer to consult with a female doctor for a range of health issues. RFDS Victoria provides a Rural Women's GP service in small communities in the North West, North East and South East of Victoria.
Read more
Education
The Royal Flying Doctor Service Victoria provides an Education program for Primary and Secondary students to learn all about the Flying Doctors. The Education program teaches students about the significant contribution the Royal Flying Doctor Service has made to Australia's history and educates them on the range of services the Flying Doctor provides 24/7 to people living, working and traveling through out Australia.
Read more
Flying Doctor Wellbeing
The Flying Doctor provides free access to mental health and wellbeing services in several areas across Victoria. This is a confidential support service that helps you connect to mental health professionals to help you through tough times.
Read more
Graphic: Quality & Safety
Quality & Safety
RFDS Victoria is committed to providing excellent care – no matter where you live.

If you'd like to provide feedback, download resources or learn more about the work our dedicated Quality & Safety team do, please see here.