Flying Doctor Dental Clinic
The Flying Doctor Dental Clinic works in collaboration with Dental Health Services Victoria (DHSV) and Australian Dental Association Victorian Branch (ADAVB) to provide oral health services to communities in rural Victoria. The Dental team consist of dentists, oral health therapists and dental assistants who travel to rural and remote communities to provide examinations, oral health promotion and treatment services to eligible community members.
Our purpose-built mobile dental trucks service over 40 communities, with our Dental Clinic also operating a regular fixed dental clinic in Omeo in partnership with Omeo District Health.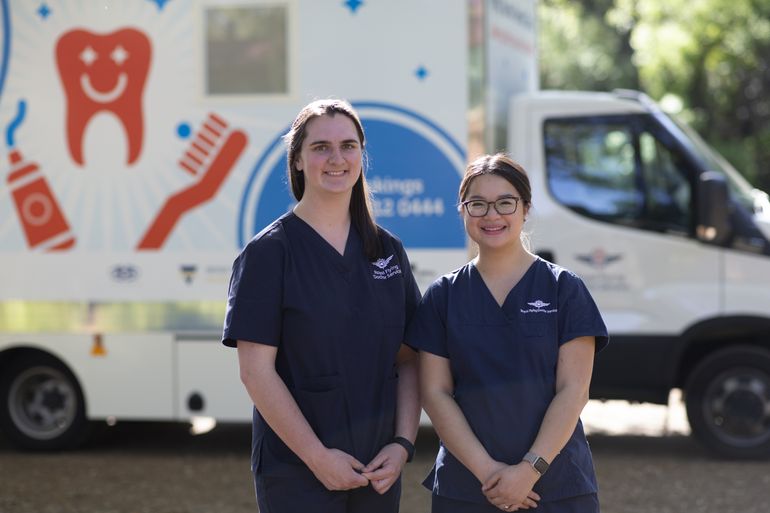 Why this service is so important
Good oral health is fundamental to our overall health and wellbeing. Poor oral health is linked to infections and chronic disease and can have a significant impact on both health and quality of life. Oral disease is largely preventable through access and regular visits to a dental practitioner, however, people living and working in rural and remote areas are disproportionately affected by problems associated with poor oral health.

This is largely due to difficulty accessing dental care, including the need to travel a significant distance to reach public dental clinics, due to the small and sparsely distributed populations and a lack of private dentists.

By bringing our dental trucks into these communities, we help eliminate the barrier of distance and allow locals to prioritise their oral health.
To make an appointment or to find out more information about the Dental Clinic please contact the Flying Doctor Dental team on (03) 8412 0444 or dental@rfdsvic.com.au.
Refer to the Australian Charter of Healthcare Rights for information about the rights of patients and other people using the Australian health system.
Fact >
Dental decay is 55% more likely for children in remote areas.
Fact >
Major cities have access to 72.3 dentists per 100,000 people, compared with rural Western and Eastern Victoria, which have access to 22.7 dentists per 100,000 people.
Explore below the Victorian communities visited by the Flying Doctor Dental Clinic the last financial year.