What we do in QLD
The RFDS employs over 400 people in Queensland with positions ranging from pilots, doctors, nurses, engineers, allied health professionals, and a variety of administration and support services roles including finance, marketing and human resources. With its Queensland head office located at the Brisbane Airport, the RFDS operates 20 aircraft from nine operational bases located in Brisbane, Cairns, Townsville, Rockhampton, Bundaberg, Charleville, Mount Isa, Longreach and Roma.
The RFDS's emergency retrieval service operates 24 hours a day, seven days a week, delivering the finest care to more than 290,000 Australians each year, that's one person every two minutes. This iconic service has expanded to provide regular transfers of patients for life-saving surgery such as organ transplants and heart surgery, delivering critical support to those who need it most.
The RFDS also delivers a broad range of essential health care services to rural and remote communities, including general practice, Aboriginal and Torres Strait Islander health, child and family health, social and emotional wellbeing, women's health and health promotion.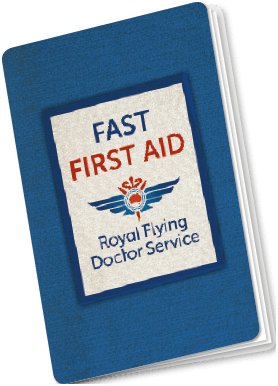 Every day lives are lost when people are injured and no one with them knows first aid.
Do you know what to do in an emergency?
Get my FREE Flying Doctor first aid booklet
Latest news stories
THE GIFT OF TIME: The profound effect a community had on their local GP
19 Jan 2021
For RFDS (Queensland Section) GP Trainee Katrina Starmer, a recent gift from the Chillagoe community, was not just beautiful – but incredibly symbolic.
Read full story
Flying Doctor powers through pandemic with unwavering healthcare delivery
23 Dec 2020
The Royal Flying Doctor Service (Queensland Section) (RFDS) has navigated 2020 with minimal disruption to its vital healthcare services despite the challenges presented by the COVID-19 pandemic.
Read full story
Graphic: Wudarabin Snider's winning entry in an Indigenous Creative Art Competition staged by the Royal Flying Doctor Service (Queensland Section).
Creativity supporting mental health and wellbeing
Inspired by her ancestors, wildlife and bush tucker, 15-year-old Wudarabin Snider from Cooktown has produced the winning design in an Indigenous Creative Art Competition staged by the Royal Flying Doctor Service (Queensland Section) (RFDS).
More details
Brisbane RFDS Base
The RFDS Brisbane Base commenced operations out of Queensland Ambulance's Terminal at Brisbane Airport, on 3 July 1995, with the current base location commencing operations next door in 1998.
The Base is exclusively an emergency aeromedical base, providing retrieval and inter-hospital transfers. The terminal facilitates receipt of patients transported to Brisbane by the RFDS, as well as receipt of patients transported by other aeromedical providers such as Queensland and NSW Ambulance Services. Clinical coordination is provided by Queensland Health employed doctors and aircraft tasking by RSQ.