Graphic: Make a donation today to bring lifesaving medical care to outback Australia.
Help bring medical care to outback Australia

Give a gift this holiday season to ensure people like Hamish have access to life-saving healthcare when they need it the most.
Donate
Latest news stories
Inspiring walk raises funds for Wellbeing Place
22 Nov 2021
Margaret Symes walked 330 kilometres to raise much needed funds for the RFDS Wellbeing Place in Broken Hill and more awareness of rural mental health.
Read full story
New experience and new territories for RFDS
13 Oct 2021
Find out why shearing sheds, hotels and sporting grounds have played such a big role in the work of the Flying Doctor during 2021.
Read full story
Graphic: One of the many family's helped by the Royal Flying Doctor Service's South Eastern section
Our South Eastern Section provides life-saving emergency evacuations and comprehensive primary healthcare services across New South Wales, Victoria, Tasmania, southwest Queensland, eastern and northern South Australia.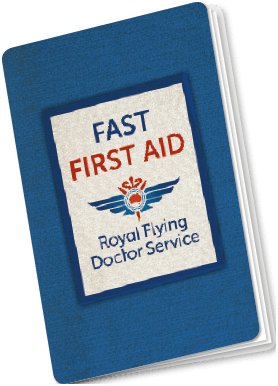 Every day lives are lost when people are injured and no one with them knows first aid.
Do you know what to do in an emergency?
Get my FREE Flying Doctor first aid booklet