Graphic: Dental van with patients
Children living in the outback are suffering from some of the worst dental health we've ever seen. Many as young as three years old are having all their teeth removed. Families in remote communities simply don't have the same access to dentists compared to those who live in the city.

This shouldn't be happening. Children deserve better.
It is crucial that our dental team can regularly visit remote regions to treat, prevent and educate families on vital oral health and dental care.
Your support helps ensure our experienced dental team can travel regularly to remote areas to treat, prevent and educate children and their families on essential dental health.

FIND OUT HOW YOU CAN HELP.
Latest news stories
Close the Gap Day 2023
16 Mar 2023
National Close the Gap Day is a day of action for Indigenous health equality that aims to close the health and life expectancy gap between Aboriginal and Torres Strait Islander peoples and non-Indigenous Australians within a generation.
Read full story
RFDS establishes national partnership with Isuzu UTE.
01 Mar 2023
RFDS establishes national partnership with Isuzu UTE.
Read full story
Graphic: One of the many family's helped by the Royal Flying Doctor Service's South Eastern section
Our South Eastern Section provides life-saving emergency evacuations and comprehensive primary healthcare services across New South Wales, Victoria, Tasmania, southwest Queensland, eastern and northern South Australia.
Dubbo RFDS Base
Dubbo Base, established in 1999, offers a range health services as well as being a top tourism attraction in the area.
Dubbo is home to The Outback Oral Health and Treatment (TOOTH) program, serving the remote communities of Collarenebri, Bourke, Lightning Ridge and Goodooga.
Dubbo conducts inter-hospital transfers, the coordination of flights for the Rural Aerial Health Service (RAHS), as well as emergency retrievals.
Bankstown RFDS Base
The RFDS base at Bankstown began operations in July 1994.
Bankstown Base is the home of the Rural Aerial Health Service (RAHS) which the RFDS operates on behalf of NSW Health. While administration and coordination of RAHS flights takes place at the Dubbo Base, the majority of flights are made from Bankstown.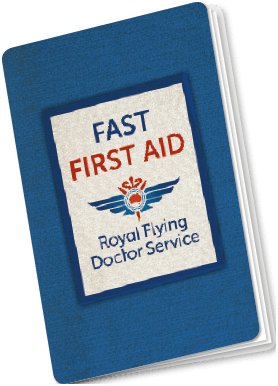 Every day lives are lost when people are injured and no one with them knows first aid.
Do you know what to do in an emergency?
Get my FREE Flying Doctor first aid booklet