At the Royal Flying Doctor Service, we pride ourselves on our health professionals' level of expertise and training. We believe they are the best trained people in Australia for the varying roles they have to perform. But sometimes events occur where even they are pushed to their limits. The devastating incident which occurred in Kowanyama in October, 2016 was one of those events.
On a Friday morning in the remote Aboriginal community on the western coast of Cape York Peninsular, a group of about 50 locals were gathered at a funeral. Held in a small home on the outskirts of town, the lives of the mourners gathered at the ceremony were changed in an instant when a four-wheel-drive crashed through the house, killing one woman and injuring 25 others.
On any other day, the ability to be able to quickly assist so many injured people, some critically, in such a remote area would be extremely difficult.
Graphic: Patient being airlifted form Kowanyama
According to RFDS Far Northern Services Manager, Angela Jarkiewicz, our aeromedical crews were tasked and airborne extremely quickly. We knew this was shaping up to be one of the largest retrieval operations for the RFDS in the Far North in recent history, with 15 people needing aeromedical evacuation, so availability to respond was paramount.
Back in Kowanyama, by pure coincidence, there was a very small team of four RFDS staff members running a primary health care clinic in town. The three medical staff members, primary health care registered nurse, Kylie Slade, long-standing primary health care GP, Bernie Carty, and Megan Pilkington, a recently employed primary health care GP, were the first on the scene and have been credited with helping to save the lives of numerous injured people following the terrifying incident.
They were also joined by administration support officer Therese Seden.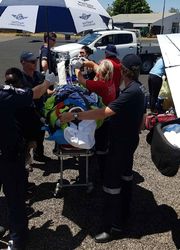 "It is purely coincidental that our primary health care team was in Kowanyama that Friday. Normally we run daily clinics Mondays to Wednesdays, but the recent public holiday meant we rescheduled for Friday," Angela said.
The RFDS primary health care staff members were praised by senior medical staff for the incredible work they performed on the day to care for the many injured in Kowanyama, particularly due to the fact they are employed in a primary health care capacity and don't often deal withemergencies.
However when a situation calls for it, action must be taken, and between the three clinical staff members and Ms Seden, they assisted the most severely injured, coordinated the triage of patients, delivered effective communication between those on the ground and responding emergency services, and assisted in the smooth coordination of operations once medical backup arrived.
Their efforts even drew attention from Queensland Premier Annastacia Palaszczuk and other MPs who made special mention of the entire RFDS team in Parliament the following day.
Dr Tonia Marquardt, RFDS (Queensland Section) Medical Educator said while aeromedical retrieval always played its role, the fortune of having three, highly skilled medical practitioners on the ground before flight crews could even take off was paramount to the successful treatment of so many injured people.
"We were really fortunate to have these medical officers on the ground with the primary health care staff from the clinic who could respond immediately and stabilise the patients in preparation for transfer," Dr Marquardt said.
"The requirement to be a remote general practitioner who not only manages the wide range of patients who walk through the door, but is also called on to be the first responder in a resource limited setting with no preparation or planning is a huge testament to our highly skilled primary health care staff.
"I have no doubt that their presence in the community where they are known and could respond immediately made an enormous difference to those having to deal with such a tragedy.
"Furthermore, thank you to all those who will be dealing with the aftermath in the coming months and years in helping an already traumatised community to try to move on after such a tragic incident."