Graphic: Simulator
Construction of the new Royal Flying Doctor Service (Queensland Section) world-class aviation training facility in Bundaberg is on track with the development now just over half complete.
The new facility, located adjacent to the existing RFDS Bundaberg Base, will house the only Beechcraft King Air Pro Line Fusion Full-Flight Simulator (FFS) in Australia.

Once built and operational, RFDS pilots from across Queensland will spend at least two weeks at the training facility each year, while non-RFDS pilots will also be able to use the simulator for their endorsements or recurrent training on King Air B350/360 aircraft.

The $25.3 million facility is supported by $14.9 million from the Australian Government, $3 million from QCoal Foundation, and the remainder from generous corporate and philanthropic donations. The land the facility is being built on has been donated by Bundaberg Regional Council.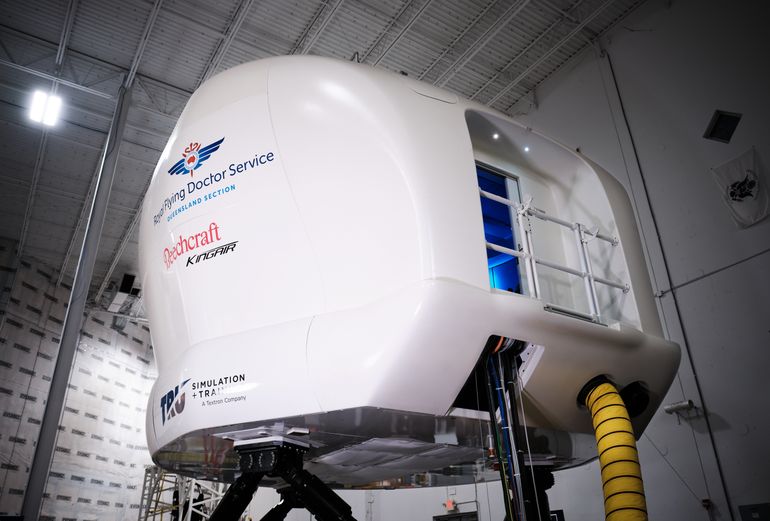 RFDS (Queensland Section) General Manager Aviation Peter Elliott said, construction of the new building to house the simulator was continuing, with completion still on track for the end of the year.

"We've had a busy, but successful last few months which included our Flight Standards Pilot David Falk travelling to the United States to put the new simulator through its paces.

"David reported back that it ticked all the required boxes for this stage of the build and we're now preparing to ship it to Australia within the next couple of months."

The facility is being constructed by local Bundaberg company Murchie Constructions.

Managing Director Andrew Murchie said the team has been working tirelessly to create a high standard construction that will deliver on the vision for a world-class, technological advanced building.

"We know the positive economic impact a facility like this can have on the Bundaberg region and as a local, family-owned business, we're committed to ensuring we do our bit to support the RFDS," Mr Murchie said.
Thank you to QCoal Foundation, Australian Government and Bundaberg Regional Council for supporting this new world-class aviation training facility in Bundaberg.