An ongoing, life-threatening illness and a new arrival on the way leads a mother on a traumatic, yet harrowing journey across land, sea and air.
Dalsy is a 40-year-old woman from Irupi Village in the western province of Papua New Guinea. She is married to her husband Sam, with whom she has four children; Samuel (10); Jessie (8); Isaiah (6); and Lux (4).
The primary source of income for the family comes from Sam, who hunts deer using traditional methods such as bow and arrow, and spears, occasionally having access to a gun to make things a little easier.
He then travels to Daru Island, about two hours by dinghy, to sell the meat. It was at Daru where Dalsy had been staying for three months in 2015 after she became extremely unwell. Staying with a friend at the time, she would go to the hospital every day for medicine. When her treatment ended in March, 2015, she returned to her village in Irupi.
Graphic: Dalsy and her baby, Abraham
However once she was home, her condition continued to decline. Often her pain was so bad that Sam would stay up all night, trying his best to comfort her. By October, 2015, Dalsy had become so ill that she had to be carried out of her village on a stretcher made of bamboo and rope, on her way to make another long trip via dinghy to Mabudawan Health Clinic. At this stage, Dalsy had been sick for eight months, the cause of her illness still unclear to medical staff at Daru. In the past eight months, Dalsy had also fallen pregnant.
Once she arrived at Mabudawan, it became immediately evident to medical staff that Dalsy would require more extensive treatment at Saibai Island. This would mean another hour long dinghy ride, perhaps her most trialling yet.
Sam offered his dinghy to a member of staff from Mabaduwan and accompanied his wife on the journey to Saibai, about 50km by sea from Dabu. Leaving in the afternoon, they arrived about 5pm just as darkness was falling. Dalsy said her husband had to support her for the entire journey as waves broke over the bow of the boat. She said she was covered by a tarp in order to keep her dry throughout the hour-long journey.
Once she arrived at Saibai Island, Sam and his older brother, Swai carried her to the hospital where she was admitted. An understandably exhausted Dalsy had drips applied to both arms and administered medicine, however she was not responding to any of the treatments. Itwas at 10pm when the nurse told Dalsy a "choppa" would be taking her to Thursday Island for immediate treatment.
But her mammoth ordeal would not end there. As Royal Flying Doctor Service Flight Nurse Croydon Cole explains: "It was at 2:10am that the Townsville night crew were paged for a P1 (time critical) retrieval from Thursday Island," he said.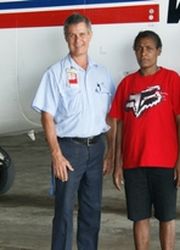 "The information we had, described an acutely ill person who was 24 weeks pregnant. The initial clinical picture indicated septic shock with severe anaemia."
RFDS Pilot, Captain Russell Ive landed at Horne Island at 5.30am, while Flight Nurse Croydon was transferred to Thursday Island by helicopter.
"We had to carry a variety of special packs containing life support, monitoring, and drug infusion equipment to ensure the patient needs would be met for almost any medical event that may occur during transfer," Nurse Croydon said.
"On arrival at Thursday Island Hospital, we were relieved to find the medical staff had done an outstanding job of stabilising Dalsy.
Graphic: Dalsy and Abraham
"Although she remained acutely ill, it was decided that any further intervention would only waste precious time."
Throughout her flight to Townsville Hospital, Dalsy required ongoing support to direct blood circulation to her vital organs, as well as continuous transfusion of blood.
She arrived safely at Townsville Hospital Intensive Care Unit at 9:15am. Dalsy's baby, Abraham, was an unexpected arrival while she was a patient in the ICU, arriving on October 11.
Abraham was released into Dalsy's care at the Ronald McDonald House North Queensland a few months later, where they both received regular out-patient check-ups before returning to Irupi to be with their family.
"Although our retrieval service is often just a link in the chain of survival it is very fulfilling to learn that patients (two in this case) make a full recovery, particularly when I reflect back on Dalsy's critical state. The bright and bubbly Dalsy that I had the chance to meet at the base was the polar-opposite to the patient who was fighting for her life that night," Croydon said.