Graphic: RFDS Cesna
Primary health care nurse and midwife Natasha Hodgson always dreamt of working for the Flying Doctor. Now that she is, she is seeing the direct positive impact her work has on communities is a reward like no other.
Growing up in regional Western Australia, Natasha learned the importance of remote health care from an early age, and always felt a pull towards a career working with communities.
"My mum was an influence, definitely. She's always worked in human services and I grew up seeing what positive changes can be made to a community, and what a diverse career I could have," Natasha said.
However it was after first learning about RFDS after her dad was flown by the Service from Port Hedland to Perth for life saving medical treatment, that Natasha's fascination with the Service took hold.
Natasha set out to gain the experiences required to become a primary health care nurse with the RFDS, working as a Child Health Nurse in the Goldfields and the Kimberley and continued to study Midwifery.
When she moved to Cairns with her husband, Natasha leaped at an opportunity to work with the RFDS. For her, it was a great way to work and travel in rural areas and improve thewellbeing of people whose access to healthcare is limited. And for Natasha, it meant so much more than accepting any other role.
"I've had excellent mentors during my training, and RFDS is no exception. All of the staff at RFDS have worked hard to get here and it's great to be surrounded by such a supportive team. It's an incredible opportunity to be involved in such a respected organisation that has a tremendous impact on communities across Australia," she said.

Since joining in 2017, Natasha has been working in primary care health clinics in remote areas, providing health checks, immunisations and health promotion. She's passionate about preventative healthcare – addressing basic health care needs before they become a problem to keep families healthy.
"When you're in a major hospital you treat a patient then send them back to the environment that made them sick in the first place. But in primary health care, you can treat the whole family and community. Our goal is to empower families to improve their health and well-being."
Natasha describes the work she does as holistic, opportunistic and diverse.
Living in Cairns means her working week begins very early on a Monday morning when she flies out to a remote community, often Doomadgee or Mornington Island. Natasha stays in the community until Thursday, after spending three nights in a roadhouse donga, working 10-hour days. Natasha also visits communities such as Georgetown for day clinics.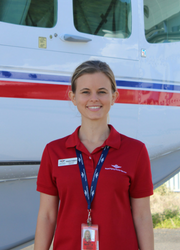 "Going to remote communities is great nursing and midwifery experience. I get to meet people from different communities and hear their stories. The roster also means I get weekends off."
Having weekends off means Natasha get the weekends to explore Cairns with her husband, often visiting the surrounding rainforests and waterfalls.
Aside from living and working in a remote community half the week, Natasha says there are unique challenges she did not face in previous hospital-based roles.
"At the end of a hospital shift, I would hand over my patients to another nurse or midwife. Out here, we have four days in the area. It's my responsibility to empower and educate the patients during that short time to continue to care for their own health".
To cope with the challenges and level of responsibility that primary health care nurses require, Natasha highlights the importance of extensive qualifications and experience. Resilience, motivation and passion are also imperative for the job, as is a willingness to adapt to changing circumstances.
"If you like structure, this role wouldn't be good for you. You have to be flexible and creative in order to work with what you have. You can't turn up and only do what you have to do - you need to go above and beyond. Whoever walks in the door, we work with them to improve their health and wellbeing. There are no appointments out here. You have to take a community approach."
We think Natasha achieves great things but it's the little things that bring a big smile to her face.
"It's great when the parents I work with are so proud to show off their newborn babies. The families out here know to come to the RFDS clinic when they return to community with their babies. It's incredibly rewarding seeing them so proud and excited to see us. Or when I'm educating children about health and they ask me questions and show a real interest - that's an amazing feeling."
Above all, there is one thing that Natasha always keeps in mind when helping people, and it's something she has felt very strongly since beginning her journey with RFDS.
"At RFDS, we don't see our job as only treating patients. We know that when we care for someone, that this is someone's dad or someone's sister and we are respectful of that and have a family centred approach."
Are you looking for your next career?