The Royal Flying Doctor Service (Queensland Section) (RFDS) was delighted to announce the recipients of the inaugural RFDS Local Hero Awards at morning tea celebrations in Roma, Longreach, Mount Isa, Brisbane, Charleville, Rockhampton, Bundaberg, Cairns and Townsville, to mark the 88th Anniversary of the Royal Flying Doctor Service in Australia on 17 May, 2016.
CEO Nino Di Marco said the RFDS Local Hero Awards, proudly supported by Ergon Energy Retail, were established to thank and acknowledge those outstanding individuals who tirelessly and selflessly support the work of the Royal Flying Doctor Service in their region.
"It was heart-warming to have received Local Hero nominations from around the state, ranging from a 14 year old boy raising money by holding backyard races, to a man who has been the holder of the RFDS Medical Chest in his community for nearly ten years, to a woman who has been brightening lives by donating hand-made quilts to keep premature babies warm," Mr Di Marco said.
"On behalf of all of us at the RFDS here in Queensland we would like to congratulate and thank all Local Hero nominees across Queensland who work "behind the scenes" to support the work of the Flying Doctor teams."
"Ergon Energy Retail has a proud history of being a regional Queensland company … most of our people live and work in regional Queensland," Tony Pfeiffer, Acting Executive General Manager, Ergon Energy Retail said.
"We have a long standing relationship with the Royal Flying Doctor Service Queensland Section – last year we celebrated 15 years of working together and also reached $10million in donations from our customers.

"These were significant milestones, not just because of the money raised, but because they once again showed that when regional Queenslanders make a commitment, they are in it for the long haul."
Local Hero Award (Brisbane Region) - Les Hancock, Founder RideWest
Les is the founder and event manager of RideWest a biennial cycling event which raises awareness for men's mental health and funds for the RFDS' primary care program for men in the Outback. Now in its fourth year, RideWest involves up to 30 bike riders who cycle 1,237 km from Brisbane to Longreach. Together with son Damian, friend Brendan Wright, partner Mark Dillman, wife Shelley Hancock and a growing number of sponsors and partners, Les is proud to see the event growing - with funds raised increasing from each ride. The goal for 2016 is another $200,000 to take the grand total to $700,000 raised.
Local Hero Award (Bundaberg Region) - Keith Ballantyne
Keith is a dedicated member of the RFDS Wide Bay and Burnett Auxiliary. Keith's devotion and efforts to the RFDS donation tin program sees him coordinate coin collection tins in over 45 locations in and around the Bundaberg area. Keith drives 288 Kms around the region picking up and dropping off tins so locals have a familiar spot to go to, to give whatever they can.
Traeger Youth Award - Bohdi Wochnik (Bundaberg Region)
Bohdi is a 14 year old boy who has been raising funds for the RFDS for five years by running raft races in his backyard dam, as a result of the assistance the RFDS has provided to his family, including when: his sister was bitten by a snake; his granddad's finger was cut off; his uncle had a helicopter crash and more recently when his cousin fell off his horse and was unconscious. So far he has raised $1991.55 for the RFDS.
Spirit of John Flynn Award - Peter Blackburn (Cairns Region)
Peter Blackburn, who held the RFDS medical chest in Mt Surprise for nearly ten years, has been acknowledged with the Spirit of John Flynn Award for his outstanding services in improving the healthcare of his community. During this time, Peter made himself available day and night to assist the RFDS staff by transporting staff to emergencies and local clinic days, and to assist the town locals when they become unwell by liaising with RFDS doctors to assist in emergencies.

Local Hero Award (Cairns Region) - Phillip Marpoondin from the Aurukun Men's Shed
Phillip is a proactive and compassionate full-time volunteer for the Aurukun Men Shed, presently facilitated by the RFDS. Philip is part of the project that provides a diverse range of activities, growing crops, healthy eating, education and training opportunities. It also provides a therapeutic environment where men can explore the many challenges of daily life in the community. He recently attended Parliament House in Canberra, in his own time, to inform the Minister for Indigenous Affairs about the successes of the Men Shed. Phillip continues to assist the RFDS daily by volunteering most of his time to his community and the organisation. I have witnessed Phillip's work first hand and his dedication and passion for his community has been the driving force behind the success of the Men's Shed.
Truly a deserving winner of the Local Hero .
"I want to be a role model for my family and community. Thank you from the bottom of my heart for this award RFDS and you all," Philip Marpoondin RFDS Local Hero (Cairns Region).
Local Hero Award (Charleville Region) - Yowah SES and Rural Fire Service (RFS)
The Yowah SES and Rural Fire Service (RFS), assist the RFDS in aeromedical retrievals and departures, diligently going the extra mile for pilots and crew. Prior to the arrival of the Charleville team for a weekly medical clinic, the Yowah SES and Rural Fire Service (RFS) carry out runway inspections prior to their arrival and departure and are on scene until crews have shut down or departed for every clinic. They also provide the same service for any evacuations from Yowah 24/7. As there are often cattle, kangaroos, goats and the occasional camel to chase off the airstrip, the service provided by Yowah SES and RFS is a huge safety enhancement for the RFDS' operations. In addition, for at least the last 15 years, the Yowah SES and RFS have co-ordinated the ground crew for the Charleville Base's annual Aviation Night Proficiency Check at Yowah, over two consecutive nights in March. They also provide a BBQ for the numerous local spectators and tourists who make a night of watching the pilots train.
Local Hero Award (Longreach Region) - Residents of Stonehenge/Stonehenge Information Centre
The Stonehenge Information Centre staff always greet the RFDS with a warm welcome to the GP clinic service, provided by the Charleville Base fortnightly, and to the RFDS Social and Emotional Wellbeing service provided by the Longreach Base each month. They also ensure the facilities are ready and well-presented and that local residents are aware of the RFDS visits. In addition, local Stonehenge residents "make a day" of clinic visits by making that day their craft day, creating an opportunity to connect.
Spirit of John Flynn Award - Lake Dunn Community (Longreach Region)

The Lake Dunn Community, made up of station families from the area around Lake Dunn (outside Aramac) have traditionally been long term supporters of the RFDS. This community has raised funds to support the RFDS through sporting events and proceeds of cattle sales. In addition, the local community have continued to support the Lake Dunn Field Day, delivered collaboratively by the RFDS Longreach and Charleville Bases. This event has continued to grow, thanks to the support of the community. Despite facing many challenges of their own, this community goes out of its way to contribute ideas and ensure the airstrip is maintained. The event is multi-generational and it is humbling to see the appreciation for the RFDS pass through the generations.
Local Hero Award (Mount Isa Region) - Pam Forster, Owner, The Danjii Pub
Pam has been an outstanding supporter and advocate for the small community of Urandangi in which she lives 200km south west of Mt Isa. Pam has been a RFDS stalwart for the small town over the last nine years. She manages the only RFDS medical chest in the town and is the first point of call for the RFDS when an emergency is reported. Usually she is the first person that the community comes to for initial assistance in an emergency. She regularly provides support and transport for the RFDS crews to enable them to attend emergencies in the town and surrounding region. She has also provided free lunches for the clinic crew and transport, when needed, every fortnight for the last nine years. On multiple occasions when other facilities were not available, Pam has also allowed clinics to be held in her 'Dangi Bush Resort' and was a crucial supporter in the recent clinic building renovation.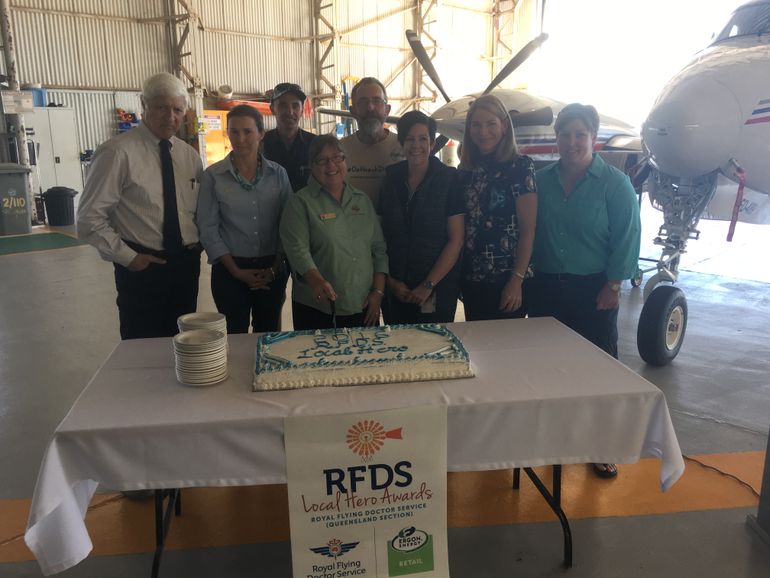 Spirit of John Flynn Award - Michelle Low Mow, Manager, Adel's Grove Camping Park (Mount Isa)
Michelle inspired the establishment of RFDS Local Hero Awards when she used her first aid skills to help save the life of a patient last year. Late one afternoon, the RFDS Mount Isa team was called to respond to an incident, involving a man who collapsed at Adel's Grove Camping Park. As the RFDS night crew prepared for an immediate departure, the on-duty doctor provided advice over the phone as CPR was administered with defibrillation, by Michelle, with the help of two nurses visiting the camp site. Fortunately the patient responded well and was transferred by the RFDS to Townsville Hospital. The patient has now fully recovered.
Local Hero Award (Rockhampton Region) - Don and Dell Limpus
Both in their seventies, Don and Dell are long-term members of the RFDS Rockhampton Auxiliary, which consistently raises in excess of $80,000 for the RFDS each year. During the first seven years of their marriage they depended on RFDS while living and working on Mornington Island and as a result are now involved in fundraising, collecting cheques and public speaking on behalf of the RFDS. As well as aeromedical transfers, last year the RFDS delivered more than 95,000 patient consultations across aeromedical, tele-health and primary health care programs.
Local Hero Award (Roma Region) - CondonTreasure Charity Ball
Since 2008, Condon Treasure, a local Roma business, has been organising an annual ball to raise funds for local charities including the RFDS. What started as an end of financial year celebration has turned into a must attend community event in Roma. The 2015 CondonTreasure Charity Ball was another smashing success, which resulted in a generous donation to the RFDS of over $25,000.
Local Hero Award (Townsville Region) - Jock and Kaye Macdonald
Jock and Kaye are members of the Near and Far Auxiliary who fundraise for the RFDS through selling RFDS promotional items at shopping centres, as well as an array of local crafts and potted plants, which have been lovingly propagated by Jock in his backyard. They also take the opportunity to promote awareness of RFDS history, activities of the Townsville Base in the local community and local schools to support the RFDS, by organising classroom demonstrations of a typical operational day at an RFDS Base. Through Jock's stories about living on a property in the Gulf, students came away with valuable knowledge of the workings of the RFDS and issues faced by people living in remote locations.