Graphic: Baby Jack is in a hospital bed with medical equipment
It's every parent's worst nightmare. Their newborn baby is desperately ill and the critical medical care they need is hundreds of miles away. Cue the Royal Flying Doctor Service.
And when this happened to new dad, Jacob Weidman, it also inspired a new career.

Living at the northern tip of Australia in remote Cape York, Liz and Jacob Weidman and their two-year-old son Riley were excited to be welcoming another boy to their family, Jack. While their nearest town of Weipa has a hospital, it didn't have the facilities needed for their tiny baby who was unable to drink and whose condition was rapidly deteriorating.

At just three weeks old, Jack was transported by an expert aeromedical team from the Royal Flying Doctor Service, flying from Weipa to Townsville.
Diagnosed with an uncommon condition called pyloric stenosis which leaves a baby unable to digest anything they drink, Jack required surgery in Townsville hospital. To the delight and relief of the Weideman family, Jack went on to make a full recovery.
But for Jacob Weidman, that RFDS flight had sparked something. A Firefighter by trade, Jacob was fascinated by the life-saving aeromedical work that the RFDS did.
"To be privately transported to hospital in this little plane while having my son's medical needs being taken care of was incredible to witness. The service, professionalism, support and sheer ability of the RFDS team was outstanding", said Jacob.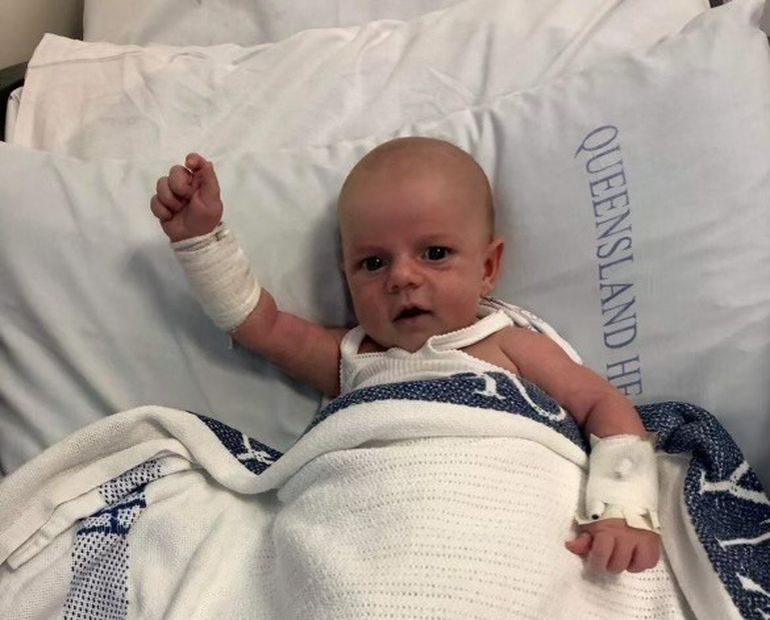 "I cant thank the RFDS, the brilliant ambos and the amazing team at the hospital in Townsville enough.

"This experience became a huge catalyst for me to want to help in this way too. So, I applied to go to CQUniversity and am now in the second year of my paramedic degree. I'm studying part-time while still working as a Firey and am enjoying it immensely. My aim is to one day end up in a career where I can be helping others the way the RFDS helped us, and to be an example to my kids on the importance of serving others."
But the RFDS experience hasn't ended there for Jacob and Jack Weidman, after Jacob was the winner of the RFDS Qld's Birdsville Big Red Bash competition, where he won a money can't buy outback experience including a scenic flight aboard an RFDS aircraft and VIP tickets to the sold-out Birdsville Big Red Bash.
"I couldn't believe it when I received the call to say I'd won! The Birdsville Big Red Bash is such an iconic festival and it's also an amazing fundraiser for the RFDS. We realised that Jack would turn three while the festival was on so he's come along and is getting the best birthday present ever. To think that he once was such an unwell little baby on that aeromedical flight and now he's this healthy, happy boy full of energy, who's getting to enjoy travelling all the way to Birdsville and watching all these incredible musicians perform live is just incredible."
The RFDS emergency retrieval service operates 24 hours a day, seven days a week, delivering care to more than 330,000 Australians each year. To help meet the costs associated with running this comprehensive healthcare service, the RFDS relies on the generosity of individuals, community groups, business and the corporate sector as well as funding provided by the Commonwealth and State Governments.
RFDS operates as part of the Queensland Health Aeromedical Network.