Graphic: RFDS Local Hero Awards
The Royal Flying Doctor Service (Queensland Section) has announced our nine RFDS Local Hero Award winners for 2021. The annual awards, proudly supported by Ergon Energy Retail and Queensland Country Life, recognise Oueenslanders who have donated their time and energy to keep the Flying Doctor flying. Read about the Local Heroes below and vote for your favourite today!
Brisbane — Sam Hughes
In March last year, 19-year-old Sam Hughes set off from Maleny in a bright orange, 1957 Chamberlain 9G tractor named 'Slim', towing an eye-catching trailer, which now features a small RFDS aircraft replica on top.
Sam, or the 'Travelling Jackaroo' as he is well-known, decided to drive his tractor around Australia, with the aim of raising funds for the Flying Doctor and Dolly's Dream. In just 10 months, not only has Sam raised more than $50,000 for the RFDS, but he has also brought incredible awareness to the work of both organisations.
Bundaberg — Bohdi Wocknik
Inspired by three RFDS transfers of family members, Bohdi Wochnik has raised more than $25,000 for the Flying Doctor over the past 10 years. Bohdi's younger sister was retrieved by the RFDS after she was bitten by a king brown snake, his grandad was transferred after he lost a finger, and his uncle was also flown by the Service following a helicopter accident.

His fundraising efforts have amassed from raft races that he has staged over the years at his family's property. Now that 20-year-old Bohdi is working on a farm near Gin Gin, he is planning to pass the organisation of the event to his little sister to continue the incredible work.
Cairns — Karen Koko
Lockhart River resident Karen Koko is a leader within her remote community. As a senior healthcare worker, she regularly provides advice and assistance to those in need.

Not originally from Lockhart, the community has accepted her with open arms. Karen's praised for her extensive knowledge of her community and their health needs. She's been called the heart and soul of the Lockhart River Primary Health Care Clinic.
Charleville — The Bauer Family
For more than three generations, the Bauer family has supported the RFDS, with several members having been transferred during this time. When their son Angus was two years old, he was having difficulty breathing. As they rushed to Augathella Hospital, Angus turned blue in the car. The RFDS was called, and he was flown to Toowoomba.
The Bauers have regularly donated the proceeds from their cattle sales to the Flying Doctor. The most recent sale generated more than $17,000 for the RFDS.
Longreach — David Crust
Before his death, David Crust spent many years fundraising, volunteering for and promoting the RFDS. From participating in treks to organising raffles at the local bowls club, 'Crusty' raised a significant amount of donations for the Flying Doctor.

Following a battle with cancer, the RFDS flew David to Longreach so he could spend his final days at home. An annual tournament is now held at the Longreach Bowls Club in memory of David, with the proceeds donated to the Flying Doctor
Mount Isa — Justine Collins
Nurse, Justine Collins was on shift in Mount Isa when she received a call about an accident at a remote station around 25 minutes away. She immediately notified the RFDS and took the clinic ambulance, along with the warden, to the property.

The patient, Paul Woods, had been trampled by a bull. While Justine didn't know the full extent of his injuries, she knew that most of his ribs were broken and there was risk of a punctured lung. Justine recalls experiencing immense relief upon the RFDS arriving at the station.
Rockhampton — Bronwyn Fitzgerald and Colleen Timms
For several years, Bronwyn Fitzgerald and her mum, Colleen Timms, have knitted toys for the Woolworths Toy Drive, in support of the RFDS. Despite the fact the drive is conducted annually, the pair knit year round in preparation.

The toys are of great benefit to the Flying Doctor, helping comfort sick or injured children during what may be an unsettling experience. As acashier for RFDS corporate partner Woolworths, Bronwyn is also a great supporter of the in-store fundraising campaign which is staged each year.
Roma — The Boshammer Family
In November 2020, seven-month-old Zara Boshammer died as a result of a rare disease that she was diagnosed with after birth. Her parents Justin and Kate decided to honour their little girl with an event which raised funds for the RFDS and Steve Waugh Foundation, as well as a high flow oxygen facility for their local hospital in Miles.

Zara's Day in 2020 raised more than $148,000for the three organisations. But the family were not yet done. They again staged a Zara's Day event last year, raising another $30,000 for the RFDS, along with $60,000 for the Steve Waugh Foundation.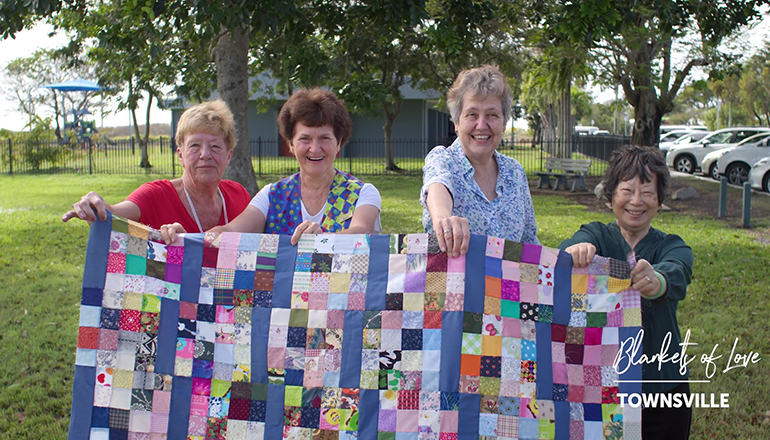 Townsville — Blankets of Love
The Blankets of Love group was established more than 20 years ago. Since then, a group of ladies have met regularly to create beautiful quilts for RFDS patients.
Over the years, many ladies have contributed to the cause, creating quilts of all sizes to provide comfort to young patients of the Flying Doctor.