Community Transport FAQs
Why is Flying Doctor Community Transport coming to my community?
Like many community transport services across the country, Flying Doctor Community Transport has been developed to support communities that face barriers in accessing health care.
Each of the communities in which our service operates was identified following a period of research and consultation. The aim of this approach was to identify trends and characteristics within communities that suggested a critical need for a community transport program.
This process began with our expansion funding partners – Western Victoria Primary Health Network (PHN), Murray PHN and Gippsland PHN – undertaking in-depth data analysis of communities across Victoria that had a high need for transport assistance for medical reasons.
Once the most in-need communities were identified, these PHNs came together with the Flying Doctor to commence market soundings. This included consulting with key community leaders and stakeholders from health services, local council, community groups and potential service users to identify the need, suitability and viability of Flying Doctor Community Transport in their region.
Being a community-based service, Flying Doctor Community Transport strives to ensure strong working relationships with all local organisations and businesses within the communities we serve. As such, Flying Doctor Community Transport is designed to complement existing transport services in each town, not replace them.
Can anyone use this service, and how much does it cost?
Flying Doctor Community Transport is a free service for all eligible clients (please click here for eligibility criteria). There are also no financial obligations required from the community, host partner sites and/or health services.
How is this service funded?
Our Heathcote and Rochester services are funded by RFDS Victoria donors and support from our local partners.
The expansion into the eight new sites is funded by Western Victoria PHN, Murray PHN and Gippsland PHN under the Australian Government's Primary Health Networks program until June 2024. Ongoing service sustainability will be explored throughout this period, and any changes will be communicated with transparency throughout the project.
Is Flying Doctor Community Transport available to clients for non-medical appointments?
The focus of Flying Doctor Community Transport service is to support individuals with their health care needs. As such, there are strict eligibility criteria for accessing the Community Transport service, meaning the service is not available to the public at large. The Flying Doctor provides transport for people who have limited or no alternative transport arrangements or who cannot afford alternative transport to attend essential medical appointments or formally funded Social Support Group programs operated through health service providers.
No trips outside of medical appointments and Social Support Group programs are undertaken by the Flying Doctor Community Transport service. For example, the service cannot be used to run errands or to attend social gatherings.
If you are unsure if you meet our criteria, please contact the Flying Doctor Community Transport team on (03) 7046 4664 or via communitytransport@rfdsvic.com.au, and they will be able to direct you to some more information.
Is Flying Doctor Community Transport available to clients in wheelchairs or with walking frames?
Yes, Flying Doctor Community Transport accepts bookings for clients who use a wheelchair. Please make sure you let staff know this when you are booking your trip so they can allocate you the right vehicle that has a wheelchair hoist.
This vehicle may not always be available so please book in as early as possible to ensure we can accommodate your booking.
We can also accommodate walking frames and support equipment.
How far can the service transport clients?
Our service radiuses are developed in line with key referral pathways and receiving services in the area, as well as community consultation, which means that we cannot travel further than 100km from each base. The exact service areas will differ for each town; you can find out more about the travel radius for your town here.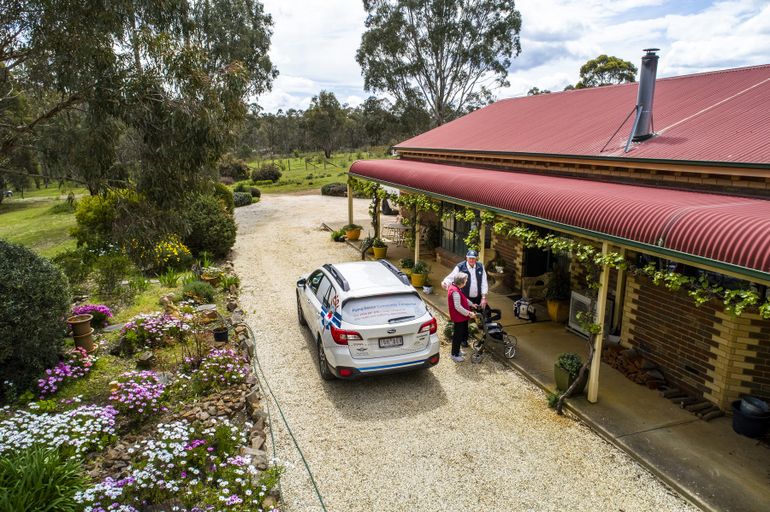 Contact our team
To find out more about the Flying Doctor Community Transport service, please reach out to our friendly team.
P: (03) 7046 4664
E: communitytransport@rfdsvic.com.au
Flying Doctor Community Transport