Graphic: Aircraft flying to Brisbane
Brisbane Airport works tirelessly to deliver the best outcomes for all Queenslanders. Last year alone, more than 4,250 patients from 63 locations across Queensland passed through Brisbane Airport with the Flying Doctor.

It is this life-saving work that ensures Queenslanders who live, work or play in regional areas have access to urgent medical care, no matter the distance. Read four amazing stories below.


The RFDS Flight Nurse whose labour of love saved four lives on one flight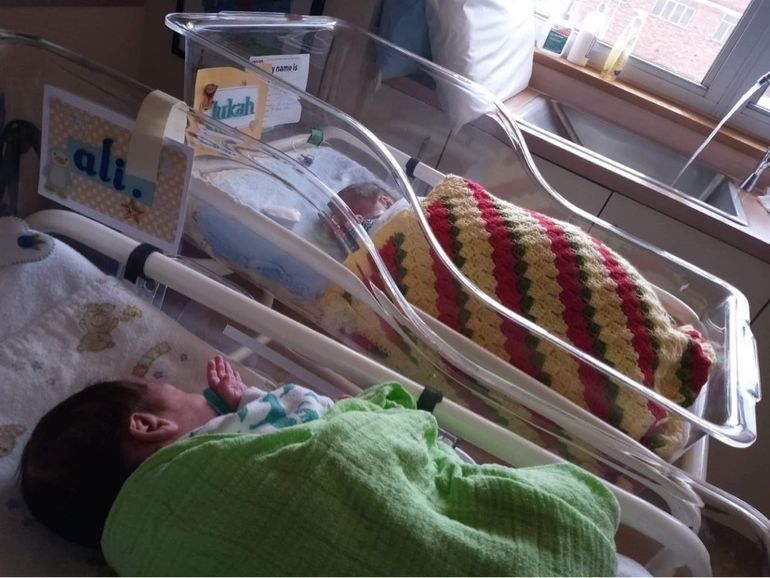 When Courtney Bylett was tasked by Queensland Health to transfer two women in their third trimester, she knew she was in for quite the night.
"Both sounded very stable, but all flight nurses know never to trust a pregnant woman at 28,000 feet, let alone two of them," she jokes as she starts her story.
Initially, neither transfers were urgent. At 32 weeks pregnant, but with a baby measuring closer to 28 weeks, Julianne was heading from Charleville to Toowoomba for growth scans, while Chantel, who was 34 weeks, had high blood pressure and was being transferred from Cunnamulla to Brisbane to assess the potential need for induced labour.

"We were about 20 minutes out of Toowoomba when my gut instinct was proven right," the Charleville-based RFDS nurse says.
"Julianne was sitting in a chair, and something didn't look right, she claimed simple discomfort, but a physical check showed that she was actually in labour."

Courtney assessed the patient and knowing that her baby was too small for a Toowoomba delivery, identified this was now an emergency, and the aircraft was rerouted by Queensland Health to Brisbane, where Julianne's baby could receive specialist infant care.
"It was about that time Chantel decided to join in the fun," Courtney said as she reflected on the frenzy.
Chantel's blood pressure began to rise, and she was in 'pre-eclampsia', a very serious condition that can lead to seizures and even stroke, amongst other organ compromises.
"I remember saying to the pilot that I wasn't sure if the aircraft could go any faster, but he needed to put on the red stripes and get us to Brisbane Airport as quickly as he could."
Courtney administered medication to Julianne to delay labour and reduce the risk of a mid-flight delivery, while also keeping Chantel steady throughout the journey.

Brisbane Airport gave the RFDS flight priority right of way, where two Queensland Ambulance Service ambulances and another RFDS Flight Nurse were waiting on the tarmac to support.

Both women made it safely to the Mater Hospital, where they would receive the treatment needed to carry closer to full term, ensuring that two healthy babies could come into the world, coincidentally on the same day, a few weeks later.
Courtney reiterates why both stories have happy endings; despite living eight and nine plus hours' drive from Brisbane, they were able to receive specialist treatment in the city during an emergency.

Courtney's mid-air heroics with Julianne and Chantel is but one tale from her 10-year-long career at the RFDS as a Flight Nurse.
Based out of Charleville—where the RFDS flew 112 patients into Brisbane Airport last year—Courtney took to rural life like a duck to water. While her mother's family hailed from Blackall, Courtney grew up in Brisbane and classified herself as a city girl.
That is, until a placement in Charleville while studying at the University of Southern Queensland sold her the country dream.

Further placements in Western Australia and New South Wales solidified her love of the outback, but there was something about Charleville she couldn't shake, so when an RFDS job became available in the region, Courtney made the permanent move and has never looked back.

This story is not a rare occurrence, with the RFDS (Queensland Section) landing at Brisbane Airport on average, 10 times a day. Thousands of people each year rely on access through the Brisbane Airport to receive essential healthcare.

Courtney, who boasts world-class specialist care and calmness under pressure, will be the first to admit it takes the efforts of many to make the RFDS service possible for patients like Julianne and Chantel.

The RFDS has people from all walks of life, doing all sorts of roles with one sense of purpose: to provide the finest care to the furthest corners of Queensland.


The RFDS pilot who flies Queenslander's to specialised treatment
It was 1990—before she'd ever been behind the wheel of a car—that Vicki Harrison flew her first plane, a moment that set her on a pathway to RFDS. Vicki joined the RFDS as a pilot in March 2010 after 18 years with the Royal Australian Air Force (RAAF).
With a unique suite of hard-earned skills, the RFDS pilot job was a one-of-a-kind chance for Vicki to help communities while doing what she loved.

As the person responsible for the safety of those providing and receiving world-class medical treatment, Vicki is proud to be part of the team and credits the efforts of those in Air Traffic Control for always being on hand to support, such as in the case of Courtney and her two emergent pregnant mothers, securing priority over the big jets to hit the runway knowing full well the difference 10 minutes can make in a life and death situation.
Vicki Harrison is based at the RFDS Townsville base and often flies from Townsville to Brisbane for regional, rural and remote Queenslanders to receive specialised care.

The RFDS Technical Services Engineer who keeps the aircraft in the air
Deryck Sander is one of a team of eight engineers and support staff whose sole focus is making sure all 21 aircraft, including the one that helped Courtney, Julianne and Chantel, arrive safely.

After working on RFDS aircraft for four years, Deryck officially donned the RFDS badge in December 2020 when the engineering element of the business was moved in-house. Based out of Brisbane Airport, Deryck and crew handle many of the routine and detailed inspections, engine changes, landing gear changes and perform defect rectifications.
Along with complementary engineering outfits out of Charleville, Rockhampton, Mount Isa, Townsville and Cairns, it is the easy access to spare parts and external support within Brisbane that makes the airport an ideal location for RFDS engineering operations.
The work of Deryck and those in his team is vital for keeping the Flying Doctor in the air.

With seven new Beechcraft B360 King Air aircraft due to join the RFDS fleet over the next few years, the engineers are going to be kept even busier as the RFDS ensures that those living, working and playing across the furthest corners of Queensland have access to the finest care.

Brisbane Airport will be home to a $72 million aeromedical base, fully funded by the Queensland Government. The aeromedical base will allow RFDS, Queensland Health and other providers to be co-located at Brisbane Airport.
It will be fitted-out with state-of-the-art equipment, including an innovative Operational Control Centre and new Virtual Health Hub to enhance our ability to serve Queenslanders. It will also see all air ambulance providers better equipped to provide quicker, more efficient assistance across Queensland. Construction on the new hub is expected to commence in early 2023.


RFDS Duty Tasking Officer who ensures patients get to Brisbane as quickly as possible
When Courtney first received the call from Queensland Health regarding her two pregnant patients, it would have come from a tasking officer—a key role amongst a number of unsung heroes that help to ensure the finest care is provided to the furthest corner.
As an RFDS Duty Tasking Officer, Bernadette Wallace is one of those officers at Retrieval Services Queensland who is responsible for coordinating the calls for help. Along with holding a commercial pilot's license, Bernadette's valuable contribution to a larger operations team was solidified during her role in the rescue mission when the 2021 Goondiwindi flood disaster was threatening lives.

In that incident, the RFDS was essential for assisting elderly and hospitalised patients evacuating from Goondiwindi to towns such as Toowoomba and Warwick.
Bernadette was able to coordinate five aircraft and three crews from Brisbane, Bundaberg and Rockhampton to collaborate with the Brisbane Airport control tower to ensure more than 11 Queenslanders from the flooding zones could seek safe harbour and necessary medical treatment in Brisbane.

The RFDS operates as part of the Queensland Health Aeromedical Network.