Graphic: From ADF to RFDS - three staff share their stories
To land and take-off from some of the remotest airstrips in the world takes a certain kind of grit, a grit that Jeff Konemann, Glenn Todhunter and Darren Hope know only too well.
Between them they've clocked up a half-century of experience with the Australian Defence Force (ADF), and that knowledge now helps keep outback patients and RFDSSE staff safe and on the move 24/7.

Today's Head of Flight Operations at RFDSSE, Jeff [pictured right] was once a real life 'top gun'. One of the Royal Australian Navy's last cohort of jet pilots, he later became chief flying instructor. Jeff also spent a good part of his career working with the Royal Australian Air Force.

"A life in the military is a life of service," he explains, "as is life in the RFDS. Both are communities and professions with service at the core of their values and beliefs, rather than status or money."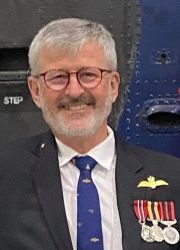 A life in the military is a life of service, as is life in the RFDS
Jeff Konemann, Head of Flight Operations, RFDSSE
Graphic: Darren Hope as an ADF soldier
The people overseeing RFDSSE's state-of-the-art flight training facility in Dubbo are also ex-military.

Now Head of Aviation Training, former army pilot Glenn Todhunter agrees with Jeff's key point. "Both the ADF and the RFDS have a commitment to service – to serve the people of Australia – and that way there's an alignment of values and goals," he says.

Like Glenn, Darren Hope [pictured right] of the Aviation Training Team ('Part 141') in Dubbo is a former member of the Army's 173rd Surveillance Squadron, which once flew King Air aircraft like the RFDS.

Darren is RFDSSE's Simulator Maintenance Manager and says that the professionalism and discipline he learned as an army engineer are fully applied in his current role.

"In my workshop," he says, "I have a process for everything. Everything is clean and has a place – it's all standardised."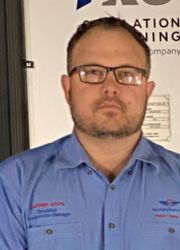 The professionalism and discipline I learned as an army engineer are fully applied in the RFDS
Darren Hope, Simulator Maintenance Manager, RFDSSE
It's the sheer quality of training that set the ADF and the RFDS apart, emphasises Jeff Konemann.

"You won't get any better training than you get in the military," he says. "Your opportunities to hone your skills are second to none."

"As Head of Flying Operations with RFDSSE," he continues, "I set the standards – ensuring compliance with regulations but underpinning that with a specific focus on training. It's about giving people the knowledge and skills they need to perform in high-performing aeromedical teams."
Glenn Todhunter [pictured right] also reflects on his military career for the values and professionalism it instilled.

"On my pilots' course, 24 started and 11 graduated," he notes. "You have to make the cut to do the job, especially when operating in austere and difficult conditions – just as you do in the RFDS."

Squaring the circle of service, professionalism and training comes teamwork.

"Leadership is a focal point of officer training," adds Glenn, a graduate of the Royal Military College Duntroon, Australia's equivalent of America's West Point. "As an officer, you're a leader first and a technical specialist second."
Courage, respect and teamwork are vital to the ADF and the RFDS... People's lives depend on it.
Glenn Todhunter, Head of Flight Training, RFDSSE
"The values of courage, respect and teamwork are vital to the ADF and the RFDS," he adds. "You develop your resilience and achieve your task however you can in difficult conditions. People's lives depend on it."

As we approach Anzac Day on 25 April, Jeff, Glenn and Darren all confirm that teamwork, professionalism and service are just as relevant now as they were with the ADF.

"I joined the ADF to serve Australia," concludes Darren. "Giving back to the community with the RFDS is similar and gives me the same sense of achievement."
Help keep our aircraft flying