Graphic: Cate working in the hangar
Aircraft Maintenance Engineering Apprentice Cate is on a pathway to success gaining her engineering qualifications working alongside our experienced RFDS engineers.
Ever since Cate was a teenager, she's had a fascination with aviation with a plan to enter the industry using engineering talents.

After graduating school Cate started a Dual Degree in Mathematics and Mechanical Engineering then decided to start her Certificate IV in Aeroskills (Mechanical) with Aviation Australia.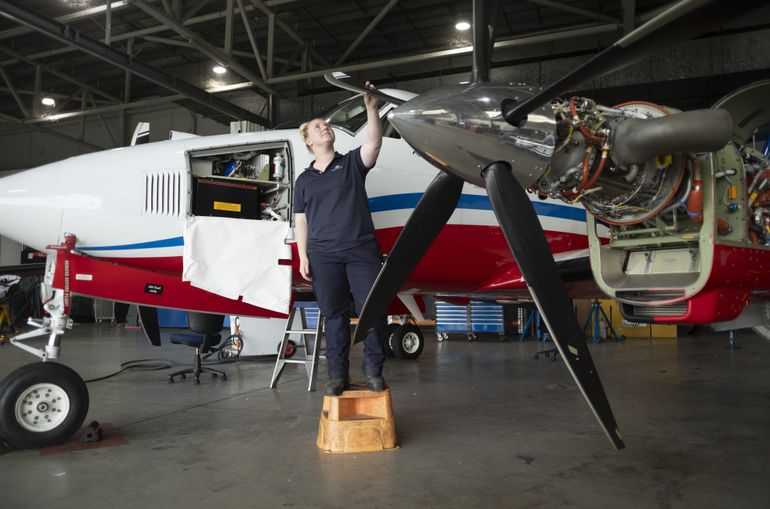 To gain more hands-on experience, this ambitious 21-year-old has now joined RFDS (Queensland Section) as an Aircraft Maintenance Engineer Apprentice and is given the chance to travel around the state to our bases to help look after our aircraft.

"When I found out I got the apprenticeship with RFDS I couldn't wipe the smile off my face," Cate said.

"I really enjoy working with the RFDS because the team are like a family here and I am learning so much from some of the best in the industry.

"Each day I am given a selection of jobs which are within my skill set along with a good selection of jobs which I have never done before where an engineer will teach me how to complete and supervise me while I have a go myself.
"The variation is great and I'm learning something new every day."
Cate is working alongside our engineers on maintaining and repairing our RFDS fleet, which consists of multiple Beechcraft King Air B200s, B200Cs, B350Cs and B360Cs.

Throughout her apprenticeship, she is learning how to change wheels, change brakes, complete structural and medical fit-out inspections, inspect and ground test engines, change props and repair any damage or corrosion on the aircraft.
The RFDS currently supports two women in engineering, Cate and Garvina - our Aircraft Maintenance Engineer Apprentice based Cairns.
Both have recently been given the opportunity to sign up for the Trellis Collective First Five Program, which is specifically designed to support and empower young women working in male-dominated industries.

"I would 100% recommend other women to join the industry because it is a really good environment to learn in," she said.

"I always feel really supported and valued here, which gives me the confidence to learn more and achieve my career goals."
RFDS is proudly supporting six Engineering Apprentices with their training across Queensland through our long-term training strategy and has employed four Aircraft Maintenance Engineer through the Licensed Engineer Aviation Program (LEAP).

"After I complete my Certificate IV I am hoping to apply for the LEAP Program so that I can achieve my Diploma and work for RFDS as an employee."

Cate also has her eyes set on living in rural Queensland after she completed jobs with our engineering team at our Cairns, Townsville and Charleville bases.

"I fell in love with the rural lifestyle, and I have always wanted to move away from the city and have some land for my pets," she said.
"Working as a licensed Aircraft Maintenance Engineer in a rural town is a big goal for me."
The LEAP Program was launched by RFDS (Queensland Section) in January 2023 to create a pathway for young engineers. This would not have been possible without support from sponsors and donors.