Being sun safe can help keep you enjoying your day and a longer life.
Remember: If you have a health emergency, dial 000 for help immediately. In areas with poor mobile coverage, dial 112.
When it comes to climate, Australia has it all, from misty rainforests and fertile grasslands to snowy mountains and barren desert.
However no matter where on the continent you are, the Australian sun and its effects can be a danger to your health, through both UV exposure and heat exposure.
Sign up for more survival tips
Travelling in the outback means braving some of the highest on-land temperatures and UV levels in the world, which can lead to sunburn and increased risk of skin cancer, as well as heat-induced conditions like heat stroke.
Before you embark on your adventure, make sure you're prepared for and protected against the sun and heat by following these precautions.
The sun, sunburn and skin cancer
Australia is known as a "sunburnt country", and sadly this applies to its people as much as it does to its landscape. Two thirds of all Australians are diagnosed with skin cancers by the age of 70, with over 750,000 people treated each year.
95% of melanomas – the most deadly form of skin cancer – are caused by sunburn due to the sun's UV radiation. UV levels can be just as damaging on cool, cloudy days as sunny ones, and even sun exposure without burning (including tanning) can raise the risk of skin cancer.
When out in the Australian elements, always remember the five golden rules of sun safety:

Slip on some protective clothing
Slop on some SPF30+ sunscreen every 2 hours
Slap on a wide-brimmed hat on
Seek some shade (especially 10am-3pm)
Slide on some UV-blocking sunglasses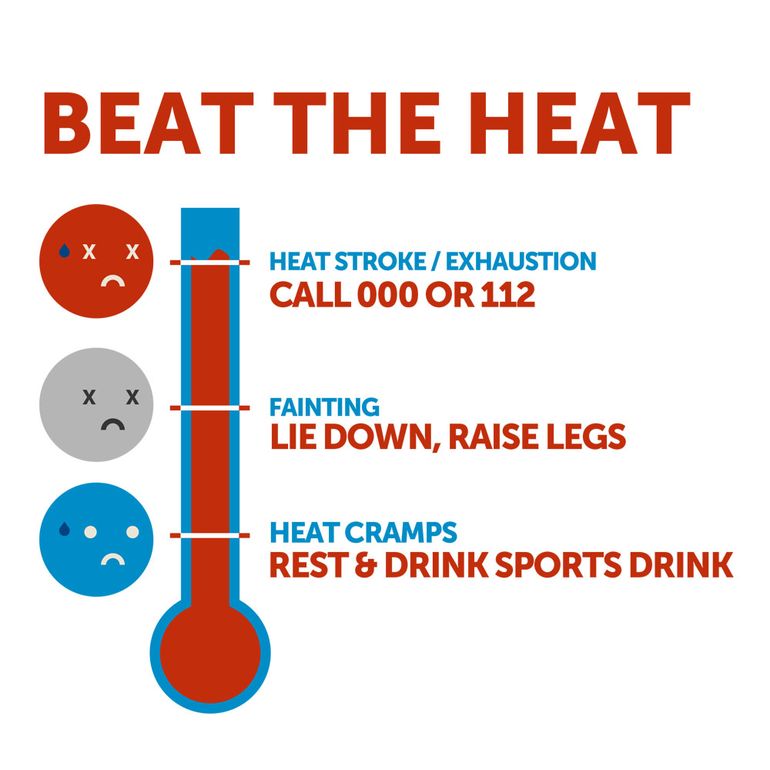 Heat-related illness
Whilst protecting yourself from the sun is important, it's equally important to prepare yourself against heat-induced illness, which can cause sudden and extreme health issues.

Heat illness (also known as heat stress) is the term used to describe three different conditions: heat cramps, heat exhaustion, and heat stroke.

Make sure you can identify the signs of heat illness – if you or your fellow adventurers are showing any of these symptoms, take whatever steps you can to cool yourself or them down.
For more information or advice on preparing against or treating heat illness, contact the RFDS on 1300 MY RFDS (1300 69 7337).
If symptoms worsen, contact the emergency services immediately on 000 (or 112 in areas with poor mobile reception).
Preventing sun exposure or heat stress
Humidity can cause heat stress and dehydration, even when there's no direct sun. Whether you're in the harsh desert sun or rainy tropics, please take care and stay cool and hydrated.
Avoid the sun
Stay out of the sun between 10am-3pm.
If you feel faint or fatigued, find a shaded place and rest.
Keep sunburnt areas of skin moisturised and cover to avoid further burning.
For heat rash, keep skin cool, clean and dry.
Water & fluids
Always carry enough water to provide one litre per hour per person.
Drink enough water to keep urine pale and clear.
Sports drinks can be useful for replacing electrolytes if you're engaging in physical activity.
Avoid alcohol.
Be aware of your limits
If you're unfit, on prescription medication, or simply not accustomed to the Australian sun, take extra care not to over-exert yourself.