Graphic: Darn a Good Yarn
We are very proud to announce that a project between the RFDS and the Country Women's Association has come to fruition.
Today a new Aussie book launches that has, like a good Christmas pudding, been a long time in the making.

The RFDS and CWA have worked shoulder-to-shoulder for more than 9 decades to improve life for those in country Australia. Both iconic and well-loved institutions are very much part of the communities served, and from this view a call was put out a few years ago for stories, memories, prose and yarns of the bush. The resulting book will raise money for the ongoing missions of the RFDS and CWA – and today, hot off the press, this book is officially launched!

Unfortunately, an unrelenting drought had the project on hold, twice – but earlier this year, after fires, floods and then a health pandemic struck, it was decided that if there was any year that needed a publication like Darn a Good Yarn, it is 2020!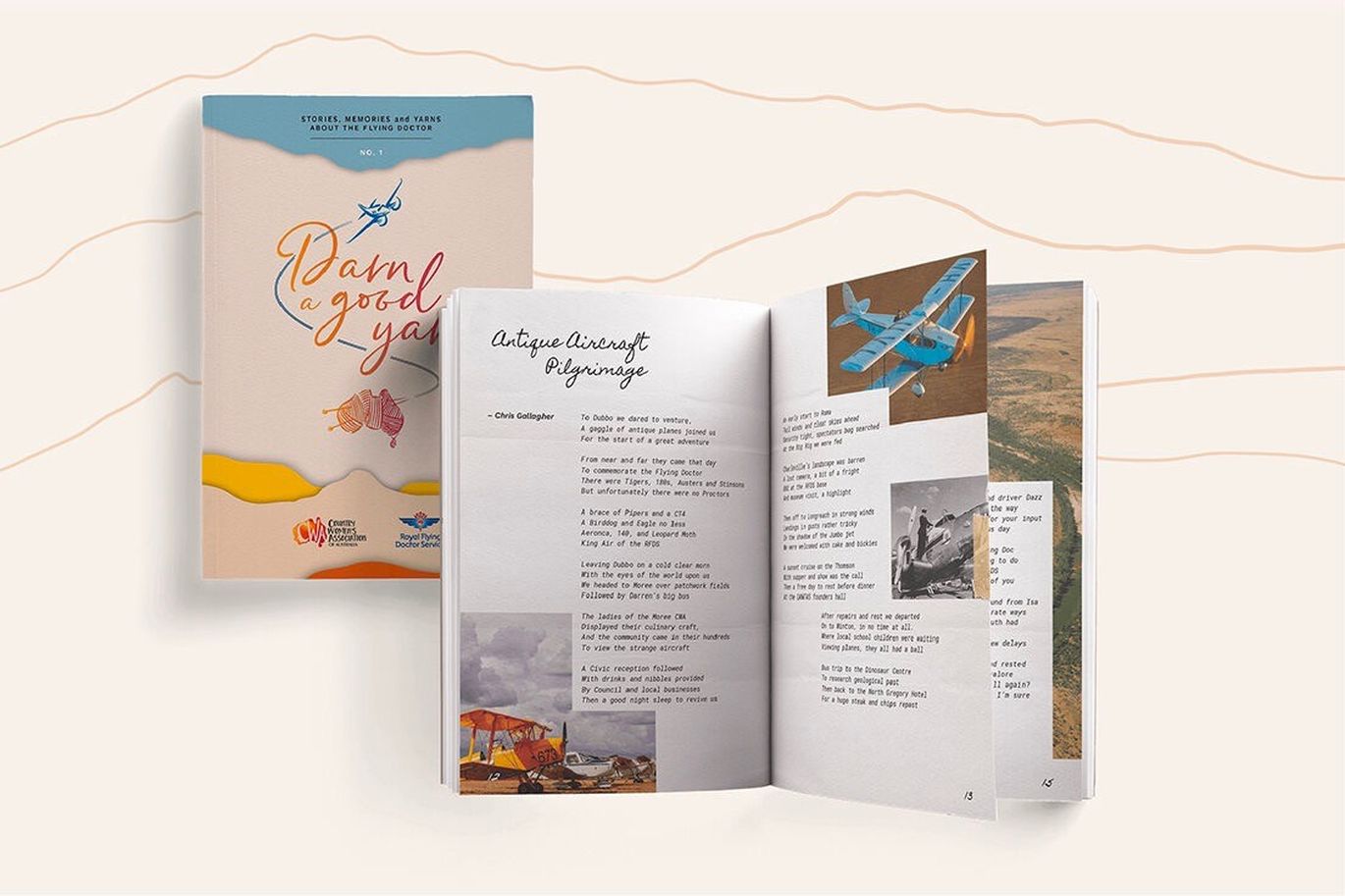 We wanted to capture those "Struth!" moments - both good and bad -- with real stories of how Aussies come together in times of need.

The volume and quality of submissions received was amazing, from all over Australia, from authors young and old. More than 80 contributions made it into this volume and we have had to keep some for next volume, which we plan to release late 2021.

This book will surprise you, make you laugh out loud, bring joy and maybe shed a tear. It is a book about today as much as it is about historical events. And the wry sense of humour displayed, in sometimes very severe circumstances, well communicates our famous Aussie spirit.
This is unique content that has never been published before. It's a real page turner, with short and easily digestable bites of life in the Aussie bush. Booktopia is publisher and distributor. Proceeds go to both the RFDS and the CWA.

Lana Mitchell (RFDS) and Tanya Cameron (CWA) are both available for interview and can talk to the content, the authors, the history and vision for Darn a Good Yarn moving ahead. There are also a handful of contributors that may be available for interview.

You can place orders for Darn A Good Yarn here

This is an ideal Christmas gift. It's a real page turner, with short and easily digestable bites of life in the Aussie bush.

Proceeds go to both the RFDS and the CWA, so buy 2 or 3 and share the love.
Media Contact: Lana Mitchell, 0401 946 282, Lana.mitchell@rfds.org.au

A huge thank you to all contributors.

This book is yours.

We are so proud of this publication and plan to make this the first of a series.

You have inspired us all! Buy your copies today!
ps. If we can sell 2,500 copies in the next 4 weeks we have a chance to make the best seller lists for Christmas - spread the word!
pps. Are you keen to submit content for our next issue of Darn a Good Yarn? You can do that here.