Graphic: COVID 19: Responding to need
The RFDS continues to be part of the national pandemic response, working closely with the Commonwealth, Aboriginal Medical Services, Primary Health Networks, Local Hospital Districts and State governments -- running a community-led vaccination program to isolated and remote communities across Australia.
Since the beginning of the COVID pandemic, the RFDS has conducted 6,110 patients 'episodes of care' (ie. transported to tertiary care) for confirmed or high suspected COVID-19). In the last month the majority of these patients were in South Australia and Victoria.
As of 30 November we have given 62,328 doses across some 300 locations in rural and remote Australia. This includes delivery of 1st and 2nd dose in remote communities.
About 45% of these vaccinations are Aboriginal and/or Torres Strait Islander Australians.
The RFDS is also assisting with logistics of COVID vaccines and have transported over 90,000 doses of the vaccine for delivery into arms by local Primary Health Networks and Aboriginal Medical Services.
Across regional and remote NSW, the RFDS has been increasingly involved in COVID-19 vaccinations, not just in communities that we traditionally service, but also deploying RFDS teams to areas outside our regular service footprint where we have been called in to assist PHNs and Aboriginal Medical Services to rapidly get communities vaccinated.
In Tasmania two former public transport buses have delivered some 1300 vaccinations in small Tasmanian townships that otherwise had no access to vaccines.
The RFDS has conducted 191 Respiratory Clinics in remote areas, where we have seen 472 patients.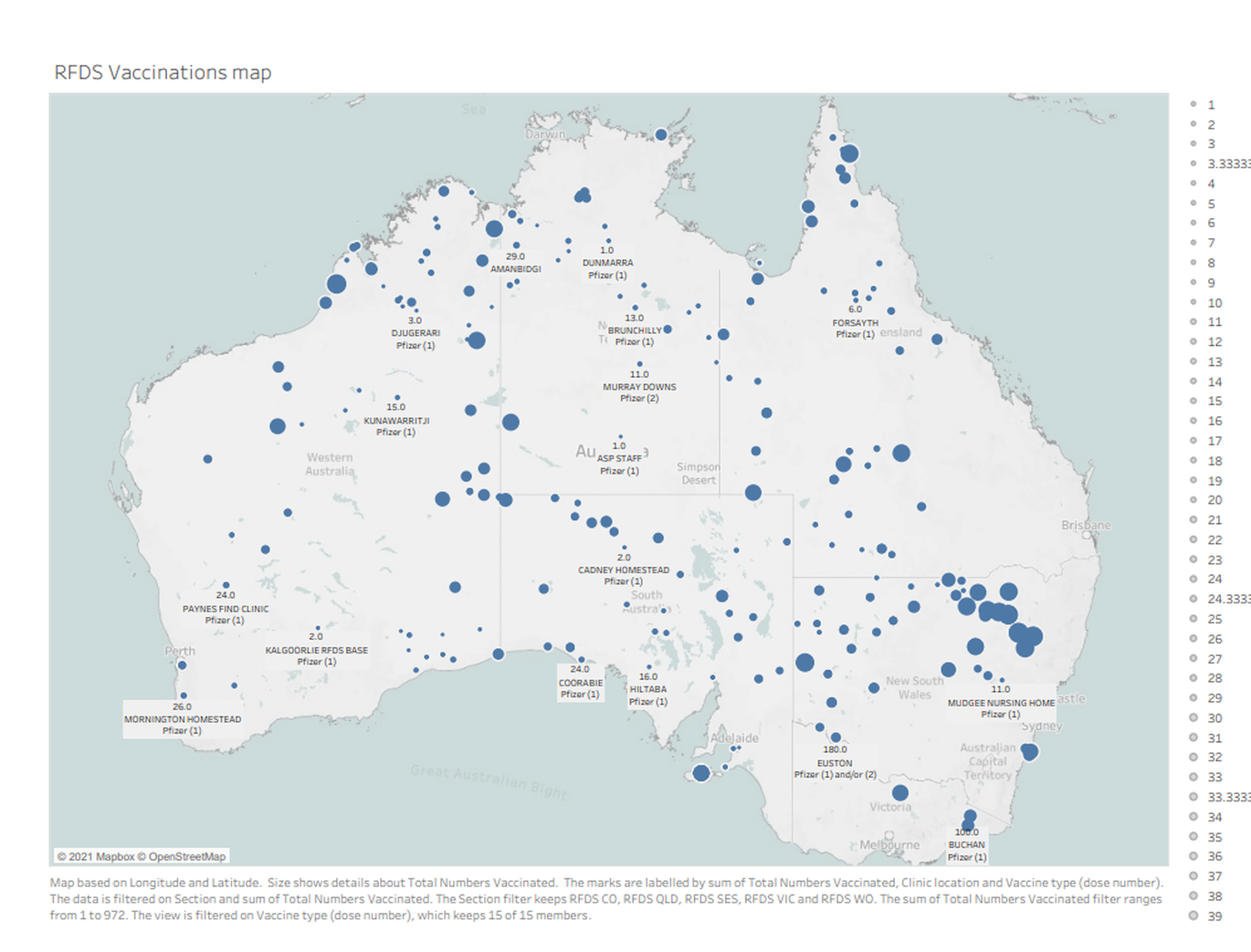 If you have questions about what the Corona Virus COVID-19 is, what the symptoms are, how it spreads, or what local state restrictions mean for you personally, you can learn more at the Department of Health website and Healthdirect Australia website. The Healthdirect Australia Pregnancy, Birth and Baby website also includes COVID-19 information for pregnancy and parenting and their Maternal Child Health Nurses are equipped for COVID-19 questions from anxious parents, via video call or phone 1800 882 436.

If you are unsure of what COVID restrictions are in your state or territory, you can get the latest information using the COVID Restriction Checker to find out what you can or can't do. If you are feeling unwell, Symptom Checker can help you decide what to do next.

The RFDS has factsheets on prevention, symptoms and what to do if you feel you may have COVID-19. These can be downloaded below.
First Nations Peoples
The National Justice Project, National Aboriginal & Torres Strait Islander Legal Services (NATSILS) and UTS Jumbunna have worked together to clarify and communicate restrictions relating to COVID-19 activities for First Nations people living in remote communities across the country to ensure that those living in these communities are aware of their rights under the lockdown measures, as they currently stand.
Their fact sheets summarise the various public health directions issued as a result of the pandemic in each State and Territory and address the stricter measures being imposed on Indigenous Australians living in remote communities, including

Caring for Elders
Community events including Sorry business and funerals
Restricted movement in and out of remote communities
Police enforcement powers and penalties and how best to respond to police requests

If you can't find a clinic or make a booking that suits you, please check back later. New clinics and appointments are added all the time. Thanks for your patience with all clinic staff as they work hard to make appointments available.