Graphic: the famous pudding
The Big Sister self saucing chocolate pudding is considered a sacred relic in Australia's rich motorcycling community.
It all started in 1976 when two keen motorcyclists Bear from Western Australia and Eric from South Australia had a dinner and Eric showed up with a Big Sister self-saucing pudding for dessert.

Unfortunately, after a few drinks, the pudding was forgotten, dinner was consumed and the weary friends parted company. The following year the two men arranged to catch up again and Bear took the pudding with him for dessert, again it wasn't eaten.
The Pudding became a bit of a joke between the two men who travelled with the pudding for years before allowing it to be passed around to other motorcyclists who began to carry it across the country.
It has been travelling Australia's highways and backroads ever since, covering hundreds of thousands of kilometres and becoming motorcycling Australia's greatest hitchhiker.
"I have been trying to get a hold of it for years," Mr Treloar said. "I was in the Kimberley in September last year and it was being auctioned off at a motorbike rally but I was outbid. I tried to win it at other rallies but was unsuccessful until I finally became the custodian in March."
No single person owns the Pudding, it belongs to the motorcycling community and doesn't stay in one place or with one person for long.
Over the years the tin started to deteriorate so it was decided to encase the pudding in resin to preserve it for Australia's future motorcyclists.
Tura Beach's Steve Treloar heard about the famous Pudding a long time ago and for 15 years has been trying to track it down, hoping for his turn to be the Pudding's keeper.
Graphic: pudding proudly held
In the last 10 to 15 years the motorcycling community decided to auction off the carrying of the Pudding at different motorcycling events and donate the proceeds to the Royal Flying Doctors Service.
The highest bidder then carries the Pudding to the next event for another auction. The exact amount of money raised by the Pudding is unknown however it is believed to be well into the tens of thousands of dollars.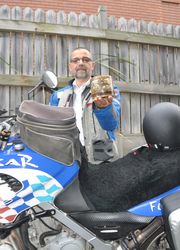 "The Pudding must only ever travel by motorbike and no one can ever keep the pudding. It must continue to travel and be passed around Australia."
Now that the Pudding has been passed on to Kinga of Sydney there is no telling when or where it will next appear, that's the mystery of the famous motorcycle Pudding. Let us know on social media if you have the latest on its travels.