Graphic: GP clinic with the RFDS
A new Royal Flying Doctor Service research report series, entitled Best for the Bush, Rural and Remote Health Base Line 2022, was released today.
Presenting the latest data on the health of rural and remote Australians alongside RFDS aeromedical retrieval data and evidence on service gaps, the report identifies the issues that most urgently need attention from service providers, funders and policy makers, while also making recommendations for the RFDS to pursue together with governments, industry, rural and remote communities.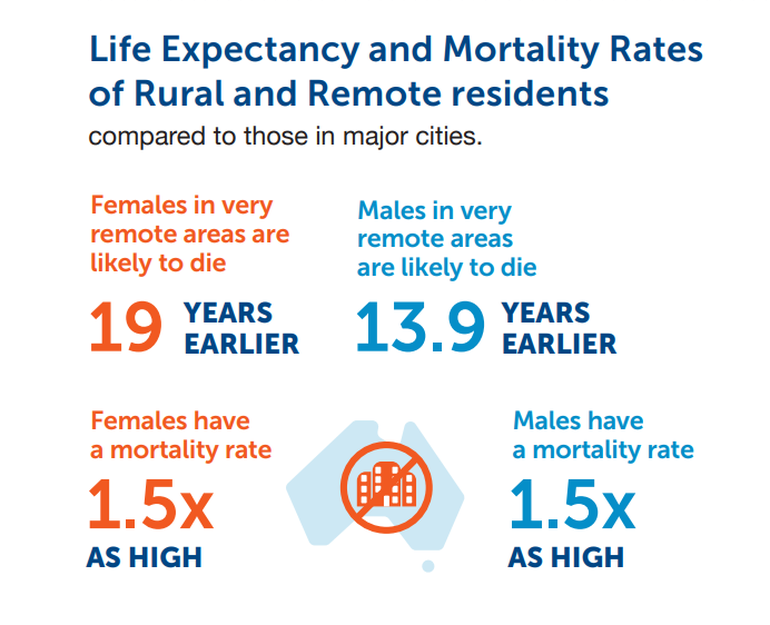 The report demonstrates significantly poorer health outcomes for people with limited access to primary health services.
In addition, an analysis of RFDS emergency aeromedical retrievals shows that the most common reason for a retrieval is heart disease.
In many cases heart disease can be prevented through effective primary healthcare. Further analysis demonstrates that those from rural and remote areas are 2.5 times more likely than those it our cities to be hospitalised for a reason that is potentially preventable.
"All Australians should expect reasonable access to primary healthcare services no matter where they live", says Frank Quinlan, Federation Executive Director of the Royal Flying Doctor Service. "For Australians living in rural, remote and regional Australia, access simple services such as a nurse-led clinic, a GP, a dentist or a specialist is much, much harder."
With the release of the Strengthening Medicare Taskforce report, the Australian Government has recognised the critical importance of accessible primary health care.
The Australian Institute of Health and Welfare proposes that one measure of reasonable access is that, at a minimum, people should be able to access health services within a 60-minute drive time.
Using this as a simple proxy measurement, the RFDS Best for the Bush report found:
"As we look to reform Medicare across the country, we need to deploy creative models of integrated, multi-disciplinary team based primary care for people living outside the reach of mainstream services, who mainly rely on services outside the Medicare system. As this report recognises "rural and remote communities need rural and remote solutions" that are designed with local communities to respond to need.

"The RFDS Best for the Bush report can bring government, service partners and communities together to deliver innovative, patient-centered solutions to solve these problems and ensure better health outcomes for our rural and remote communities."
"Working alongside government, service partners and communities, this Best for the Bush report is continuation of the RFDS' long term commitment to delivering evidence-based healthcare in regional, rural and remote Australia", said RFDS Federation Executive Director Frank Quinlan. "This will only be achieved through accessible primary healthcare".
You can read the RFDS Best for the Bush summary and recommendations here.
You can read the full RFDS Best for the Bush report here.