Chair report
New beginnings

This last year has again seen great accomplishments and progress across the Royal Flying Doctor Service. We have continued to build on service capacity to better respond to the healthcare needs of country Australians, with more than 1000 patients now using the services of the Flying Doctor every day.
New jets in Western Australia, South Australia and Northern Territory have significantly improved emergency medical access and speed of transport across vast distances. New service facilities in Broken Hill and Dubbo have opened, new clinics opened, enhanced telehealth and expanded mental health services have been rolling out across the country.
Research publications on healthy ageing, mental health and cardiac rehabilitation have helped inform service planning. Ongoing research projects into maternity services, stroke service accessibility and end of life planning for those in the bush are all progressing well.
Our national funding is secure for a further 4 years, together with dental program funding. Cost pressure on service delivery continues to be eased by the waiving of Air Services Australia air navigation charges.
We have further benefited from the support of our national sponsors TAL, AirBP and Activ8me. They joined with thousands of individuals, community groups and businesses around the country in providing donations and sponsorships that help fund out vital work. With their backing the RFDS was once again named Australia's most reputable charity in the Reputation Institute Index (for the eight year running).
We have, with sorrow, said goodbye to Dr Martin Laverty as the Federation CEO. He spent five years forging strategic progress for the RFDS federation of companies and has now moved on to head the Australian Medical Association. We thank him for his tireless work and wish him the very best in his future adventures forging better health outcomes for all Australians.
I am excited to report that Frank Quinlan, former CEO of Mental Health Australia, has taken on the role of Federation Executive Director. He is a great advocate for social and healthcare issues in the Australian community and we look forward to see how he uses his passion and commitment to improving the lives of those in the bush to his new role with the RFDS.
For me, it is also time to sign out as Federation Board Chair. I am more than happy with our strategic accomplishments since 2013, and even more satisfied that the RFDS family has matured into a more cohesive, collegiate, efficient and effective health service over the last 6 years. The culture of the organisation has markedly changed, with a significantly more diverse workplace and a Reconciliation Action Plan that is actively being implemented. When a service has been around for as long as nine decades, it is vitally important that we don't just rely on how things have always been, but constantly evolve and innovate and reform, and I am pleased that this has been occurring under my watch.
As I move on, I am confident that the organisation is in competent hands moving ahead.

The RFDS owes its existence to thousands of Australians. More than 1700 work for us, thousands more volunteer, and the Commonwealth, state and Northern Territory governments fund us generously. Yet it is probably individuals who decide to donate to us, either in small amounts from their own pocket, or in larger amounts through corporate pockets, that really help the RFDS to overcome barriers to access health care. We hope individuals will continue to support the RFDS, so we can continue to do the vital work to support those that live in country Australia.

Hon. Amanda Vanstone
Federation Board Chair

Strategic snapshot
We have long known that remote and rural Australians see doctors at half the rate, medical specialists and dentists at one third the rate, and mental health practitioners at one-fifth the rate of those who live in cities. As a consequence, Australians living in rural and remote Australia have up to three times the prevalence of avoidable chronic illness.
The prevention of chronic illness, disease and mental health problems, is what drives RFDS operations. We are now delivering 58 primary health care clinics on a daily basis, and have more than 1000 patient contacts a day. Aeromedical rescue will always be the service the RFDS is known for, however it is now only one third of our daily operations, and continued emphasis on prevention is vital to see better health outcomes for those that live in the bush.
By steadily building the RFDS service capacity, efficiency and reach across all Australian states and territories, the Flying Doctor is working to improve health outcomes for country Australians.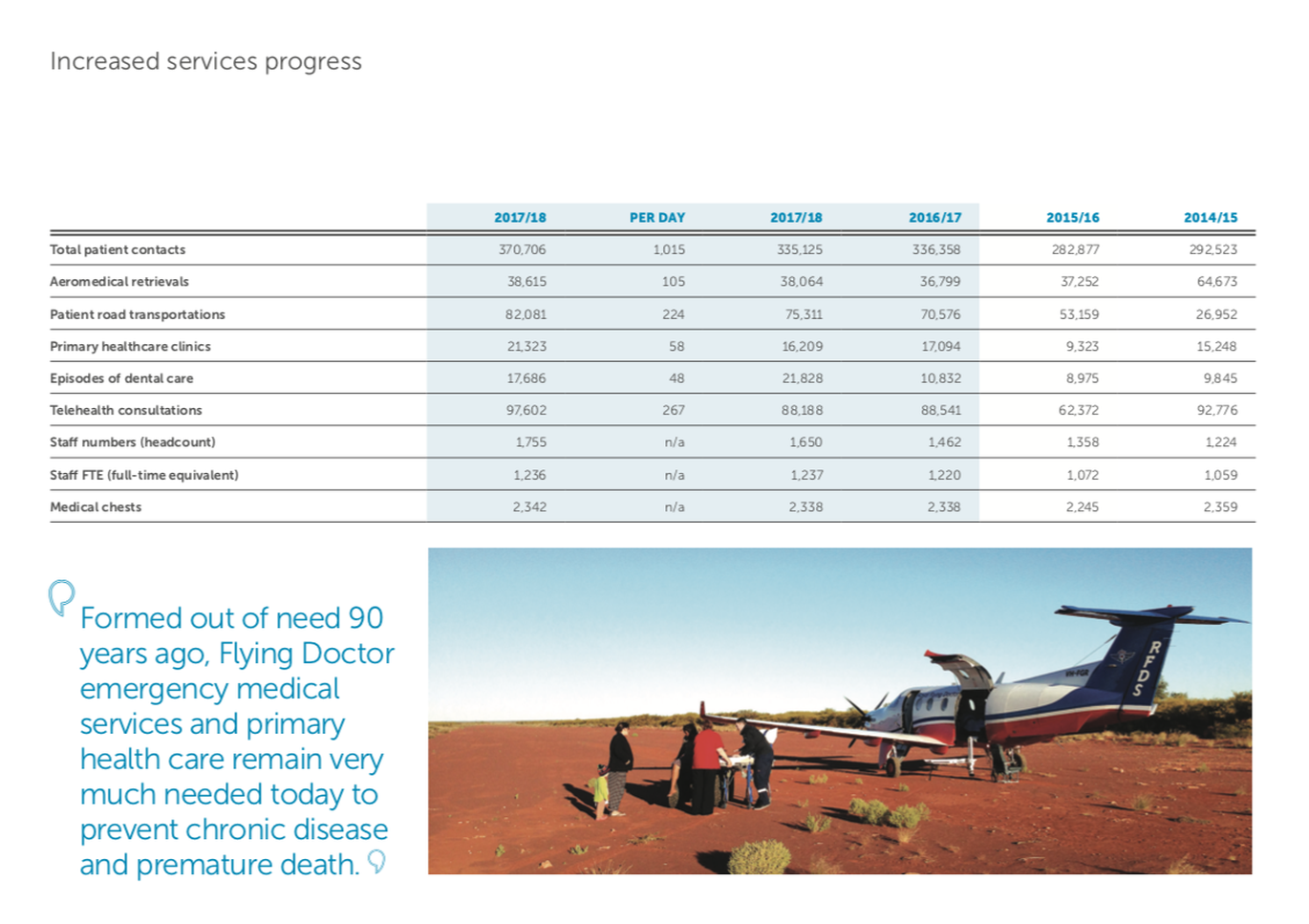 The office of the Federation Company of the RFDS is located in Canberra and works to four express purposes:

> manage the RFDS federation's funding and regulatory relationships with the Commonwealth government

> build a public policy voice for better health outcomes for country Australians

> distil a strategic vision for the betterment of the shared mission of the Federation parties; and

> facilitate communication and information sharing from and between the Federation parties.

Key achievements for this last year are:
New Commonwealth Mental Health service commenced from January 2019.
Release of the Senate Inquiry report into mental health services in remote Australia, which adopted all RFDS recommendations and relied heavily on RFDS evidence.
Presentation at the Royal Commission into Aged Care rural and remote hearings in Broome on 18 June.
Implementation of three new Commonwealth grants, for older people's physical activity, development of stroke diagnostic capacity in small aircraft and increased uptake of the electronic health record across the RFDS.
Two staff of the Research and Policy unit were recognised with honorary academic appointments. Dr Lara Bishop was appointed Associate Professor (ANU), and Dr Fergus Gardiner was appointed Senior Research Fellow (ANU).
Commencement of Pritish Sharma in the position of Information Manager, to oversee the Federation's data warehouse and provision of data to the Commonwealth and Research and Policy Unit.
Healthy Ageing research
A new research paper entitled Healthy Ageing in Rural and Remote Australia: Challenges to Overcome, found that thousands of remote Australians aged over 65 are flown by aeromedical teams to hospitals with illnesses that could have been prevented through increased country health services. The paper recommends how to improve health outcomes for our older population.
Cardiac Rehab research
The new research entitled Cardiovascular Disease Prevention & Rehabilitation in Rural and Remote Populations, revealed that cardiac rehab programs are the critical first step in a person's recovery from their heart attack or heart event, and also improve quality of life and risk factors – with 40% of people less likely to be readmitted to hospital and 25% less likely to die from another heart event.
Mental health research
An RFDS academic paper was published online in the Medical Journal of Australia and then in their hardcopy magazine, which looked at patients retrieved by the RFDS for treatment of mental and behavioural disorders, and to assess mental health care provision in rural and remote areas. The paper confirmed that mental and behavioural disorders are an important problem in rural and remote communities, and acute presentations trigger a considerable number of RFDS retrievals.
Hearing trial research
A research paper entitled "Evaluation of the Royal Flying Doctor service and Australian Hearing, Hearing Screening Trial" showed that hearing loss affects some 3.6 million Australians and is predicted to more than double by 2060 in line with Australia's ageing population. The paper presents solutions to improve hearing health and access to hearing screening services.
Stroke Alliance Project
RFDS is a member of a consortium of the Melbourne University and the Royal Melbourne Institute of Technology that was successful in securing $1 million from the Medical Research Future Fund to develop a new diagnostic method for stroke. Phase 1 funding commenced in July. Several documents have been developed for the project, including the project plan, risk management plan, and patient flow document.
Pregnancy Data Linkage Project
The study being conducted in partnership with the University of South Australia/University of Adelaide will assess determinants and factors associated with pregnancy-related aeromedical retrievals, from 2014–2021, including changes in the provision of local health and maternity services in rural and remote Australia. The study will help inform improvements in coordination between local health services.
Telehealth Project
Data collection for the five-year research project being conducted in partnership with the University of Queensland (UQ) is now complete, and data being analysed by the University of Queensland is well advanced.
Talking in the Bush Project
RFDS doctors, nurses and pilots are embarking on a research project designed to support people living in rural and remote areas to discuss their end-of-life wishes. RFDS staff will use Palliative Care Australia's (PCA) 'Talking in the Bush' resources in clinics in Queensland and SA, focussing on people who are over 65 and those with a chronic illness.
New $20 note released
The new $20 bank note released in October by the Reserve Bank of Australia, features Reverend John Flynn and tells the story of the RFDS. A 1948 photo of the Flying Doctor at Veldt Station in remote NSW was used as part of the design of the new note, and a fly-over of the station was done by the RFDS, along with a celebratory luncheon with over 50 locals who have relied on the RFDS for generations.
New $1 Coin
The Royal Australian Mint has produced a collectors edition of $1 coins on iconic Australian objects, services, animals and locations. Entitled The Great Aussie Coin Hunt, there is a coin for each letter of the alphabet and "R" is for the Royal Flying Doctor Service coin. The RFDS is working closely with Australia Post, who are the distributors of the coins and managing the campaign nationally.
Thomas The Tank Engine's new friend Isla
The long-running global TV animation, Thomas The Tank Engine, has extended tracks from the Island of Sodor in England and in a series entitled Big World Adventures, now includes a new character named Isla, the Flying Doctor. Mattel has produced the first toy set which includes an Isla toy, and this has been sold in Canada, USA and Australia since mid this year.
Digital Strategy
The first step of the digital strategy has been completed, which involved two separate external reviews of the RFDS website and national digital footprint. As a consequence of the analytically-driven, deep-data dive, we now have a 3 year strategy that will move existing digital operations to best practice, while improving efficiency, cost and brand communications nationally.
New RFDS TV drama
Channel Seven, Screen Australia and Endemol Shine Australia have announced the commission of RFDS (working title), a gripping new action-drama based in Australia's red heart. Leading the cast will be acclaimed actress and award-winning singer Justine Clarke (Tangle, Rake, The Time Of Our Lives), Logie Award-winning star of stage and screen, Rob Collins (The Wrong Girl, Glitch, Cleverman) and Logie Award-winning actor Stephen Peacocke (Home and Away, Wanted).

A first ever national intranet has been designed and is being trialled as a way to best keep all 7 RFDS companies coordinated and in communication.
The National Rural Health Conference in Hobart, Tasmania was attended - with national booth, coordination of staff from all companies, and key note presentations.
The Aeromedical and Flight Nurse Conference in Perth, Western Australia was attended by over 40 staff from the RFDS, with national booth and key note presentations.
A Last Post Ceremony event was held at the National War Memorial for Lt Clifford Peel, 101 years after his passing. Lt Peel had written to the RFDS founder Reverend John Flynn with ideas of using planes to bring health services to the bush.
Reconciliation Action Plan
There has been strong activity in implementing the RAP and continuing to build relationship and engagement with Indigenous communities, including the development of a local strategic partnership with an Indigenous consultancy to assist with attraction, retention and support of staff; and the establishment of local RAP implementation committees. All RFDS companies have been involved in NAIDOC activities in 2019, and good progress on reaching a national employment target of 2.5% for Aboriginal and Torres Strait Islander people by 2021.

Our Supporters
Every year the Flying Doctor relies heavily on the support of the communities in which it works -- from those who volunteer to drive ambulances, to the everyday Australians who donate to keep the Doctor flying. We have deep respect for these incredible people and thank them sincerely for their ongoing support.
The strong partnership with TAL has reached its third year. In addition to corporate investment,TAL staff have raised over $180,000 to the purchase and roll-out of defibrillators in remote South Australia and Queensland.
Activ8me's partnership with the RFDS has launched in its first year with the installation of an innovative ground station hub in Collarenabri NSW, bringing wifi and emergency phone access for the RFDS.
The national partnership with AirBP has completed its 2nd year. AirBP is the RFDS' national fuel supply partner, providing fuel for our fleet of 77 planes nationally.
We say thank you for the continued support provided by our Commonwealth funder for our existing health programs. The Royal Flying Doctor Service is an Australian Government initiative.