Graphic: Dick wagner
Dick Wagner is an avid community fundraiser and well-known member of the community in White Cliffs, a small town of 100 people, 255km north of Broken Hill.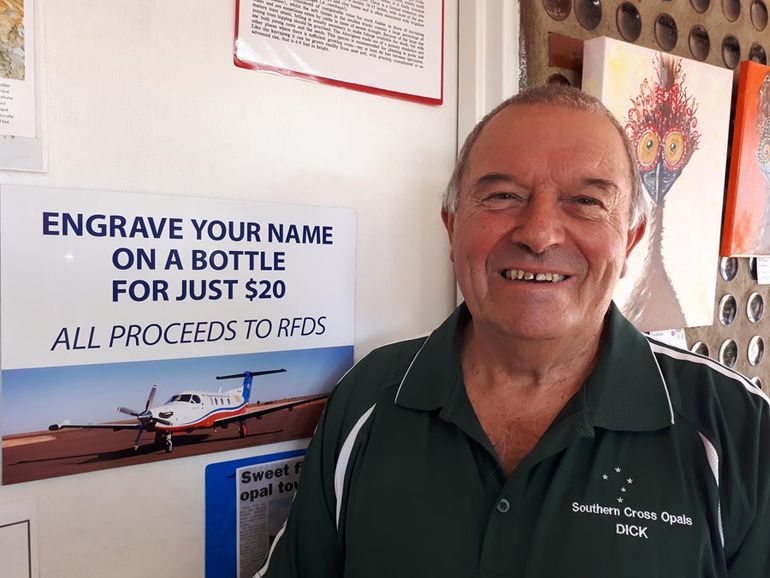 He and his wife Sheryl run two local stores including the Stubbie House, an iconic bottle house and opal showroom built from over 60,000 stubbies. Dick is also the Chair of the Community Health Council and President of the local Sporting Club, as well as being on the local tourism association. He's a busy man with a lot of time and energy for his local community.
Dick and Sheryl have done a lot of fundraising for the Flying Doctor over the years. They began to support our services around six years ago when Dick helped to organise the local Yabbie Races, which are now held every Easter. He has also arranged for donation boxes to be placed at the Wagners' shops and at the Sporting Club.
He is inspired to donate because of the support the Royal Flying Doctor Service provides to the town and surrounding area. "We rely heavily on the RFDS here, so why wouldn't we support them?" he says.
Dick and Sheryl's latest fundraiser involved getting people to etch their name on the base of a stubbie at the Stubbie House for a donation of $20. Through this creative campaign, they have already raised an impressive $2,445 to help communities in the outback.
Thank you, Dick and Sheryl, for your dedication and generosity, we are very grateful for your support!