Graphic: Gayle Shann
When the Classic Ladies Foundation (CLF) raised more than $72,000 for the Royal Flying Doctor Service through their 2023 Classic Fundraiser at Tamworth in January, no one was happier than Gayle Shann.
Growing up on a North Queensland cattle station, Gayle was always aware of the great work the RFDS did, providing healthcare and emergency retrievals.

However when Gayle had a life-threatening and life-changing accident 20 years ago, she got a full appreciation for how lives are saved.


You may recognise Gayle from the ABC program Australian Story, where she first told her amazing story in 2003 and it continues to be the most popular episode of the show 20 years on.

Gayle was working with her husband Mac at their property Cantaur Park, drilling holes for a garden fence with a post hole digger.

Gayle's glove got caught in the digger and she was thrown around.

Among the numerous injuries she suffered in the accident, she lost her right arm and shoulder, and her left arm was paralysed.

A nurse who lived on a neighbouring property, Robyn Neilson, was able to keep Gayle alive until the RFDS and paramedics arrived, and the team of doctors worked for hours to stabilise Gayle, before flying her to Townsville.

"The RFDS has been saving lives in rural and remote Australia for more than 95 years. I just happen to be one of these grateful people," Gayle said at the Classic Fundraiser.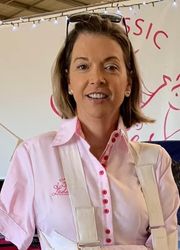 "I waited two hours for the RFDS plane to arrive, but when they did, they stabilised me and once onboard, their amazing staff performed a procedure mid-air that saved my leg."
Gayle Shann
The CLF has raised almost $1 million for charities since 2016 and in 2023, the RFDS was one of those chosen to benefit.

With a charity auction featuring horses, service fees and embryos, a monster raffle including a ride-on lawn mower, and some incredible merchandise for the CLF, the fundraiser was a major success with more than $140,000 raised, to be split between the RFDS and Pancare Australia.


It has been more than 20 years since Gayle's accident and we are thankful for her ongoing support and very grateful for the generosity of the Classic Ladies Foundation.