Graphic: Tarlie and John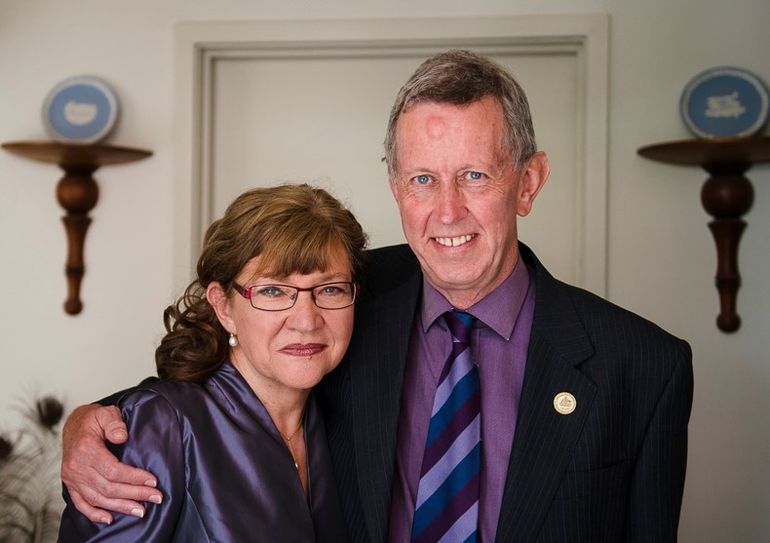 Gifts in Wills have the potential to provide vital medical equipment, specialist training, and essential healthcare services to remote communities. Tarlie and John Alcock want to continue their invaluable support for the Flying Doctor for generations to come.
Canberra-based couple Tarlie and John Alcock have made the considerate decision to leave a gift in their Will to the South Eastern Section, so they can continue to support rural, regional and remote communities across NSW and ACT. "We have been fortunate to travel extensively in the remote and outback Australia and seen first-hand the fantastic work done by the Flying Doctor. They provide services in areas where
there is no other alternative," John said.
John grew up in Hobart and Tarlie grew up in Adelaide. They have lived in Canberra for over 30 years, and celebrated their 31st wedding anniversary back in March. As the Alcocks are now retired, they say COVID-19 thankfully hasn't impacted them too much, apart from limiting their volunteer work. Their favourite excuse to leave the house has been to walk their Jack Russell Terrier each day. "We have managed to keep in touch with friends through email and Zoom meetings. We have been fortunate that there have been very few outbreaks of the virus in Canberra," John said.
However, Tarlie and John believe the isolation felt during the pandemic has shown how our critical work is even more vital to communities facing the everyday hardships of living in outback Australia. "There is no capacity to provide regular medical and health services to such remote areas in any other way. The needs of people living in these areas are great and they should have access to appropriate care."
We could not be more grateful to have generous supporters like Tarlie and John, who share our vision for the future and want to help us ensure that no Australian has to worry about being too far for our frontline teams to reach them. "We are happy to make a lasting gift through our Will as our contribution to a great organisation."
If you are interested in leaving a gift in your Will to the Royal Flying Doctor Service (South Eastern Section), we would love an opportunity to speak with you confidentially about your decision and to answer any questions you may have. For more information, please get in touch with Cristina Caamano, Gift in Wills Senior Coordinator, on 0448 280 193, or via email: Cristina.Caamano@rfdsse.org.au.
Your support has never been more important than it is now.