Our Vision
To improve health outcomes for all Tasmanians with a specific focus on remote and rural areas
Royal Flying Doctor Service Tasmania has a dedicated team of rural, physical and mental health workers providing services in Break O'Day, George Town, Meander Valley, Glamorgan Spring Bay, Central Highlands, Meander Valley, Flinders Island, Dorset, Bruny Island, Tasman Peninsula and Huon Valley local government areas.
These free primary health care services, funded by Primary Health Tasmania, work in partnership with general practitioners, allied health professionals and local service providers with the aim of supporting people in rural areas with mental illness, cardiovascular disease, chronic obstructive pulmonary disease, dementia and chronic musculoskeletal conditions.
Recently the RFDS has expanded its mental health services to support youth aged between 8 and 16 years living on the east and west coast of Tasmania.

With support from the State Government and Rotary Tasmania two new health hub buses (former public transport buses), have been renovated and re-purposed to provide mobile clinics that can not only take our specialists right to the doorstep of remote communities, but also serve as emergency response vehicles following a natural disaster.
Graphic: dental therapist
We also have mobile dental teams that cover most of the north-west, north-east and east coast areas of the state as well as the Fingal Valley and King and Flinders Islands.
The ever-expanding dental program is a free community-based program funded by the Commonwealth Government, with dental staff travelling to rural and remote locations weekly and tailoring dental care to accommodate a community's needs. This often means working from fixed clinics in rural towns or operating clinics at schools and aged care facilities.
A new mobile dental vehicle sponsored by Woolnorth Renewables has extended our reach to many more isolated communities. The $350,000 custom-built truck requires only a flat surface and 3-phase power to set up and begin consultations. It has full X-ray and dental surgery facilities and is perfect for visiting schools for an extended period of time.
---

Find out more about our services:
MOBILE DENTISTRY
PHYSICAL & MENTAL HEALTH PROGRAMS
EDUCATION
AEROMEDICAL SUPPORT
Latest news stories
Quarter of a Century of King Air in Tasmania
02 Mar 2022
For 25 years Beechcraft King Air 200s have been winging their way back and forth across Tasmania providing an aeromedical service that is available 24 hours a day, 7 days a week, 365 days a year thanks to the partnership between two RFDS sections and the Tasmanian Government.
Read full story
Dr Morris and his marvellous flying machine
25 Feb 2022
This is the story of the Monospar VH-UTH "Captain Cook" in Australia and the role it played pioneering aeromedical flights in the lead-up to the formation of RFDS Tasmania. It even made an epic 12,000 mile flight through 22 countries from Sydney to the United Kingdom.
Read full story
Support Us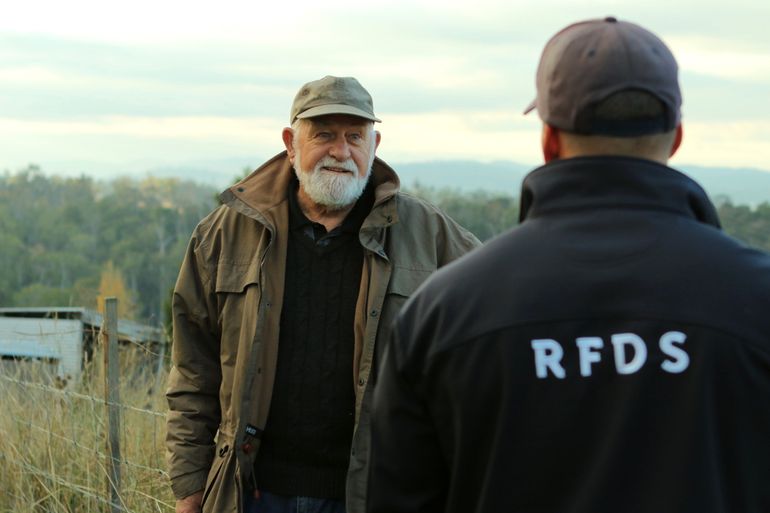 Help the Flying Doctor Service deliver health programs throughout Tasmania.
Every amount donated, whether large or small, helps keep RFDS Tasmania working towards a healthier future for all, but especially, rural and remote Tasmanians.
Donate here or call us today on (03) 6391 0509
Donate online
Royal Flying Doctor Service Tasmania respects and acknowledges Aboriginal and Torres Islander peoples as the first Australians and our vision for reconciliation is a culture that strives for unity, equity and respect between Aboriginal and Torres Strait Islander peoples, and other Australians.
RFDS Tasmania is committed to improving health outcomes and access to health services for all Aboriginals and Torres Strait Islanders.

We are proudly supported by the following organisations: