Mental Health & Wellbeing
The RFDS Mental Health & Wellbeing Service supports adults and young people in outback South Australia and the Northern Territory.
Help when you need it most
Dealing with the constant challenges of living in the outback can trigger a range of emotions and stress.
It may seem easier not to seek help. But sometimes we all need to reach out and have a yarn in a safe space, free of judgement.
Our team, made up of psychologists, mental health nurses, social workers and Aboriginal community liaison officers, provides culturally-appropriate emotional and wellbeing support to outback communities. We provide short- or long-term support for times of mild distress, or more in-depth support and care coordination for conditions such as anxiety, depression and more complex illnesses.
Every year, the RFDS Mental Health & Wellbeing team delivers more than 2,000 face-to-face and digital consultations.
Graphic: RFDS patient Jo French
A rural lifeline
Jo is the first to admit that life in outback South Australia is as rewarding as it is exhausting and isolating. When Jo's father, who also lived remote, was diagnosed with cancer, he moved to Adelaide for full-time care. The time and emotional pressures of juggling family and work led Jo to breaking point.
"The biggest challenge out here on the station is the remoteness, isolation and not having someone to talk to face-to-face in general if I'm having a bad day.
"I hit a wall and I didn't realise it until my daughter and my husband rang the Flying Doctor for me."
A Rural Lifeline
Support to suit you
Whether it's face-to-face, over the phone or via video call, our team is here for you.
Our team regularly visits communities with regular RFDS 'fly-in' clinics. Meanwhile, distance appointments via phone or video can be booked.

Fly-in clinics: 'bush runs'
The RFDS's scheduled fly-in clinics out of our Port Augusta Base offer remote patients a complete face-to-face primary healthcare service, including mental health support. Drop-in attendance at regular community clinics is welcome or appointments can be made in advance.
Digital health appointments
The RFDS can deliver care to your home virtually, through digital health appointments. Distance appointments via phone or video can be booked.
How to access mental health support
South Australia
Based out of Port Augusta, our Mental Health & Wellbeing Service is available to adults and young people. Services are available to residents in outback South Australia who live more than 80km from a hospital or general practice. This includes districts of North West SA, Far North & East SA, Gawler Ranges and Nullarbor.
No fees are payable by patients for these services. Self-referrals are welcome.
Northern Territory
Based out of Alice Springs, oOur Mental Health & Wellbeing Service regularly travels to remote communities and stations in Central Australia to provide one-on-one support and group programs.

No fees are payable by patients for these services. Self-referrals are welcome.
Contact us
To book an appointment or find out more about our services, please contact:
South Australia
Phone: 8648 9500
Email: portaugusta.wellbeing@flyingdoctor.net
Phone: 8958 8602
Email: alicesprings.mentalhealth@flyingdoctor.net

Office hours: Monday to Friday 8:30am to 5pm.
Please note that this is not an emergency service. In a medical emergency call 000, or 1800 RFDS SA and ask for the on-call RFDS Doctor. For more information on RFDS emergency support, click here.
Graphic: RFDS Mental Health First Aid Training
Mental Health Training
From extreme weather to isolation, dealing with the constant challenges of living out bush can trigger a range of emotions and stress.
The Flying Doctor recently launched Mental Health First Aid training to provide people with knowledge and skills to support each other when the going gets tough.
Watch the video of our session in Katherine NT, run in partnership with the Northern Territory Cattlemen's Association.
Mental Health Training Out Bush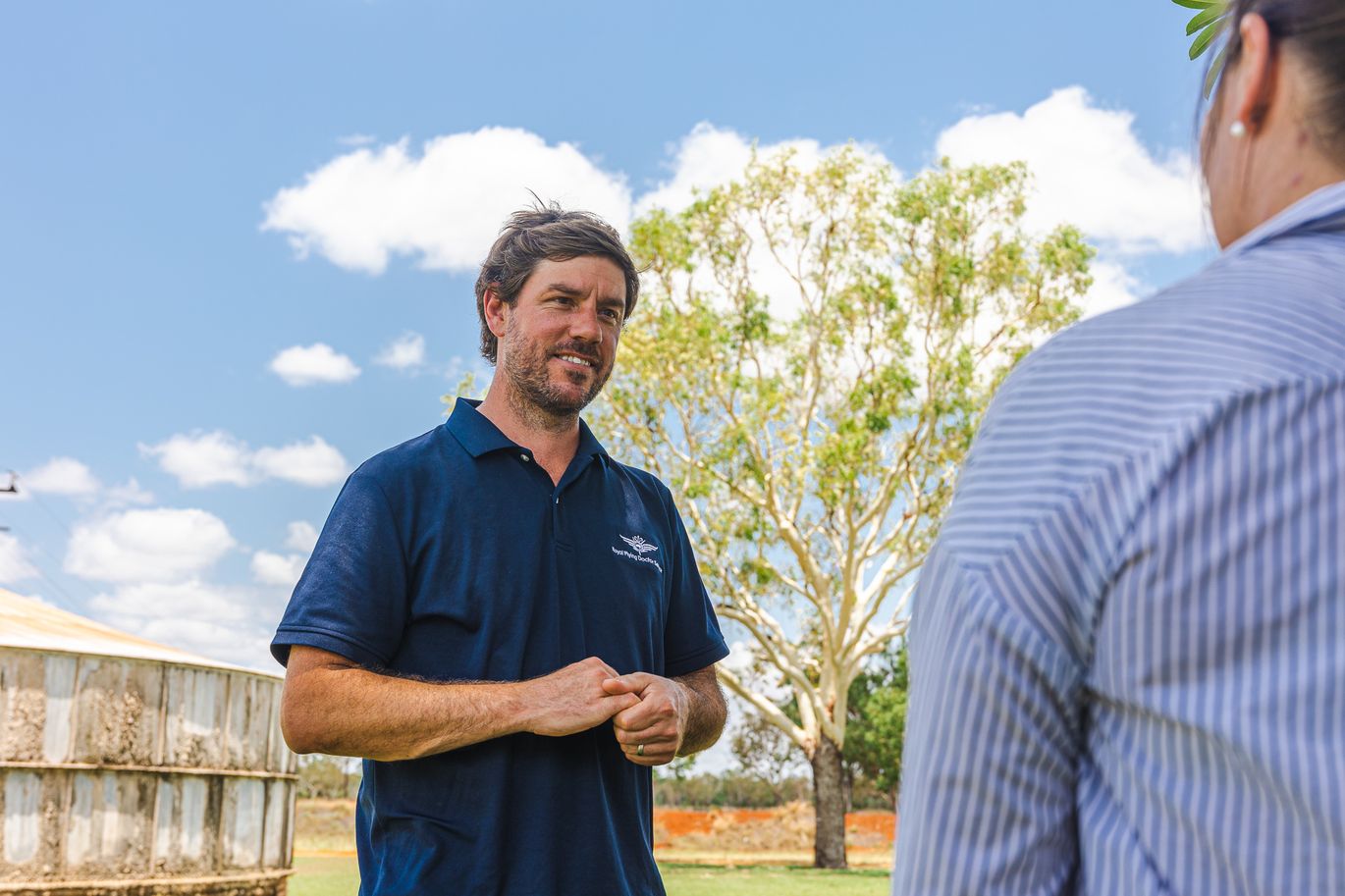 Learn more about how the RFDS supports healthy and happy lives in SA/NT.