Remote Oral Health Care
The RFDS Remote Oral Health Care Program offers a mobile dental and oral health care service to residents and communities throughout rural and remote South Australia and the Northern Territory.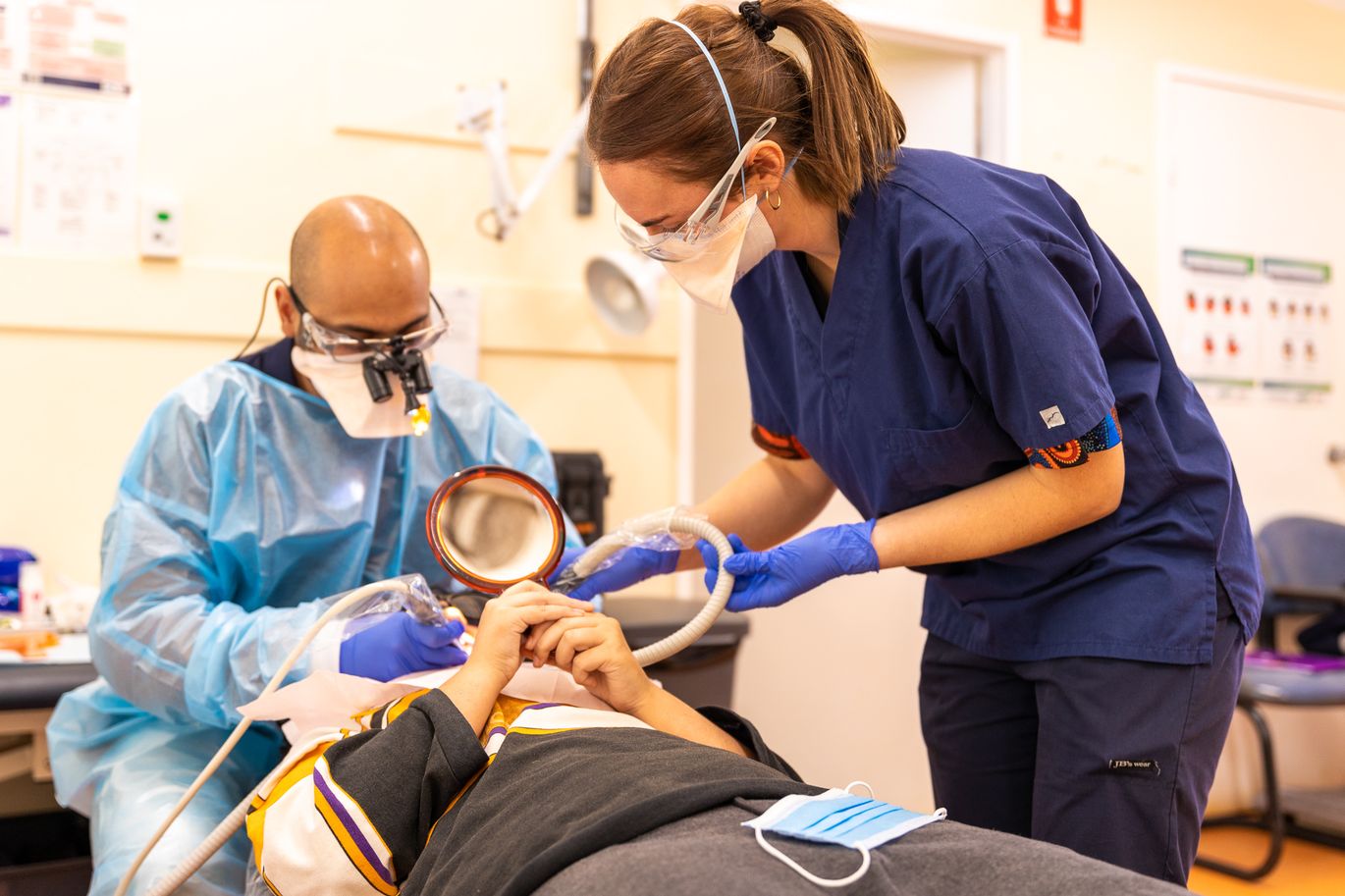 Remote, mobile dental care
Our regular 'fly-in' clinics mean people of all ages living in remote locations can access high-quality dental care at no cost.
With state-of-the-art mobile dental equipment, our team provides dental care ranging from simple check-ups, x-rays and hygiene services through to fillings and extractions.
Our comprehensive dental consultations aim to empower and motivate residents in rural and remote communities towards good oral health and prevention of oral disease.
Why your oral health is important
Good oral health contributes positively to physical, mental and social wellbeing, enabling people to speak, eat and socialise unhindered by disease, pain, discomfort or embarrassment.
Poor oral health can have negative impacts on speech, sleep, productivity, self-esteem, psychological and social wellbeing, relationships and general quality of life.
Research shows a link between oral disease and specific health conditions and chronic diseases including diabetes, aspiration pneumonia and adverse pregnancy outcomes.
Graphic: RFDS Oral Health Care team
Meet our team
Senior Dentist Dr Vaibhav Garg and the RFDS Remote Oral Health Care team are the faces that bring a smile to remote and rural SA and NT. The team consists of experienced and caring oral health professionals including dentists, dental hygienists and dental assistants.
In the last 12 months, the RFDS has delivered 38 multi-day Oral Health Outreach Clinics in remote communities across Northern Territory and South Australia, treating a total 1,664 patients
Working from clinics, vans and even landing strips, the team encompasses emergency-focused treatments as well as a preventative program proactively targeting at-risk patients living with diabetes and chronic disease.

Graphic: RFDS patient Leroy Lester
Healthy smiles, happy lives
Across Central Australia, centuries of Dreaming stories have been told about Uluru. Many of these stories hail from Mutitjulu, a community at the base of the sacred site, which is home to around 300 residents including Senior Anangu Traditional Owner, Leroy Lester.
Being hundreds of kilometres from the nearest dental clinic, Leroy panicked about his overall health when he started to experience tooth pain.
Healthy Smiles, Happy Lives
How to access oral health care
The RFDS Remote Oral Health Care team visits a number of communities in South Australia and the Northern Territory on a periodic basis:
South Australia
Andamooka
Leigh Creek
Oodnadatta
Marree
Marla
Kingoonya
Northern Territory
Kintore
Mutitjulu
Kiwirrkurra (WA)
Services are free and available to all – referrals are not required.
Contact us
To book an appointment or find out more about our services, please contact:
Phone: 1800 370 793
Email: dentalbookings@flyingdoctor.net
Office hours: Monday to Friday 8:30am to 5pm.
Please note that this is not an emergency service. In a medical emergency call 1800 RFDS SA and ask for the on-call RFDS Doctor. For more information on RFDS emergency support, click here.

Learn more about how the RFDS supports healthy and happy lives in SA/NT.