What we do
Patient care is at the centre of everything we do at the Royal Flying Doctor Service Western Operations. We continually review and strive to improve the effectiveness and quality of our services. We welcome feedback from our patients and respect their privacy.
29th July 1917, the accident of stockman Jim Darcy causes a chain of events that eventually leads to the founding of the Flying Doctor Service in Australia. For more information on the founding of the RFDS, read more here.
Kalgoorlie Boulder Visitor Centre (KBVC) is the largest, fully accredited, not-for-profit Visitor Centre in the Goldfields. It is the hub and gateway for tourists and visitors to the greater outback region. The Kalgoorlie Boulder Visitor Centre has an area dedicated to the rich history of the RFDS in WA.
The monument which is a representation of her Mooney aircraft commemorates pilot and nurse Robin Miller Dicks who was known as "The Sugar Bird Lady."

Robin Miller (1940 - 1975), known as "The Sugarbird Lady", was an Australian aviatrix and nurse. The name "The Sugarbird Lady" was given to her by outback Aboriginal children during her work combatting polio. She died of cancer at the age of 35. In 1973 she married Harold Dicks, the director of the Royal Flying Doctor Service, and became Robin Miller Dicks. After her death, Dicks set up an AUD$50,000 memorial foundation to help nurses get flying licences. Robin Miller Dicks was the daughter of writer and historian Dame Mary Durack and pioneer aviator Horrie Miller OBE.
Our Fleet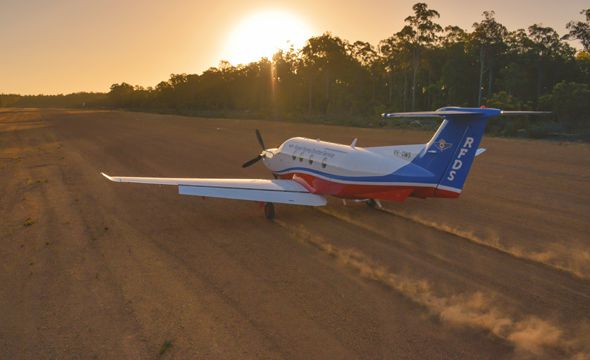 Pilatus PC-12
The RFDS in WA has 16 Pilatus PC-12 aircraft, with a bespoke aero medical fitout, transforming the planes into flying critical care units. The current fleet of PC-12 aircraft in WA flew a total of 7,634,000 kilometres, and made 15,886 landings in the last year alone.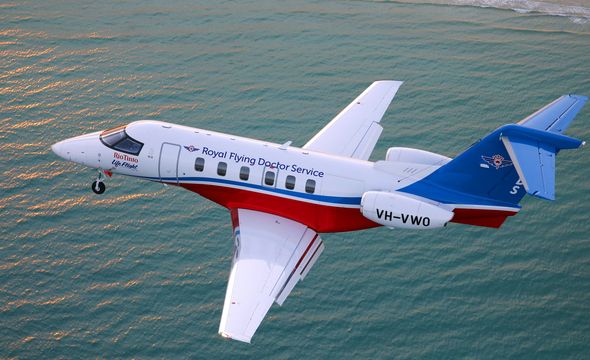 Rio Tinto LifeFlight PC-24 jet
WA has 2 Rio Tinto LifeFlight PC-24 jet aircraft, the Pilatus PC-24 jets were re-purposed with state-of-the-art aero medical fit out that serves as an in-flight emergency ward. It has capacity for three stretchered patients and two medical teams, can fly at a top speed of 815kms per hour.