Graphic: Robin Miller
Robin's achievements during her short lifetime were remarkable. As a pioneering female pilot who combined her passion for flying with nursing, Robin made extraordinary contributions to both aviation and medicine.

Robin is best known as the 'Sugarbird Lady'. When a second wave of polio hit Western Australia in the late 1960s, Robin began an immunisation program, flying to isolated communities to deliver vaccine doses on a sugar cube. Although the Sabin vaccine had been available for a decade, the tyranny of distance in WA had prevented immunisations for those living far from town.

Robin borrowed money to purchase an aircraft especially for this purpose, then worked as both pilot and nurse to deliver the immunisation program on the ground.

She worked with the Royal Flying Doctor Service in the 1960s and 70s. As well as working as a 'flying nurse', she delivered several new RFDS aircraft to WA, making epic voyages from Europe and the USA, including a solo journey from Paris to Perth.

Robin was born in Perth in 1940 to two well-known Western Australians, author and historian Dame Mary Durack and Captain Horrie Miller, a pioneering aviator and co-founder of MacRobertson Miller Airways.

Robin passed away in December 1975 aged 35 and was laid to rest in Broome.

Her legacy lives on in the health programs that continue to be delivered by the RFDS in remote WA communities.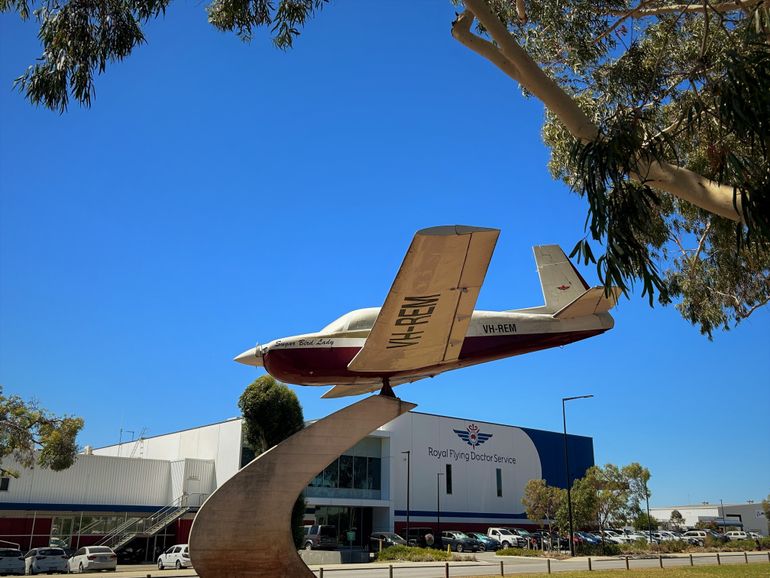 Today, a monument to Robin Miller Dicks, the Sugar Bird Lady stands at the RFDS Jandakot Base.

The Sugar Bird Lady is a well known landmark at Jandakot. Although not the actual aircraft flown by Robin Miller, the engineering prototype donated by Mooney Aircraft to the RFDS serves as a memorial to the late Robin Miller. Unveiled on 20 May 1978, it is painted to represent the real VH-REM Mooney which is still registered and privately owned in Queensland, that was formerly used by Robin E. Miller(hence the registration REM).

The aircraft was damaged and blown to the ground in a storm in 2013, but with the assistance of the restoration team at the Aviation Heritage Museum Bull Creek it has been restored, repainted and reinstated to its plinth at Jandakot Airport.

There are other landmarks around Perth that commemorate the hard work of the Miller family, including 'Horrie Miller Drive' at Perth Airport, named after her father Horace (Horrie), Clive Miller who was an aeronautical engineer from Victoria, and recently the introduction of 'Sugar Bird Lady Drive', a new road off Horrie Miller Drive.
If you are interested in leaving a lasting legacy of your own, we invite you to learn more about our Robin Miller Society, click here to find out more.