Graphic: Brooke Maloney
It was while Brooke was working as a nurse in the remote Pilbara that she came into regular contact with the RFDS and was inspired to pursue a career as a flight nurse. Today, she is one of more than 50 RFDS WA flight nurses who provide critical support to rural and remote Western Australian women who are with child. Here is her story.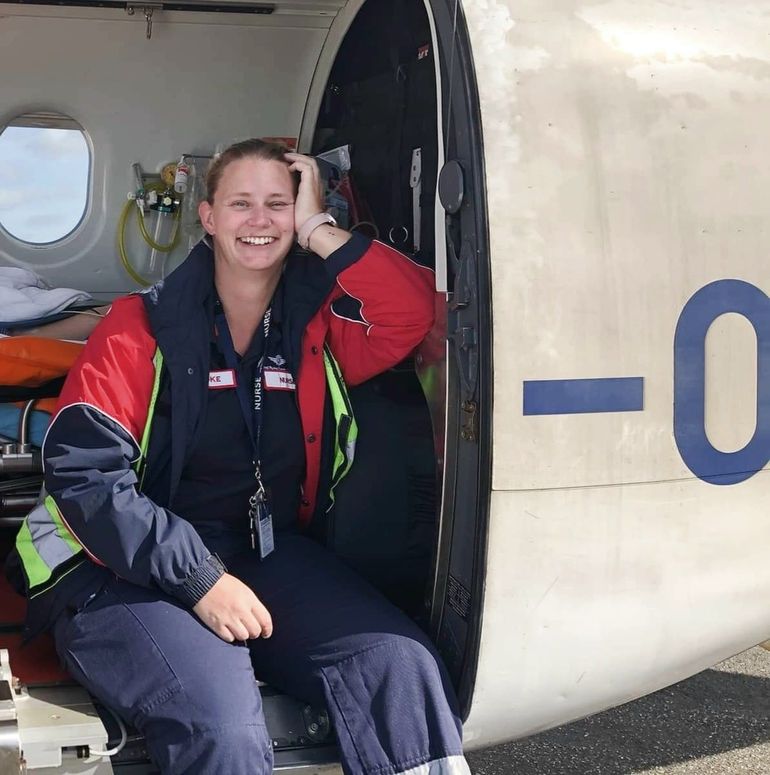 Q) What attracted you to a career with the Royal Flying Doctor Service?
A. Early in my nursing career, I was practicing in a remote location in the inland Pilbara at a two-nurse hospital, with GP/locum support. In that time, the RFDS was a huge part of my day-to-day collaboration and in moving patients to the airstrip for retrieval. Relying on the RFDS for critical care support, prior to Emergency Telehealth Service (ETS) being established, set the foundation of my deep respect for the work they, and now I, do.

I found out that in order to be considered as a Flight Nurse for the RFDS by way of training and skills, registration to practice midwifery was an essential criteria, along with specific trauma and critical care courses. When I returned to Perth, I had my sights set on serving as a flight nurse with the RFDS and went about getting the necessary qualifications.

Since joining the RFDS, I have been based at Jandakot and can be tasked to respond to medical emergencies from anywhere across more than 2.5 million square kilometres of Western Australia.

Q) How empowering it is as an RFDS nurse to have midwifery skills under your belt too?
A. It enables me to care for all patients within my full scope of practice. Whether it's an early pregnancy loss or complication, or late-term or a post natal complication reason for transfer, I have the skill-set and confidence that I can provide the care required.

Q) What you do love about being a midwife with the RFDS?
A. The midwifery I practice with the RFDS is unlike any other maternity care setting. There is a certain level of autonomy within my role that is difficult to achieve in a hospital setting. Being able to support rural and remote woman with competent and safe maternity care in what is often a scary, isolating and challenging time in their life is a privilege.

Q) What capabilities and capacities does the RFDS have to help pregnant women?
A. RFDS midwives are trained in obstetric emergencies and neonatal resus with regular upskilling and re-certification. But we are also midwives trained in normal birth. Yes, the births we attend are likely pre-term, a complex-care scenario or in less than ideal locations, but ultimately when a baby decides it's coming, it's coming.
Supporting normal birth physiology and the emotional and physical needs of the birthing woman is a fundamental aspect to the midwifery care we provide. This is then intertwined with our critical care training to ensure optimal safety for women and their babies during retrieval.

Q) How different is it being a midwife at a hospital in comparison to a flying ICU in the air?
A. There is often you and a pilot and maybe a doctor. In the air, you are solely relying on your midwifery skill, encompassing all of the multidisciplinary aspects of maternity care with the added critical care skill-set and medical equipment should you need it. But you're doing it all. It's not for everyone, but I love it.

Q) Can you share with us a time where you had to help deliver a baby?
A. Last August, I responded to a Priority 1 patient located in a country town north of Perth who was labouring pre-term with her second baby. I walked into the hospital and I knew by her vocalisations that baby was imminent. So I washed my hands, introduced myself and got close to the woman. In a low voice, I said: "My name is Brooke, I am a midwife and it sounds very much like we're going to have a baby together." Between contractions I encouraged her to move to a more comfortable position, take sips of water and we listen to the fetal heart rate which was super reassuring for her. I took the time to whisper to her: "You are safe, your baby is safe and we are all in this together." Within 18 minutes, a beautiful, albeit tiny, baby girl was born. Baby arrived in good condition but we still needed to transport mum and bub to a regional centre for specialist care. A week later when I returned to retrieve another patient, she was able to provide me with an update on her baby's progress and I was able to debrief properly with her about her experience.
Donate today to help us be there for babies and pregnant mothers when they need us most.