Graphic: Nick Chapman retires
The last few days as a flight paramedic for Launceston's Nick Chapman were not unusual. Three neo-natal transfers from the RFDS Base at Launceston to Melbourne, a St Helens patient with a heart condition and a few intensive care inter-hospital transfers from Launceston General Hospital to Royal Hobart Hospital. Fellow ambos and ground crew organised a farewell barbecue – and sent him a photo while he flew to Flinders Island for another job.
On his last day on July 1, 2022, he clocked up another 1000km or so of air travel and ended a career with Ambulance Tasmania that has spanned 38 years, included working all over the northern region on the road and 10 years as a flight paramedic.

Reflecting on decades of constant training, shift work, stress and "more than a few hair-raising flights and landings" Nick maintained his ever-present smile that no doubt has served him well covering the emotions within.

"When I started in 1983 we were all trained in-house whereas now it's all through Monash University," he began.

"The shift work is 12-hour stints, four days on, four days off, with many extra hours as required.

"You couldn't ask for a more interesting or rewarding job – and since joining the aeromedical service, which is a partnership between the RFDS Tasmanian and South Eastern Sections and Ambulance Tasmania, I've learned a lot about aviation, working with pilots and other medical staff and managed the transfer of patients by air from those who are not so sick to the acutely ill."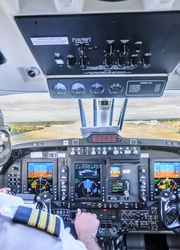 The pilots make you feel safe. Even in really bad weather conditions. And somehow you just develop a way to move around in the cabin that works
Nick Chapman
Luckily for Nick his inherent motion sickness on boats has never once transferred to flying.

Initially his involvement with the air ambulance involved training and education of flight paramedics, back when it was Airlines of Tasmania that provided the aircraft and pilots and paramedics were working on board the unpressurised Chieftains and later the more specialised Mojaves.

Eventually he decided to practise what he preached – completed the graduate certificate in aeromedical retrieval, and his new office became a Beechcraft King Air 200 where you never get to stand up straight and every medical procedure is managed in a confined and sometimes unstable space.

"The pilots make you feel safe. Even in really bad weather conditions. And somehow you just develop a way to move around in the cabin that works," he said.

"Okay there are definitely more scenic flights, and more scary flights, and there was once a shock when the pilot forgot to put the landing gear down, but it's usually just me and the RFDS pilot in an open cockpit, the occasional word through the headphones, and the amazing mountains, frozen lakes and spectacular coastlines of Tasmania sliding by out the window."
And while, like most paramedics, he keeps the stories of medical emergencies, the triumphs and the traumatic, under wraps, he happily recounts delivering a baby 12,500 feet above Wynyard as they tried to get a mum, who happened to be the wife of one of his former school friends, from King Island to Launceston for the birth.

"Thankfully it was an uncomplicated birth!" he said.

"And it was the only time I filled out the POB chart (persons on board) showing it went from three to four in the same flight."

While Nick rarely gets to know the outcomes for a patient after they arrive at hospital, he said he has been stopped in the supermarket by someone who remembers his face – in one case many years later.

"That's when you realise you're a part of a significant time in someone's life that they'll likely never forget."

He's landed on airstrips most will never see – Cape Barren Island, King and Flinders Islands, Queenstown, Strahan, Wynyard, Devonport, St Helens.

He speaks two languages other than English – paramedic and pilot.

And he's watched the technology improve dramatically around paramedicine, allowing cardiac and blood pressure monitoring and other procedures in a plane to rivals that found in a hospital.

Now it's time, just shy of his 65th birthday, for Nick to stay grounded, enjoy his family, kids and grandkids, and put more hours into his fishing and photography – a skill he taught himself through an online course on the "dead leg" flights.

"I'll miss the comradery of my fellow paramedics, the doctors, pilots, engineers and RFDS staff."