Graphic: King Air aviation
For 25 years Beechcraft King Air 200s have been winging their way back and forth across Tasmania providing an aeromedical service that is available 24 hours a day, 7 days a week, 365 days a year. This flying savior for patients needing fast and reliable transport to hospital, was brought into the state through a contract with RFDS South East Section not long after the opening of the RFDS Tasmania base at Launceston Airport, Western Junction on February 15, 1997.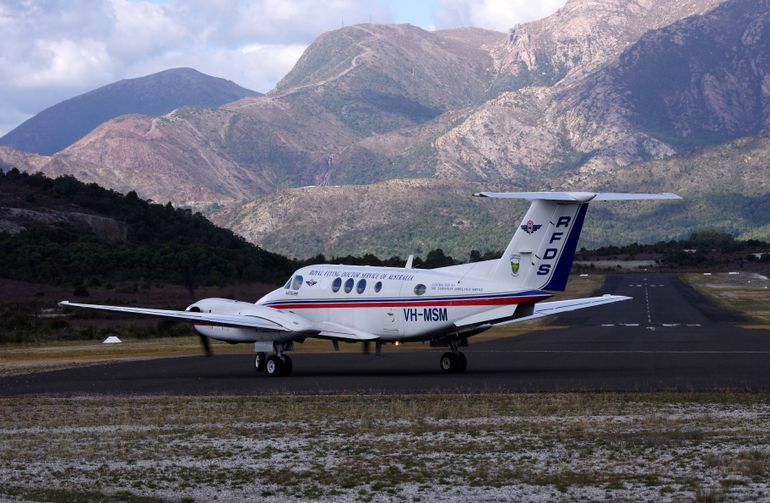 The plane servicing Tasmania, VH-LTQ, has long been the busiest in the RFDS fleet of 78 aircraft, with on average more than 2000 flights a year, touching down at 11 aerodromes, delivering patients to specialist care in hospitals in Hobart, Launceston, Melbourne and Adelaide, occasionally Sydney.

On board there is usually a lone pilot and an Ambulance Tasmania flight paramedic with one or two patients in the back of cabin.

For residents of remote areas like Cape Barren Island in Bass Strait, Strahan in the West or St Helens in the East, nearly every droning sound of the King Air overhead heralds an aeromedical flight.

Flying into city airports the aircraft might not stand out to the same extent, but it gets priority clearance to land ahead of all the big jets and light aircraft vying for the runway as a road ambulance waits in readiness for a patient transfer to hospital.

Twenty-five years ago, in readiness for the replacement of RFDS Tasmania's Piper Mojave VH-HFD, three pilots were trained to operate a King Air B200C at the RFDS Broken Hill base.

In the last week of February, 1997, local training flights were completed with chief pilot Cpt Don Campbell and Cpt Stan Griffiths. Cpt Griffiths and Cpt David Swiggs flew the first flight on March 1, 1997, in King Air VH-MSU.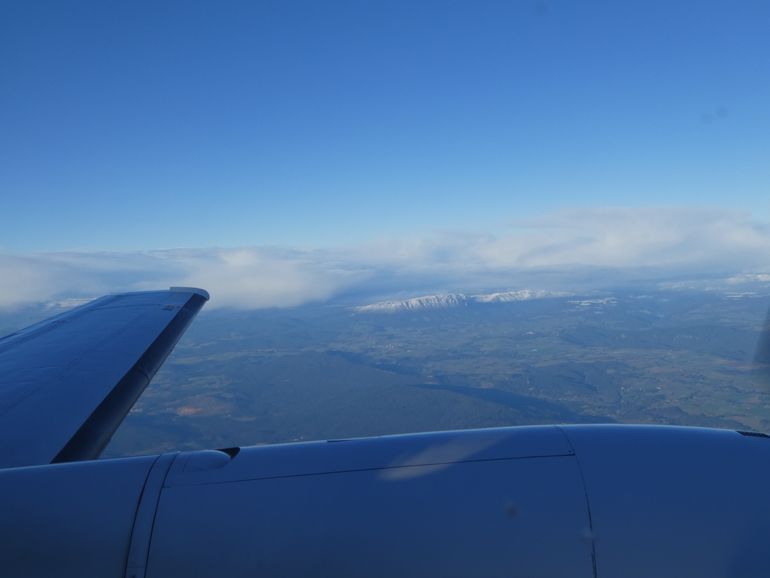 Through community fundraising a hangar was built the following year to give the twin engine turbo-prop aircraft a fitting home.

"In those days there was no simulator to train in, all the training was done either in VH-MSU or the original VH-MSZ, fitted in among the daily clinic runs and medi-vac flights in Broken Hill," Cpt Swiggs said.

"The new pilots were allocated a two-week period for endorsement, line flying as well as a ground school on the IFR approved KLN90B GPS.

"Just to add to the fun, Broken Hill experienced a record three-week heat wave of 40 plus degrees every day!"
Cpt Griffiths transferred from Broken Hill to take up the role of base manager/senior base pilot/B200 check and training. During this time he conducted line checks on the Launceston pilots and also ran B200 ground schools, conducted endorsement and line training for new pilots going onto the RFDS contract at Essendon. The Launceston Base started with three pilots full time and a casual pilot, along with an engineer.
Since then the following pilots have worked on shift: Stan Griffiths, John Giffen, David Swiggs, Tim Fletcher, David Liddell, Steve Wood, Don Withers, Dominic Easton, Andrew Bruinewoud, Bob Walkinshaw, Andrew Roe, Andrew Pratt, Glen Todhunter, Steve Thompson, Oliver Doig, Toby Messner, James McCormick, Rhino, Jesse Hawtree, plus some regular fill ins including Magnus Badger, Blight Ridge, Jeremy Cox, Joe Wielens and Tim Baker.
Today a roster of seven Tasmanian pilots handle inter-hospital transfers, neonatal transfers, medical retrievals, organ transplant and repatriation flights. Throughout the pandemic they have transferred many Covid patients.


In the past 25 years the King Airs in Launceston have been tasked to Brisbane, Newcastle, Sydney, Canberra, Essendon, Moorabbin, Adelaide, Tamworth, Mudgee, Cooma, Bairnsadale, Point Cook, Port Lincolm, Avalon and all the regular Tasmanian aerodromes.


RFDS has operated: B200C VH-MSU (BL-48) from 1997 until 2002, B200 VH-MSM (BB-1464) from 2002 until 2013 and B200C VH-LTQ (BL-170) from 2013 to today. During that time various B200s including MSZ, MVY, MVL, MVW, MWU and RFD have filled in to cover line maintenance, heavy maintenance, new paints jobs and engine overhauls. Boasting the easiest of call signs, RFD (BL-171), which stars in the new television drama RFDS, will soon permanently replace MSZ.
MORE ABOUT THE KING AIR B200

There are 30 King Airs in the RFDS fleet of 78 aircraft. They are capable of flying at a maximum altitude of 35,000 feet and at a maximum speed of 536 kmh (278 knots). With a range of 2700km and the ability to pull up and take off on a relatively short runway they have proven to be ideal for aeromedical work.
The cabin is set up with 2 stretcher beds and three seats, which can be used in a variety of configurations. The aircraft is modified to replace the standard passenger door with a large cargo door to facilitate patient loading and unloading.
The standard aircraft installation allows for 2 pilot staff the RFDS typically operate the aircraft in single pilot configuration. In addition to the normal aircraft systems, the aircraft is fitted with an additional battery to provide medical power, a medical oxygen and suction system, and an intercommunication system between the cockpit and the medical staff in the cabin.
A paramedic is usually on every flight and in cases where the patient is seriously ill, a doctor is also present. Other passengers can include sitting patients, accompanying relatives or specialist medical staff.
The aircraft is powered by two Pratt and Whitney Canada PT6A-42 Turbo-prop engines.