Graphic: dental truck
Her Excellency Professor the Honorable Kate Warner AC cut a special ribbon made by St Marys District School students to officially launch a new $350,000 custom-built mobile dental vehicle while it was on location for its inaugural clinic.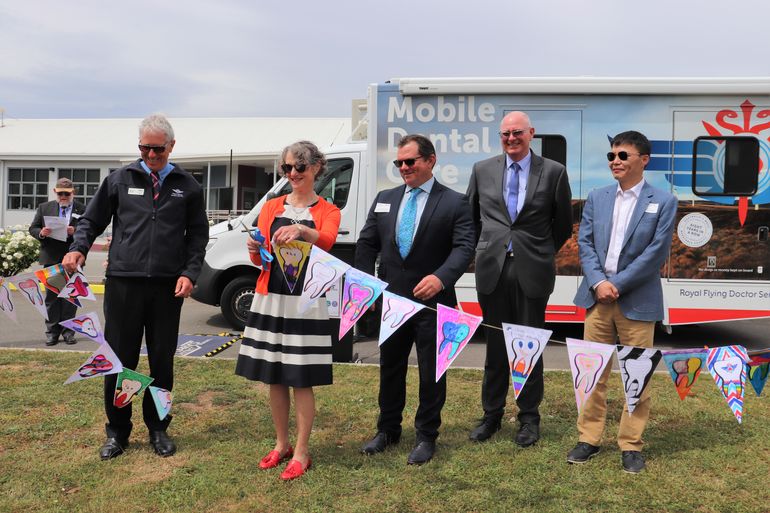 With oral health therapist Megan Fontana and dental assistant Chloe Robson on board, the mobile clinic will stay on location for approximately six weeks in total to provide free oral health care to the students before heading further north-east for more clinics in schools, aged care facilities and for the general public.

It was proceeds from the Governor's Winter Ball fundraiser and major sponsorship by Woolnorth Renewables that enabled the mobile dental vehicle project to reach completion, with local manufacturer Mader International, based in Penguin, handling the fit-out. RFDS CEO John Kirwan said that many people face barriers travelling to city-based dental appointments due to poor health, lack of transport, distance, cost and time required away from school, work and family commitments.
"This is one reason that dental conditions are the leading cause of potentially preventable hospitalisation in Tasmania," Mr Kirwan said.
"Our new purpose-built dental vehicle is a state-of-the-art mobile dental surgery capable of quickly and efficiently moving our dental teams anywhere in the state to provide quality oral health care – not only complementing our regular fixed clinics but also allowing us to set up virtually anywhere. All we need is a level parking space and access to a 3-phase power outlet.

"This enhanced facility offers patients access to a full range of dental treatments, X-ray facilities and a sterilization bay to reprocess instruments. The vehicle is also fitted with water tanks, auxiliary power supplies and other features allowing the mobile dental vehicle to remain in-situ for weeks on end if necessary – maximising the number of consultations and treatments.
"We are grateful for the support we have received from Government House and Woolnorth and all of our donors who ensure we can upgrade equipment and constantly re-stock consumables as we go about this vital work that makes a real difference to not just dental health but overall health."
To find out more or book a visit by the mobile dental vehicle contact RFDS Mobile Dental Care manager Nicole Henty on 0419 423 726 or nicole.henty@rfdstas.org.au