Wyndham, in the far north of Western Australia, was established in 1886 and is a far cry from Wynyard and Wanganui. For well-known Launceston Ear Nose and Throat Specialist - Gavin Earles, who was forced to perform his first tracheotomy, and his General Practitioner wife Margaret, it was to be the place for an adventure of a lifetime.
The year was 1974, and with very little notice, newlyweds and second year medical residents, Gavin and Marg arrived for a three-month rotation at the Wyndham hospital, fulfilling a childhood dream of Marg's to work in the Kimberley. Gavin, from Wanganui in New Zealand, known for its rolling pastures and picture-perfect heritage buildings, and Marg from the Table Cape Tulip Farm in Wynyard, also known for its magnificent landscape, quickly fell in love with the stark contrast of the very beautiful Kimberley Region.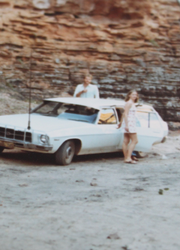 "The RFDS was very much part of our lives"
The population in the dry season was 1,600 with around 800 (2016 census 780) in the wet season, making the hospital along with the Royal Flying Doctor Service clinic and airport base a busy place. Marg, Gavin and Dave Barkhouse, another GP based there, took it in turns to take the daily required flights for clinics or retrievals, along with Maisie Malone the RFDS Nurse.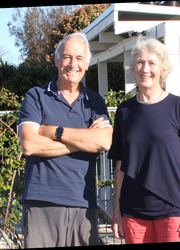 "We would fight over the chance to fly" said Marg. "In the morning, we would hold a clinic and do hospital rounds, as well as receiving radio call ups from the stations before following Maisie's roster of station visits".
On slow days, Gavin and Marg would fish for barramundi and await a call from the hospital.
Gavin tells of the loneliness and isolation suffered by many young women living on remote Kimberley stations. "I advised ayoung wife by radio, who was obviously struggling very deeply with her lonely male-dominated life, to get in the car and drive to Halls Creek, some 800 kilometres away and spend a few days with the nurses there", said Gavin."The RFDS was very much part of our lives"

"Marg and I had very little experience in obstetrics. We had a call out one night to an Aboriginal woman in Halls Creek, where we held clinics every Wednesday. She had gone into labour, and the nurse was worried. We woke the midwife in Wyndham and asked her to accompany us. She was extremely grumpy, saying "can't you handle a straight forward delivery?"
The three flew down to Halls Creek and were met with kerosene flares to mark the airstrip. Retrieving the young mother to be, they returned to Wyndham for what turned out to be an uneventful delivery, leading to some rebuke from the midwife!
At the completion of their time, Gavin and Marg both remarked how much they would have loved to continue to work in the Kimberley. However the call of specialising was strong for Gavin and fortunately for Tasmania they eventually called Launceston home.