Graphic: aa
New procedures protecting patients, crews and aircraft as they navigate hundreds of remote landing strips throughout South Australia and Northern Territory, are being released by the Royal Flying Doctor Service (RFDS).
Key to the changes is that RFDS pilots can contact a responsible person at a remote airfield when required on UHF Channel 13 prior to landing to ensure the runway is serviceable and free of hazards.
You can watch the video explaining the new procedures below.
RFDS Central Operations Pilot and Head of Flight Operations Aviation Damien Heath said it was vital pilots were assured runways were clear of animals, washouts and soft surfaces to protect the safety of crew, patients and aircraft when arriving at these airstrips, particularly at night.
Mr Heath warned an aircraft may not land if a pilot was unable to make verbal contact with the airfield and was not confident about its safety after an independent aerial assessment prior to landing.
"Hazards can put the crew or patients at risk and if an aircraft is damaged by wildlife or stranded in a wet air strip it means that while that plane is being fixed or pulled out of the mud it is not where it should be, out saving people," Mr Heath said.
"These guidelines are about ensuring any landing is as safe and with the least number of hazards as possible, we want to be out there providing our service to people in the safest way possible."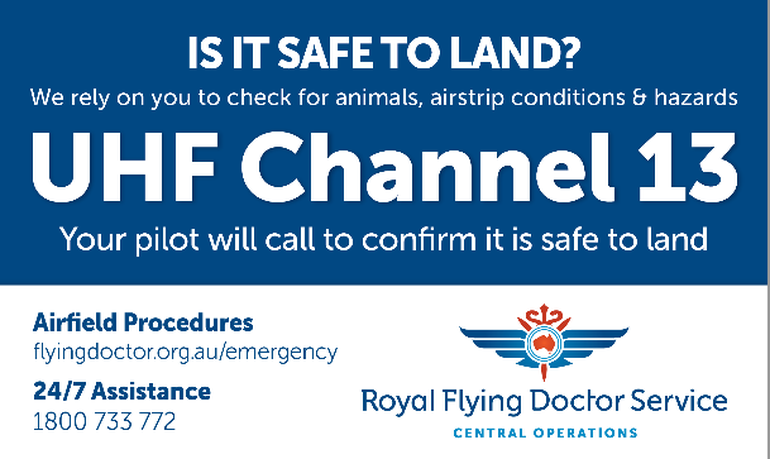 Wildlife roaming around airstrips is a constant risk to planes particularly kangaroos but also camels, donkeys, horses and cattle.

The new guidelines can be found online at the RFDS website.

A letter outlining the changes along with a glovebox-sized guide to Airstrip Inspection Procedure and Night Landing Procedure is also being distributed to relevant partners throughout rural and remote regions.

Airstrip Inspection Procedure involves a seven-step action list that includes identifying wind direction, checking the runway surface and for wildlife, and where to park to best assist the pilot.
Night Landing Procedure also outlines how to ensure adequate lighting of an airstrip and how flares or lights must remain lit for 30 minutes after an aircraft departs in case of an emergency return.
RFDS pilots will request an airstrip inspection on an "as needs basis" to ensure the highest level of safety.