Graphic: RFDS Marree Community Health Service
The Royal Flying Doctor Service today launched the Marree Community Health Service, its latest investment in the health and wellbeing of rural and remote South Australians.
The RFDS Marree Community Health Service replaces the former decades-old Marree Remote Area Clinic and will serve the state's Far North community, including residents, pastoralists, workers and tourists of the Birdsville Track.
The Health Service received $716,000 from the 2019-20 South Australian Government's Regional Growth Fund, with the balance of the $2 million redevelopment financed by RFDS fundraising and donations from the community.
The RFDS maintains an around-the-clock Remote Nursing presence in Marree and also conducts a fortnightly 'fly-in' community health clinic to provide GP and allied health services.

Photo: RFDS Chairman Peter de Cure, SA Minister for Primary Industries and Regional Development David Basham MP, Deputy Premier of South Australia Dan van Holst Pellekaan MP, RFDS Chief Executive Tony Vaughan ASM.
In any given year the remote service will provide more than 3,000 community nurse consultations, 300 after-hours telehealth consultations, 60 maternal/child health vaccinations and 10 emergency ambulance retrievals.

It is also a hub for the RFDS COVID-19 vaccination program and a Rapid Antigen Test distribution point for the local community. These services are supported by SA Health and the Flinders & Upper North Local Health Network (FUNLHN).

The new RFDS Marree Community Health Service uses a modular and prefabricated construction to create a purpose-designed agile health infrastructure precinct featuring:
treatment spaces for mental health, dental, general treatment, sterilisation, dispensary and patient hold/emergency;
public areas including a waiting area, play area, parents' room and accessible toilets;
staff areas including reception, office administration, training and conference facilities and staff breakout spaces;
an external ambulance drop-off space, and;
a new staff dwelling comprising two bedrooms, two bathrooms, shared living quarters and car parking.
Photo: Reginald Dodd OAM and RFDS Health Services Assistant Robyn Rooney.
The design, co-created with the local community and brought to life by Adelaide-based construction company MDLR, meets modern National Safety & Quality Health Service Standards.
Member of Stuart and Deputy Premier The Hon. Dan van Holst Pellekaan MP, who officially opened the Health Service, said it was a "milestone moment" for the people of the Far North.
"The new purpose-built medical facility will significantly improve healthcare access in Marree and across the region and give healthcare providers much better working conditions."
FUNLHN Chief Executive Mr Craig Packard said: "The new RFDS Marree Community Health Service epitomises creative thinking and a financial commitment to deliver a state-of-the-art health clinic in the outback."
"The Flinders and Upper North Local Health Network appreciates its highly collaborative partnership with the RFDS, and we continue to work closely to meet the health needs of remote communities such as Marree."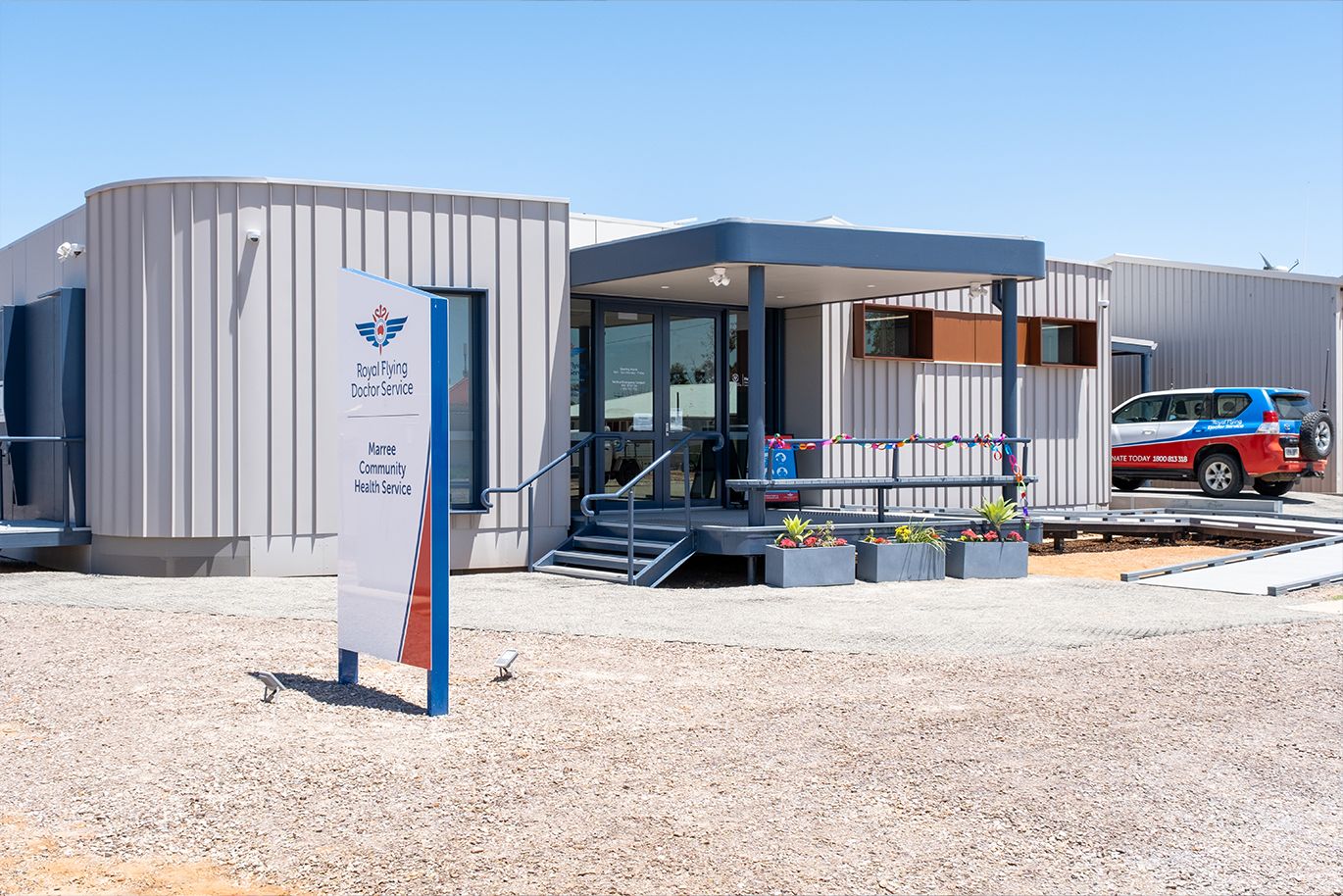 Photo: The new RFDS Marree Community Health Service.
RFDS Central Operations chair Mr Peter de Cure said the RFDS Health Service precinct was a community asset that would benefit generations of locals.
"With the new Marree Community Health Clinic, the Flying Doctor continues to bridge the tyranny of distance with modern healthcare," Mr de Cure said.
"We are privileged to direct the support we receive from the community and corporate partners into projects such as these that support equitable access to healthcare for all South Australians, no matter where they live, work or play."
Photo: Deputy Premier of South Australia Dan van Holst Pellekaan MP cutting a paper chain made by Marree Aboriginal School to officially open the RFDS Marree Community Health Service.